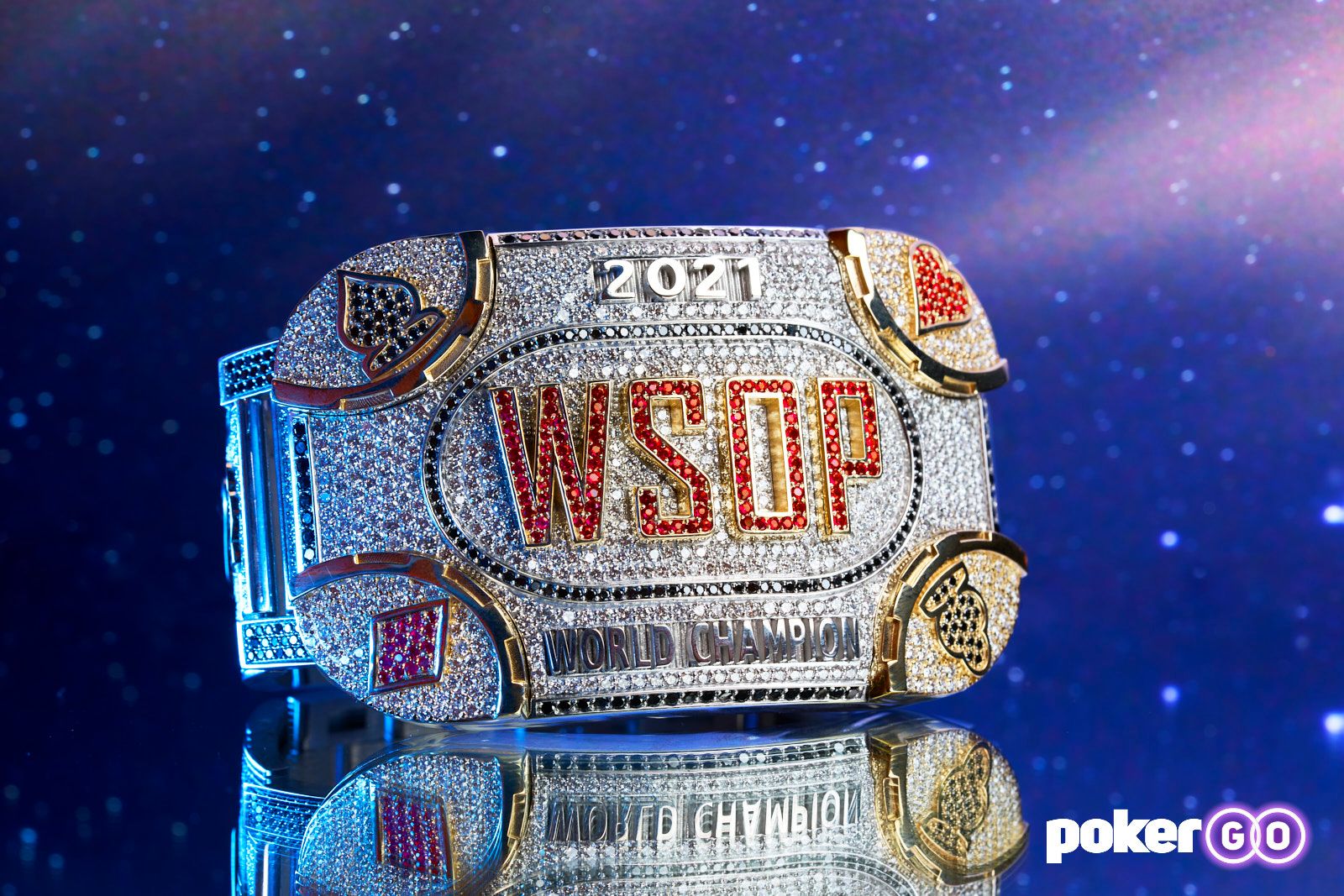 A huge day of action on the second Day 2 of the 2021 World Series of Poker Main Event saw registration close as the biggest tournament in the world confirmed that the top prize on offer was a massive $8 million.
Moneymaker on Form at the Feature Table
With a day of drama seeing 1,807 survivors from Day 1c, 1e and 1f all play through five two-hour levels, 2003 world champion Chris Moneymaker was one of the stars of the show as the America's Cardroom professional landed a stack of 531,600 chips by the close of play after a massive double-up on a featured table.
With some of the feature table action the most dramatic of the 2021 Main Event so far, you can watch how it played out right here on PokerGO:
Chip leader overnight and overall in the Main Event is Conrad De Armas, who totalled 744,000 chips by close of play, just over the stack of Day 1abd's leader Rameez Shahid (731,000). De Armas has some top-quality opposition chasing his lead from Day 2cef, however, with players such as Adam Walton (673,100), Keyu Qu (664,900), Cameron Mitchell (642,000) and Daniel Lowery (625,200) in the top five and Matt Glantz (580,000), Artem Dedusha (577,100), Daniel Soltys (540,700) and Moneymaker not far behind.
Others to make the counts included two former WSOP Main Event winners in 2016 world champion Qui Nguyen (479,100) and 1989 winner Phil Hellmuth, though the 'Poker Brat' will doubtless have wanted to make Day 3 with more than 25,400 and will be looking for an early double-up when play resumes on Day 3 tomorrow.
Other stars of the felt such as Jake Daniels (340,000), Robert Campbell (327,000), Robert Mizrachi (311,300) and British player Liv Boeree (289,500) – who told Jeff Platt that she hadn't played live poker "in two years" also made the top 50, with a total of 915 players surviving. With 1,440 players making it through from Day 2abd, Day 3 will begin with 2,355 players in action.
One of them will win the top prize of $8 million, as the final table payouts were revealed late in the evening to inspire everyone to push for glory.
1st: $8,000,000
2nd: $4,300,000
3rd: $3,000,000
4th: $2,300,000
5th: $1,800,000
6th: $1,400,000
7th: $1,225,000
8th: $1,100,000
9th: $1,000,000
Plenty of big names hit the rail on Day 2cef as 2019 WSOP Main Event winner Hossein Ensan, Dash Dudley, Vanessa Kade, Paul Volpe, Brandon Cantu, Kevin MacPhee, Sam Greenwood, 1998 world champion Scotty Nguyen, Brandon Adams, Erik Cajelais, David 'ODB' Baker, Nathan Gamble, 2018 Main Event runner-up Tony Miles, Mike Watson and 1988 Main Event runner-up Erik Seidel all busted before the close of play.
WSOP 2021 Event #67 $10,000 Main Event
Position
Player
Country
Chips
1st
Conrad De Armas
U.S.A.
744,000
2nd
Adam Walton
U.S.A.
673,100
3rd
Keyu Qu
U.S.A.
664,900
4th
Cameron Mitchell
U.S.A.
642,000
5th
Daniel Lowery
U.S.A.
625,600
6th
Jorge Arriola
U.S.A.
594,200
7th
Matt Glantz
U.S.A.
580,000
8th
Artan Dedusha
U.K.
577,100
9th
Aristeidis Moschonas
Greece
555,400
10th
Daniel Soltys
U.S.A.
540,700
Brian Rast Chasing Chip Lead on Day 1c of $1,111 Little One for One Drop
The $1,111-entry Little One for One Drop Event #68 saw 1,823 play down to just 690 survivors on Day 1c, with Oscar Alache (518,800) taking the chip lead ahead of players such as Charles Lee (504,400), Thomas Eychenne (429,600), Liran Betito (322,900) and Brian Rast (459,000), who will be hopeful of another deep run this WSOP as he looks to win his second bracelet in a matter of weeks.
Plenty of other big names made Day 2 with decent chipstacks, as Jason Wheeler (210,000), Kevin Song (206,500), our own Remko Rinkema (66,700) and Asi Moshe (49,700) all bagged up by the close of play on Day 1c.
WSOP 2021 Event #68 $1,111 Little One for One Drop
Position
Player
Country
Chips
1st
Oscar Alache
Chile
518,800
2nd
Charles Lee
U.S.A.
504,400
3rd
Thomas Eychenne
France
429,600
4th
Liran Betito
Israel
322,900
5th
Allen Gibson
U.S.A.
257,700
6th
Namhyung Kim
South Korea
250,700
7th
Alex Rivera
U.S.A.
249,000
8th
Lascar David
U.S.A.
212,500
9th
Jason Wheeler
U.S.A.
210,000
10th
Kevin Song
U.S.A.
206,500
Shaun Deeb Survives to Day 2 Yet Again in Event #69
In the $1,500-entry Seven Card Stud Hi-Lo 8 or Better Event #69, Shaun Deeb was one of several star names to make the Day 2 seat draw in fine form, with others such as John Racener and Ryan Leng both joining him after a profitable Day 1 at the felt.
The event saw 372 entries in total, with just over 160 players surviving. Jermaine Reid had the chip lead by the end of the day's play with 208,500 chips, but he was followed by James Hoeppner (167,000) and David Martin (166,000) as well as Shaun Deeb (143,000) who made the top 10.
With players such as Mike Watson (137,000), Matt Savage (126,000), Ryan Leng (112,500), John Racener (109,500) and and Nathan Gamble (105,000) all joining him, it's sure to be a battle to make the money when Day 2 kicks off tomorrow in the Rio.
The action will be without players like Benny Glaser, Brandon Shack-Harris, Joao Vieira, John Cernuto, David Williams, Gershon Distenfeld, Frank Kassela and Scott Bohlman, all of whom failed to survive Day 1 and will look to other events as they chase bracelet glory in the Thunderdome.
WSOP 2021 Event #69 $1,500 Seven Card Stud Hi-Lo 8 or Better
Position
Player
Country
Chips
1st
Jermaine Reid
U.S.A.
208,500
2nd
James Hoeppner
U.S.A.
167,000
3rd
David Martin
Spain
166,000
4th
John Hoang
U.S.A.
165,000
5th
Susan Genard
U.S.A.
165,000
6th
Eric Crain
U.S.A.
153,000
7th
Chip Jett
U.S.A.
148,000
8th
Shaun Deeb
U.S.A.
143,000
9th
Mike Watson
Canada
137,000
10th
Matt Savage
U.S.A.
126,000
Connect with PokerGO.com on Facebook, Twitter, and Instagram. Use code "WSOP2021" for $20 off an annual PokerGO.com subscription now!