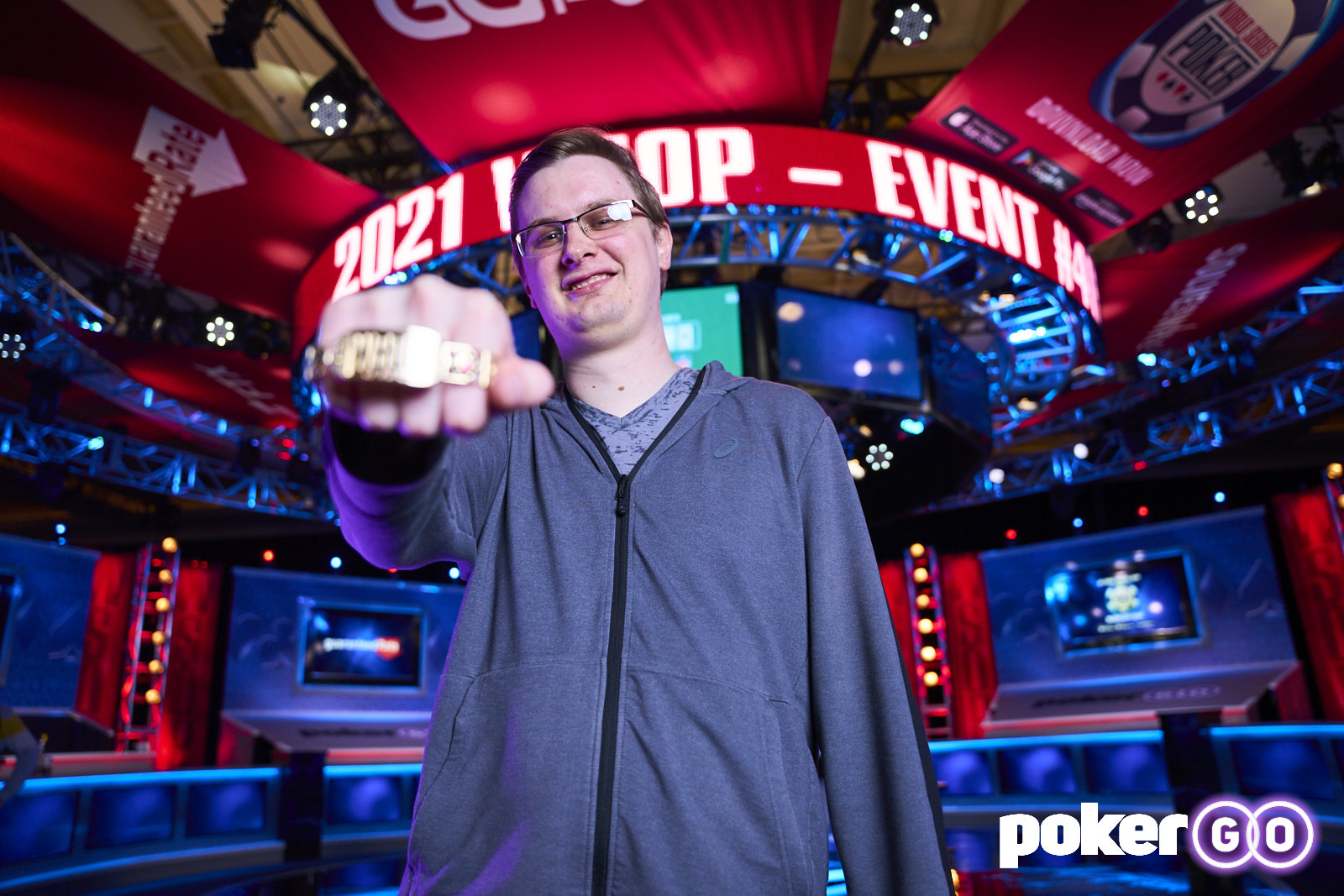 A mammoth Day 24 at the World Series of Poker felt at the Rio in Las Vegas saw three bracelet winners claim gold as Kevin Gerhart and Bradley Ruben both won their third WSOP bracelet and Taiwan's Carlos Chang won the $2,500 Freezeout finale after an epic heads-up.
On one of the busiest days of the World Series so far for winners, it was a stellar moment in the career of Kevin Gerhart as the likeable pro won Event #40, the $10,000-entry H.O.R.S.E. event. Winning the $361,124 top prize, Gerhart got the better of Marco Johnson heads-up to top the 149-player field live on the PokerGO stream.
With players such as Brandon Shack-Harris and Bryce Yockey both making the final five, the action was fast and furious as Gerhart grabbed gold. You can watch all the action from the final right here:
WSOP 2021 Event #40 $10,000 H.O.R.S.E.
Place
Player
Country
Prize
1st
Kevin Gerhart
U.S.A.
$361,124
2nd
Marco Johnson
U.S.A.
$223,194
3rd
Eddie Blumenthal
U.S.A.
$155,971
4th
Bryce Yockey
U.S.A.
$111,701
5th
Brandon Shack-Harris
U.S.A.
$82,033
6th
Chris Vitch
U.S.A.
$61,819
7th
Jake Schwartz
U.S.A.
$47,835
8th
David Benyamine
France
$38,035
In Event #41, Taiwan's Carlos Chang won a career-high score of $364,589 as he conquered the final table of the $2,500 Freezeout event. Just eight players made it to the final table, where Chang entered play with the chip lead. By that point, Uri Reichenstein, one of the most experienced players of the final stages, had busted in 10th place for $23,358.
Despite the action before the final being fairly quick, it took two hours before the first player left of the eight, with Quang Ngo, who busted to Arthur Conan to earn $37,820. With Gerald Cunniff heading home in 7th place for $49,179 and Sung Joo Hyun busting in 6th for $64,864, after Arthur Conan went in 5th for $86,757 it was the turn of perhaps the most successful player of the final five to bust.
Sergi Reixach took an hour to bust but when he did go, his stack was slid to the eventual winner Chang, whose flopped straight won him a vital pot but more importantly took out the dangerous Spaniard. Adrien Delmas of France was eliminated in third before that epic heads-up battle played out between Chang and Brady Osterman, who lost a big pot to Chang when the Taiwanese player rivered a flush.
Chang closed out the win with ten-seven of clubs, shoving and being called by the short-stacked Osterman, who had ace-jack off-suit and watched Chang river a straight for victory. Osterman cashed for $225,333 in second place, but it was Chang who booked a win and took his first WSOP gold bracelet.
WSOP 2021 Event #41 $2,500 NLHE Freezeout
Place
Player
Country
Prize
1st
Carlos Chang
Taiwan
$364,589
2nd
Brady Osterman
U.S.A.
$225,333
3rd
Adrien Delmas
France
$161,731
4th
Sergi Reixach
Spain
$117,650
5th
Arthur Conan
France
$86,757
6th
Sung Joo Hyun
South Korea
$64,864
7th
Gerald Cunniff
U.S.A.
$49,179
8th
Quang Ngo
U.S.A.
$37,820
9th
Christopher Basile
U.S.A.
$29,506
10th
Uri Reichenstein
Israel
$23,358
In Event #42, Bradley Ruben proved tops in mixed games yet again after winning his third WSOP bracelet in just 16 months after two online victories in Pot Limit Omaha in WSOP Online and GGPoker Online bracelet events.
Winning his first Razz bracelet, Ruben outlasted a final table that included players such as David 'ODB' Baker (5th $20,732) and Yuri Dzivielevski (4th for $29,089). Heads-up, Ruben claimed a memorable victory against Charles Sinn. His fellow American had been the aggressor for much of the final day's action, but Ruben timed his run to the title perfectly, ousting Baker, then watching as Sinn busted the next two players.
Going into heads-up, Ruben had a 2:1 lead and saw off Sinn in style, winning with nine high to take the $99,188 top prize and his third bracelet, with Sinn taking the runner-up prize of $61,303.
WSOP 2021 Event #42 $1,500 Razz
Place
Player
Country
Prize
1st
Bradley Ruben
U.S.A.
$99,188
2nd
Charles Sinn
U.S.A.
$61,303
3rd
Matt Grapenthien
U.S.A.
$41,758
4th
Yuri Dzivielevski
Brazil
$29,089
5th
David 'ODB' Baker
U.S.A.
$20,732
6th
Brett Feldman
U.S.A.
$15,127
7th
Alex Livingston
Canada
$11,305
8th
Hassan Kamoei
U.S.A.
$8,658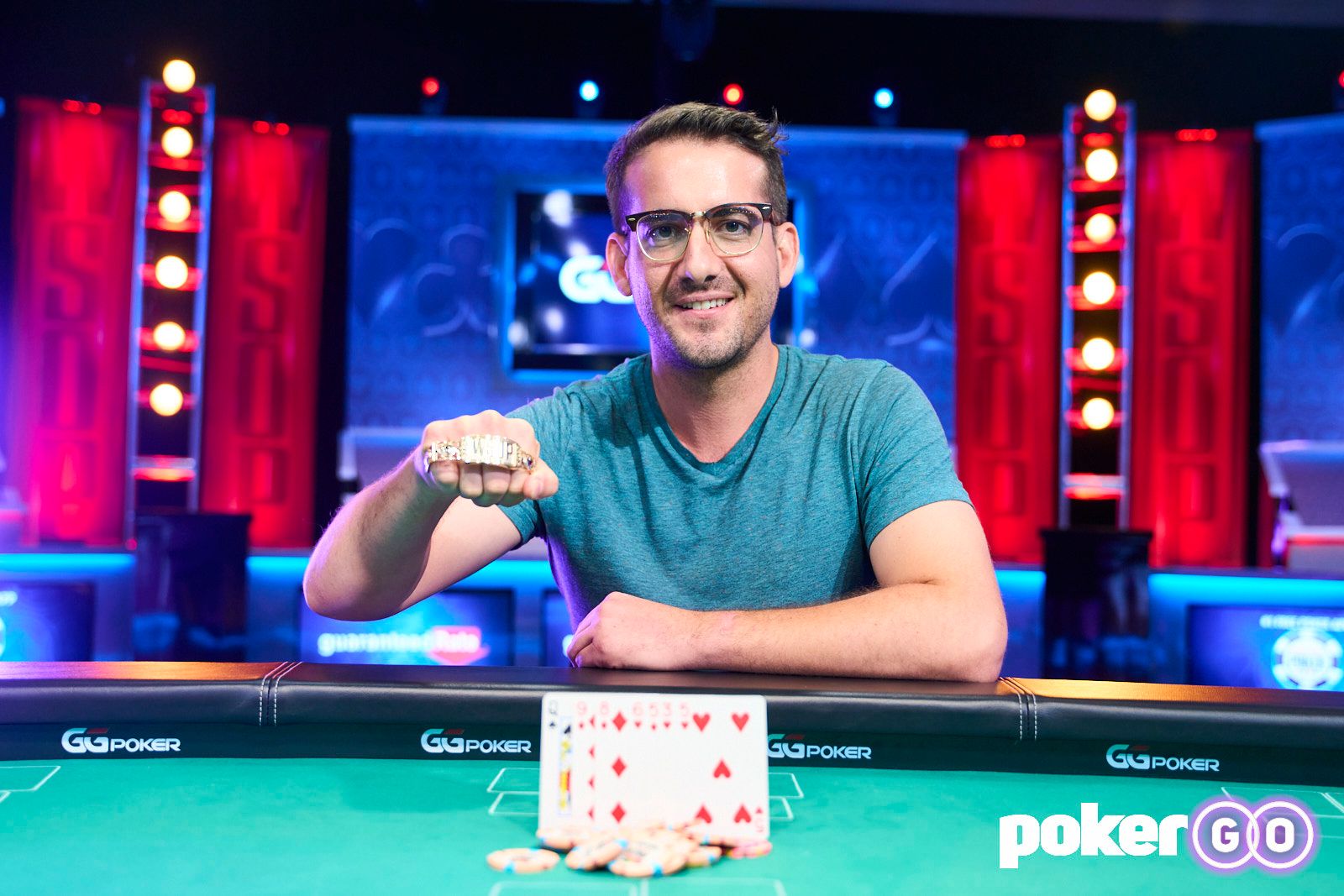 Event #43 saw a massive field of 2,054 entrants reduced to just 562 players who progressed with Terry Presley the chip leader with 828,000 over Sylvain Naets from Belgium, who bagged up 71,000.
With two-time 2021 WSOP bracelet winner Daniel Lazrus (443,500) also in the top 10 chipcounts, there is sure to be fireworks when Days 1a and 1b combine on Sunday for a Day 2 that will see the picture become clearer.
WSOP 2021 Event #43 $1,000 Double Stack
Position
Player
Country
Chips
1st
Terry Presley
U.S.A.
828,000
2nd
Sylvain Naets
Belgium
710,000
3rd
Ting Ho
U.S.A.
580,500
4th
Matthew Vaughan
U.S.A.
545,500
5th
Asi Moshe
Israel
462,000
6th
Daniel Lazrus
U.S.A.
443,500
7th
Thomas Brown
U.S.A.
435,000
8th
David Nowling
U.S.A.
433,500
9th
Tim Reilly
U.S.A.
420,000
10th
Eric Baldwin
U.S.A.
395,000
Event #44 saw Day 2 of the $3,000 Six-Handed NLHE event play down from 78 players to 10 as Kenny Hsiung ended the day with the most chips.
Truth be told, Hsiung's stack of 1,171,000 is only marginally ahead of Kevin Erickson (1,139,000) and Ryan Hansen (1,115,000), with Hansen and Hsiung sharing a starting table on the final day.
WSOP 2021 Event #44 $3,000 Six-Handed Limit Hold'em
Position
Player
Country
Chips
1st
Kenny Hsiung
U.S.A.
1,171,000
2nd
Kevin Erickson
U.S.A.
1,139,000
3rd
Ryan Hansen
U.S.A.
1,115,000
4th
John Hoang
U.S.A.
783,000
5th
Steve Chanthabouasy
U.S.A.
744,000
6th
Kosei Ichinose
Japan
499,000
7th
Justin Moeller
U.S.A.
378,000
8th
Ken Deng
U.S.A.
321,000
9th
John Cavanagh
U.S.A.
207,000
10th
Ray Henson
U.S.A.
151,000
Finally, the 45th event of the 2021 World Series of Poker, the $10,000-entry Pot Limit Omaha Championship, got underway and saw 317 entries, with just 131 remaining, though players can still enter before the start of Day 2 at 2pm local time on Sunday.
Chris Sandrock (748,500) has the most chips, with Arthur Morris (533,500) and Michael Kuney (472,500) his closest challengers. Elsewhere in the top 10 chipcounts, JC Tran (348,5000) and David Benyamine (290,500) hover with intent while players such as Ryan Laplante, Ben Wilinofsky, Josh Arieh and Julien Martini didn't make the Day 1 cut.
WSOP 2021 Event #45 $10,000 Pot Limit Omaha Championship
Position
Player
Country
Chips
1st
Chris Sandrock
U.S.A.
748,500
2nd
Arthur Morris
U.S.A.
533,500
3rd
Michael Kuney
U.S.A.
472,500
4th
Travis Pearson
U.S.A.
360,000
5th
JC Tran
U.S.A.
348,500
6th
Anderson Ireland
U.S.A.
345,000
7th
Lautaro Guerra
Spain
335,000
8th
David Benyamine
France
290,500
9th
Julian Millard-Feral
U.S.A.
288,000
10th
Brett Richey
U.S.A.
286,000
Connect with PokerGO.com on Facebook, Twitter, and Instagram. Use code "WSOP2021" for $20 off an annual PokerGO.com subscription now!