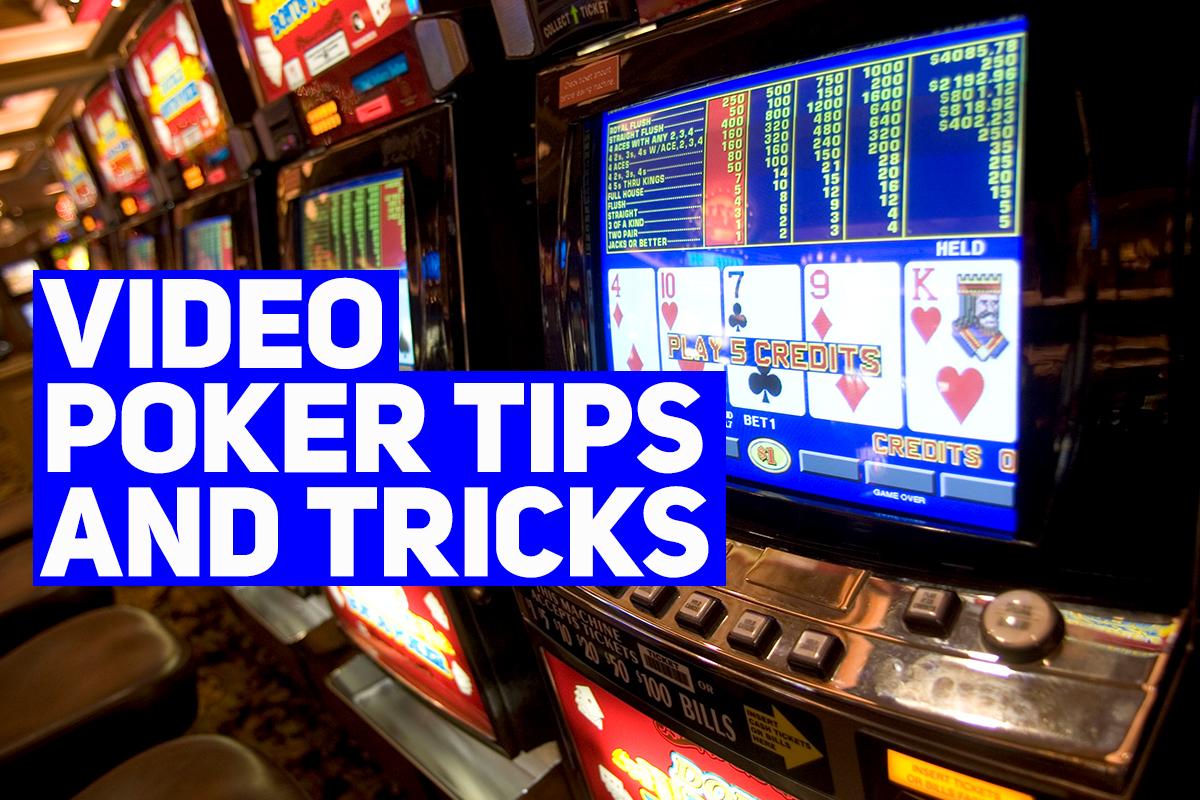 Learning how to win at video poker is something of a game-changer in terms of moving from slot machines to video poker machines because there is a big difference between the two.
Video poker has been around in some form or another since the 1970s when personal computers led to games being invented that suited every game-playing purpose of potential customers. But since then, Video Poker has become one of the world's favorite machines to play at, and in Las Vegas, Video Poker is a huge industry leader. If you don't play, why not? Before we dig in deep to all facets of the game, here are some key video poker rules to play by!
Play within your means.
Within your means, always play the maximum bet to qualify for progressive jackpots.
Stick to "Jack or Better" and avoid wild-card games as those reduce payouts on big hands.
Look for video poker machines with progressive payouts to increase your overall profitability and reduce the house edge.
Make sure to always enter your casino rewards card to quietly accrue points towards comps such as restaurant credit or free hotel rooms in Las Vegas.
How to Play Video Poker
Video Poker stars by you placing a bet of one or more credits and pressing the 'deal' button. You'll then receive five cards and can choose to discard one or more of them for new ones from the deck. You are allowed to discard all five cards if you like.
After that draw, your hand is either paid out on or not, based on the paytable. These vary in both difficulty and set-up depending on the game operator and the game variant. The usual paytable will start at a pair of jacks, and go up through flush, straight and full house just as normal poker would do. Ideally, of course, you're looking for that elusive Royal Flush (the ten, jack, queen, king and ace of the same suit) but you might need some help to get there.
How to Win at Video Poker
As long as there are no Wild Cards, then you have a chance of hitting that magical four of a kind or better that you want roughly once in every 500 spins. While those odds aren't great, Video Poker is one of the few games in which the house – or the online house if you're playing in Nevada, New Jersey or Delaware – does not have the advantage it enjoys in other table games or slot machines. In fact, with the right strategy, you can improve your odds of winning at Video Poker dramatically.
One of the biggest edges you'll have once you learn how to win at video poker is knowing what cards to keep and which ones you should discard. You're not playing a human, but a computer, so the tactics you choose can be relied upon without gambling against human instinct or error. Make sure that you don't guess or play it as a gambling game because that is the first mistake you want to avoid.
While the house 'edge' on video poker machines is only 3% – peanuts compared to slot machines – your return of 97% can be improved upon by using tactics, but make sure you know which machine you're playing on before you start as they can vary. Choosing the paytable, therefore, is your first edge. You're looking for one that provides a near 100% payout as opposed to 97%. While the margins involved may be slim, you're talking about every hand. Multiply 2% of extra profit in your poker game by how many times you played last year and you'll start to see how vital choosing the right machine and paytable are. Choose a 9/6 or better pay chart when playing Jacks or Better and you'll slow down that house edge, giving yourself the best chance of profit.
Jack or Better Video Poker
While other machines such as Deuces Wild or Double Bonus Poker might have better returns, they take more mastering, just as winning at Super High Roller tournaments such as the U.S. Poker Open is tougher than cashing in a $1,000-entry WSOP bracelet event.
There are more ways to manipulate the action against the basic Jacks or Better variant, however, and one way is to always play the maximum that you can. This is optimal because if you hit your Royal Flush, the Jacks or Better machines will always offer the biggest payout for this hand, and winning jackpots more often is clearly a good idea. You want to grab that bonus if you do hit the Royal Flush. Betting between 1-4 coins on a Royal Flush won't get you the bonus payout, for instance, but betting the full five coins will. Stay progressive and play at a level where you qualify for the jackpot!
Optimal Video Poker Strategy
Progressive Jackpot Video Poker machines offer the same sort of rush that PKO tournaments do for poker players. They're great fun and prizes can get bigger and bigger the longer you play. Be mindful of the dangers of this element at all times, but if you play it right, then your small bet can multiply into big winnings. Only play Progressive Jackpot Video Poker on the best pay tables and keep that 9/6-or-better strategy in place.
Video Poker Bankroll Management
Slowing down your gameplay at the poker table in real life might lead to the clock being called or using up more timebank cards than Erik Seidel did at the recent Super High Roller Bowl in The Bahamas exclusively on PokerGO.
Playing Video Poker, however, no-one is going to push you to make your move, so decide what you're going to do in your own time. The very nature of poker is driving forward action. Resisting this at the brick-and-mortar casino and at the felt in a game of poker can annoy tablemates. You can't anger a computer, so take your time. Pro tip: If you encounter new situations you're unfamiliar with, feel free to Google it so you can memorize the proper approach the next time it comes up!
Optimize Video Poker Strategy
GTO is a huge deal in poker, and it's not really all that different in Video Poker. One tactic to remember is that in Jacks or Better, you should always avoid keeping your kicker. It doesn't help you win a higher payout, so ditch it.
Another error to make sure you cut out of your Video Poker game is keeping three cards in order to chase a straight or flush. You're only hurting yourself and minimizing your chances of success in the long run. The only time you should hold onto three cards is in your pursuit of a straight flush, betting full of course for the biggest payout and potential bonus. The golden rule in Video Poker is to never risk breaking up a winning hand in order to go for something bigger. You'll cost yourself a profit.
Other forms of video poker include a game called Ultimate X, and if you can stomach it, try out Double Double Bonus on that machine. With the option to play up to 10 hands at once, Ultimate X provides progressive multipliers and jackpots that could lead to huge payouts. Keep in mind that with big potential payouts come big swings in your bankroll!
Enjoy The Game and Play Responsibly
There are plenty of other ways to maximize your video poker winnings, such as following in-house casino promotions and bonuses and joining a Players Club if you're making a profit and want the rewards that only regulars get. Master the basics first, however, and you'll be in a good position to make a steady profit at a game you enjoy when you're not at the real-life poker table.
As always, we advise caution and full knowledge of your limits. Employ a 'stop-loss' strategy so that good bankroll management you'd apply to poker is just as important when you play video poker. Never gamble past your limits and stop gambling altogether if you're not enjoying it. Make sure that gambling only adds to your fun rather than replaces it and be gamble aware at all times.