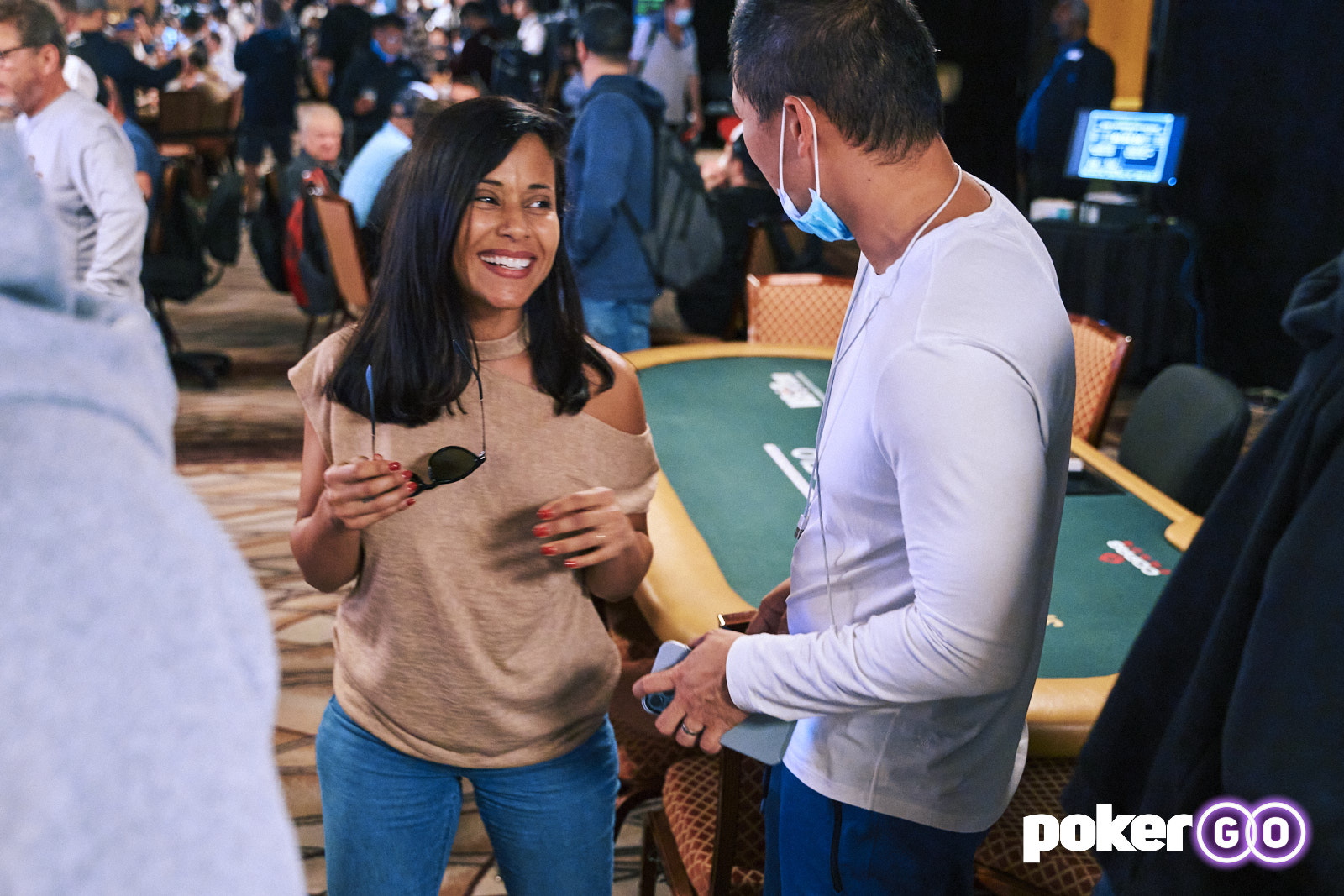 The 2021 World Series of Poker Main Event is down to 1,000 players and they're all in the money. The bubble burst in the early hours of Friday morning with Kevin Campbell's aces going down in a blaze of glory against the ace-nine of clubs for Chris Alafogiannis. Alafogiannis flopped a nine, turned a flush draw, and rivered trips to bust Campbell. With Day 4 coming up on Friday, November 12, here are some of the top storylines we're eyeing and some predictions to go along with them.
Jessica Cai Leading the Way
Jessica Cai leads the remaining 1,000 players in the 2021 WSOP Main Event. She is the wife of 2019 WSOP Main Event sixth-place finisher Zhen Cai and looking to make another push to the final table for the Cai family. Jessica is making her first World Series of Poker cash and ran her stack from 303,000 to 1.796 million on Day 3.
Although there is still a long way to go, we'd be lying if we didn't say we're a bit excited to see Cai leading the way. In the history of the WSOP Main Event, a female player has never won it and only Barbara Enright has reached the official final table when she took fifth in 1995.
Cai's table draw for Day 4 looks to be a good one given that only one other player has more than 350,000 and that's Connor Arlia with 640,000. It'll be interesting to see if she uses her big stack to push around the much smaller stacks at the table.
Prediction: Although it is Jessica's first WSOP cash, she should be able to draw from the experience her husband, Zhen, lived through in 2019. He was close by on the rail throughout Day 3 and that support is great to have. As for how far Jessica will go, we'll predict she earns a top-100 finish, which could very well lead into a run at the final table.
Chris Moneymaker Continues To Surge
Chris Moneymaker picked up right where he left off for Day 3, surging from 531,600 in chips up to 1.432 million to end the day. That puts the 2003 WSOP Main Event winner near the top of the chip counts as he tries to do the unthinkable and win the World Series of Poker Main Event for a second time.
Moneymaker was a tougher table draw than he might've hoped for on Day 4. Ugur Secilmis, who he battled with on the main feature table for all of Day 3, is at his Day 4 starting table with 1.181 million in chips. He also has a player in David Levy with 871,000 and another in Mark Liedtke with 506,000.
Prediction: Every time we looked at the PokerGO stream of the main feature table, Moneymaker was involved in the action and had a good hand to battle with. Even when he didn't have the best of time, he found ways to win pots, which allowed him to basically triple his stack on Day 3. Yesterday, we predicted Moneymaker would finish in the top 300. With the way he wrapped up Day 3, we're going to double down on that prediction and say he'll finish in the top 150.
Alex Livingston and Garry Gates Looking for Another Final Table
Both Alex Livingston and Garry Gates, who finished third and fourth in the 2019 WSOP Main Event, respectively, are still alive going to Day 4 of the 2021 WSOP Main Event. In 2013 and 2014, Mark Newhouse famously made back-to-back WSOP Main Event final tables, finishing in ninth place both times, and this time around it's Livingston and Gates who are trying to reach the final table for the second time in a row.
Following Day 3's play, Livingston bagged up a healthy 758,000 in chips and Gates finished with 180,000. Interestingly enough, Livingston and Gates are at the same starting table for Day 4. Joining them will be Cole Ferraro who has a first-place and a second-place finish at this year's WSOP in Las Vegas and leads the WSOP No-Limit Hold'em Player of the Year race.
Prediction: Reaching back-to-back WSOP Main Event final tables is an incredible feat. It's also incredibly tough to do. We're not going to stick our necks out there so much and say that Livingston or Gates will go that far, but we do predict they'll continue to make a deep run. Given Livingston's chip position after Day 3, he has the upper hand, and we predict he'll finish in the top 200. For Gates, we'll say top 600.
Gianluca Speranza Aims To Scoop Another Main Event Title
Italy's Gianluca Speranza is the top-notch player in this field who you may not have heard of. Had he won the 2017 WSOP Europe Main Event instead of finishing second to Marti de Torres, then that might be different. When we refer to Speranza "scooping" another "main event" title, it's because Speranza won the PokerStars SCOOP  $10,300 Main Event title in 2018 and 2019, winning $1.133 million the first time and $1.028 million the second time. Speranza has only cashed in the WSOP Main Event in Las Vegas once, though. That was a 197th-place result back in 2010.
Speranza's Day 4 starting table could be a fun one. In addition to his million-chip stack, bracelet winner Christian Pham has 1.035 million and Sweden's Jonas Hagstrom has 1.003 million. WPT Beijing winner Pete Chen is also at that table with 475,000.
Prediction: Speranza bagged up a big heap of chips, finishing Day 3 with 1.347 million. Given the experience he has under his belt, we predict Speranza is going to do big things in this WSOP Main Event. We'll say Speranza places in the top 100 of the field.
Andreas Kniep Looks To Engineer a Deep Run
Andreas Kniep, a software engineer currently working for SpaceX and who has previously worked for Google, finished Day 3 with what should be a top 10 stack of chips with 1.509 million. When it comes to poker, Kniep has had a quit career, but he does have more than $300,000 in live tournament earnings that include a fifth-place finish at WPT Rolling Thunder in 2018 and a 173rd-place result in the 2018 WSOP Main Event.
Kniep's a fun personality who can brighten up any poker table, and we expect to see plenty of that as he continues his way through the 2021 WSOP Main Event. On Day 4, Kniep will start as the second-largest stack at his table, behind Stephen Song's 1.551 million.
Prediction: Kniep will keep up his free-spirited, fun-loving ways and bag a top-25 stack to end Day 4.
Connect with PokerGO.com on Facebook, Twitter, and Instagram. Use code "WSOP2021" for $20 off an annual PokerGO.com subscription now!