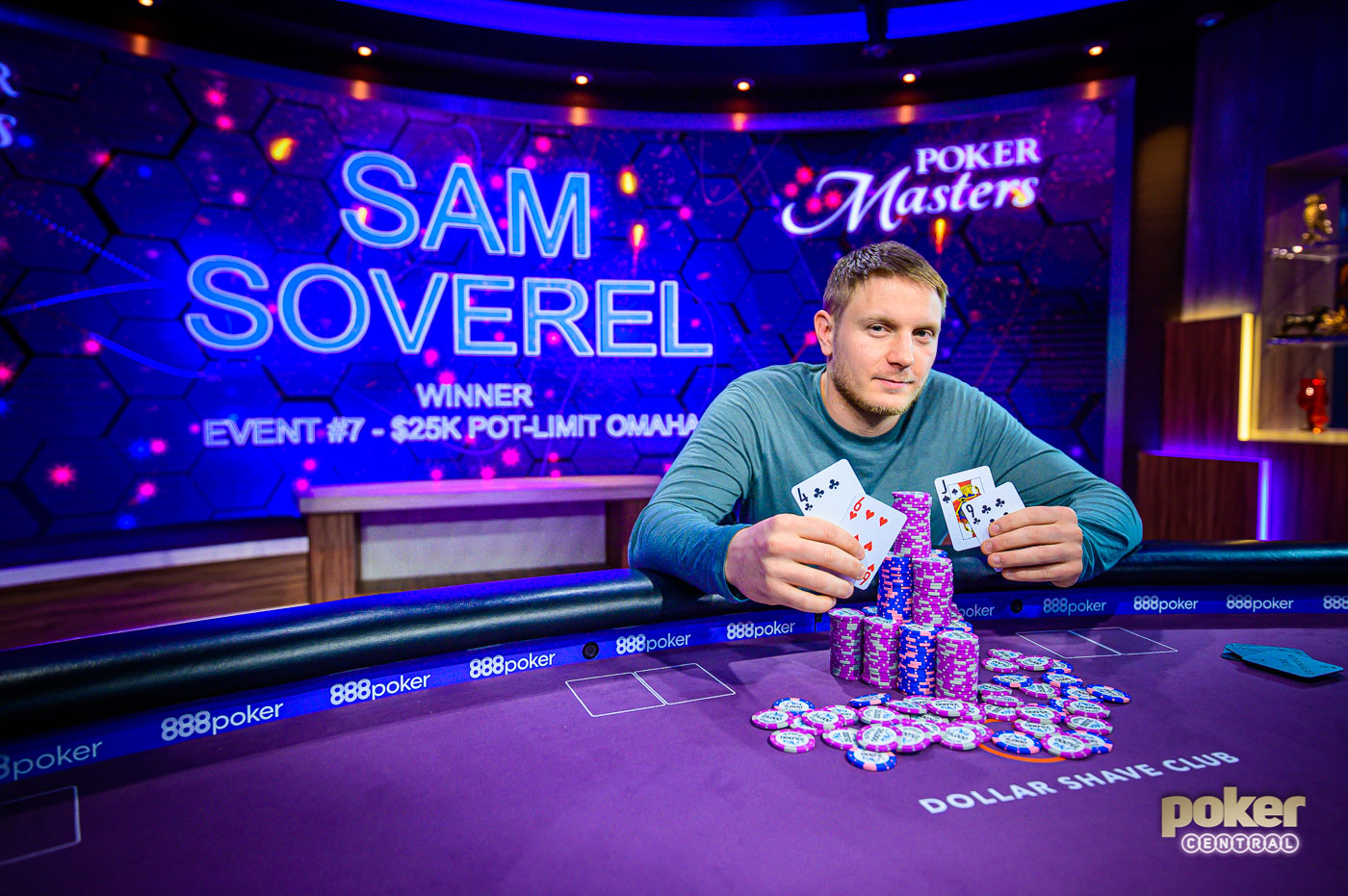 Sam Soverel has done it again! The winner of the British Poker Open and reigning High Roller of the Year has taken down Event #7 of the 2019 Poker Masters for $340,000 by defeating Sean Winter heads up. Soverel now sits second in the Championship Standings behind only Chance Kornuth.
"I ran good," Sam Soverel exclaimed after taking the event down, "It was a lot of fun playing against Sean, we have been playing for against each other for about 11 years."
"I watched a bunch of Mike Tyson and Roy Jones videos last night to come in and knock Chance off the top so I feel like I have a good shot."
The five-handed action started off slowly but exploded when Anthony Zinno and Sam Soverel played a big pot. Zinno raised before the flop with ace-king-ten-seven, three spades, and Soverel defended the big blind with jack-ten-seven-six with two clubs. The flop brought out six-eight-nine with two spades giving both players the nut straight while Zinno had the flush draw to go along with and Soverel a higher straight draw. After the money went in on the flop, Soverel hit a seven on the turn for a higher straight and after a brick river, Zinno was eliminated in fifth place.
Kahle Burns was next to bust when he, as the short stack, called a raise from Soverel with queen-jack-four-three with two clubs. The flop brought ace-ten-five with two diamonds and Burns potted which was called by Soverel with queen-ten-seven-six. The turn brought a four, and Burns' remaining chips went into the middle eliciting a quick call from Soverel. Another ace hit on the river and Soverel's pair of tens was enough to take down this pot.
George Wolff, winner of the £10,000 Pot Limit Omaha British Poker Open event, busted in third place. With fewer than 10 big blinds, Wolff ended up all in with ace-queen-ten-nine – three diamonds – against Sean Winter's jack-nine-eight-seven – two clubs – on a ten-ten-six flop. Wolff was in the lead with trips but Winter hit a straight on the turn to make a straight. The river didn't improve Wolff's hand and he busted in third.
The heads up action started with Winter holding a 2:1 chip lead but that proved to not be enough. On the final hand, Soverel raised pot from the button with jack-nine-six-four and Winter called with ace-king-ten-eight. The flop brought out king-six-six and both players checked after which Winter bet 260,000 on the deuce turn. Soverel raised pot to 1.07 million and Winter took a sip of his wine before calling all in with top pair. Winter did not hit on the river and he was knocked out in second place.
2019 Poker Masters Championship Standings
Name
Points
Earnings
Results
1
Chance Kornuth
630
$556,400
3
2
Sam Soverel
570
$491,800
4
3
Kahle Burns
330
$194,200
2
4
Kristen Bicknell
300
$408,000
1
5
Isaac Baron
300
$223,100
1
6
Ryan Laplante
300
$186,000
1
7
Julien Martini
300
$166,400
1
8
Jared Bleznick
300
$153,000
1
9
Jonathan Depa
300
$133,200
1
10
Sean Winter
270
$250,100
2
"I'd probably use it to pay off my fantasy sports losses," Soverel joked when asked about what the winning the Poker Masters would mean to him.
With Kornuth only a min-cash ahead of Soverel it's now a two-horse race unless one of the other highly ranked players manages to rip off a big score in the $25,000 No Limit Hold'em event that's going on right now.
"I don't think I'm the favorite, I have to cash and there are only three events to go. If there were more events to be played I might be the favorite but not right now."
Follow the Poker Central Live Reporting and check out the PokerGO Live Events page here. New to PokerGO and ready to dive into the action? Subscribe right now. There are three events left to be played at the Poker Masters with Event #9 $25,000 No Limit Hold'em starting tomorrow and the final event, a $50,000 No Limit Hold'em getting underway on Wednesday.