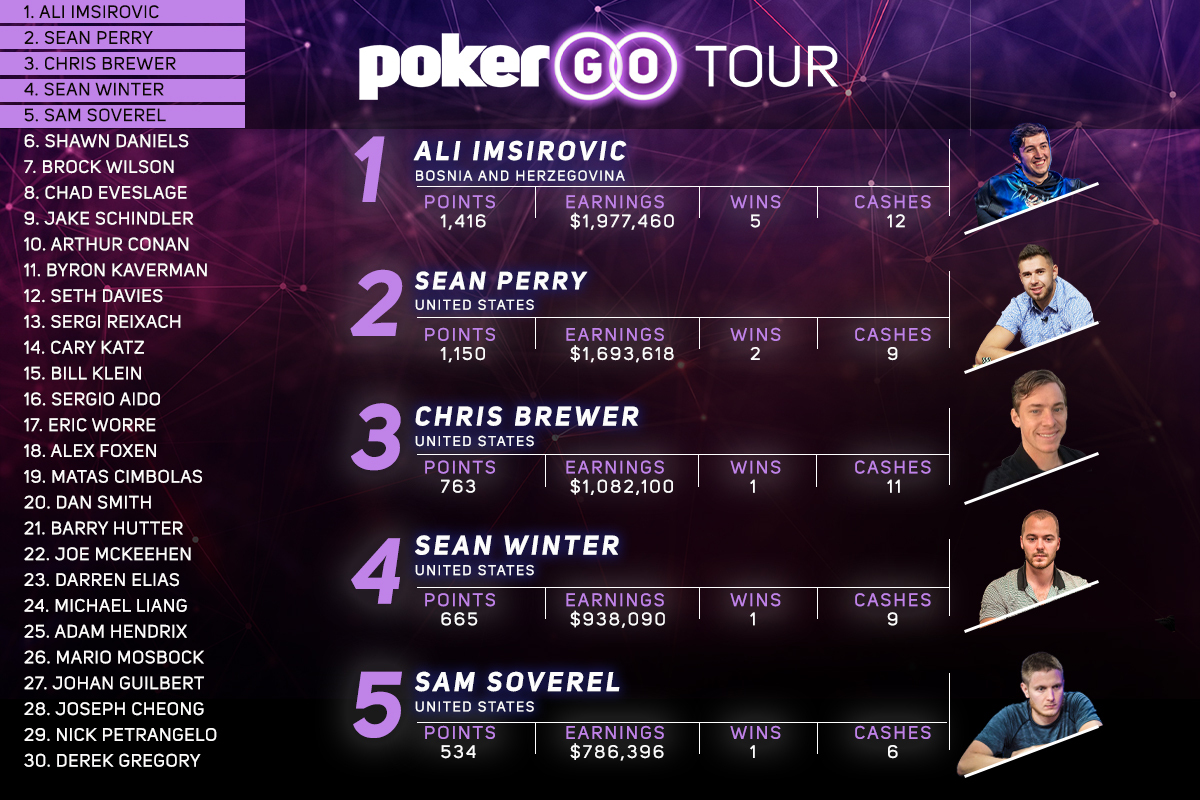 The PokerGO Tour continues in 2021 with tens of millions of dollars at stake across 150 tournaments spanning across the globe. The PokerGO Tour will celebrate the most elite professional poker players with the PokerGO Tour Rankings showcasing who holds the top spot in the world of high-stakes poker players.
The top performer in the PokerGO Tour will be awarded $100,000 in prize money and be named Player of the Year, while cash prizes of $50,000 and $25,000 will also be awarded to the player that finishes second and third, respectively.
Following the conclusion of the ARIA High Rollers that saw Matas Cimbolas, Sergio Aido, Bill Klein, and Jake Schindler collect victories, action headed down the street to The Venetian Resort Las Vegas. There was a total of three events last week with Ali Imsirovic, Shawn Daniels, and Sean Perry all collecting victories as $2.5 million in prize money was awarded.
Poker Masters Purple Jacket winner Ali Imsirovic retains his top spot on the PokerGO Tour leaderboard after winning the first event for $200,200. Imsirovic now sits with 1,416 points and has produced five wins from his 12 cashes for a total of $1,977,460 in earnings. Sean Perry won the $25,000 buy-in event to become the second player to eclipse the 1,000-point barrier as he now sits with 1,150 points and $1,693,618 in earnings. Chris Brewer collected three cashes from the three events to move into third spot ahead of Sean Winter and Sam Soverel.
The biggest mover was Shawn Daniels who finished second to Imsirovic for $146,300, and then won Event #2 for $175,500. Daniels now sits with 523 points from his one win, four cashes, and $551,500 in earnings.
PokerGO Tour Leaderboard
Rank
Name
Points
Wins
Cashes
Earnings
1st
Ali Imsirovic
1,416
5
12
$1,977,460
2nd
Sean Perry
931
2
9
$1,693,618
3rd
Chris Brewer
763
1
11
$1,082,100
4th
Sean Winter
665
1
9
$938,090
5th
Sam Soverel
534
1
6
$786,396
6th
Shawn Daniels
523
1
4
$551,500
7th
Brock Wilson
487
—
5
$695,186
8th
Chad Eveslage
461
1
1
$767,576
9th
Jake Schindler
444
1
6
$638,408
10th
Arthur Conan
440
1
1
$733,320
Note: PokerGO Tour Leaderboard accurate at the date of this article.
The next set of tournaments that are part of the PokerGO Tour schedule is the U.S. Poker Open from June 3-15 with 12 events on the schedule ranging from $10,000 to $50,000 buy-ins. Tournaments are rake-free for on-time registrations before the scheduled start time of 12 p.m. PT, and levels are 40-minutes in duration, with registration closing at the start of Level 7 following the competition of the dinner break. The 30-second shot clock is in play for the U.S. Poker Open, with players receiving six 30-second time extensions. Full information on the upcoming U.S. Poker Open can be found here.
Connect with PokerGO Facebook, Twitter, and Instagram. Use code "USPO21" for $20 off an annual PokerGO.com subscription now!