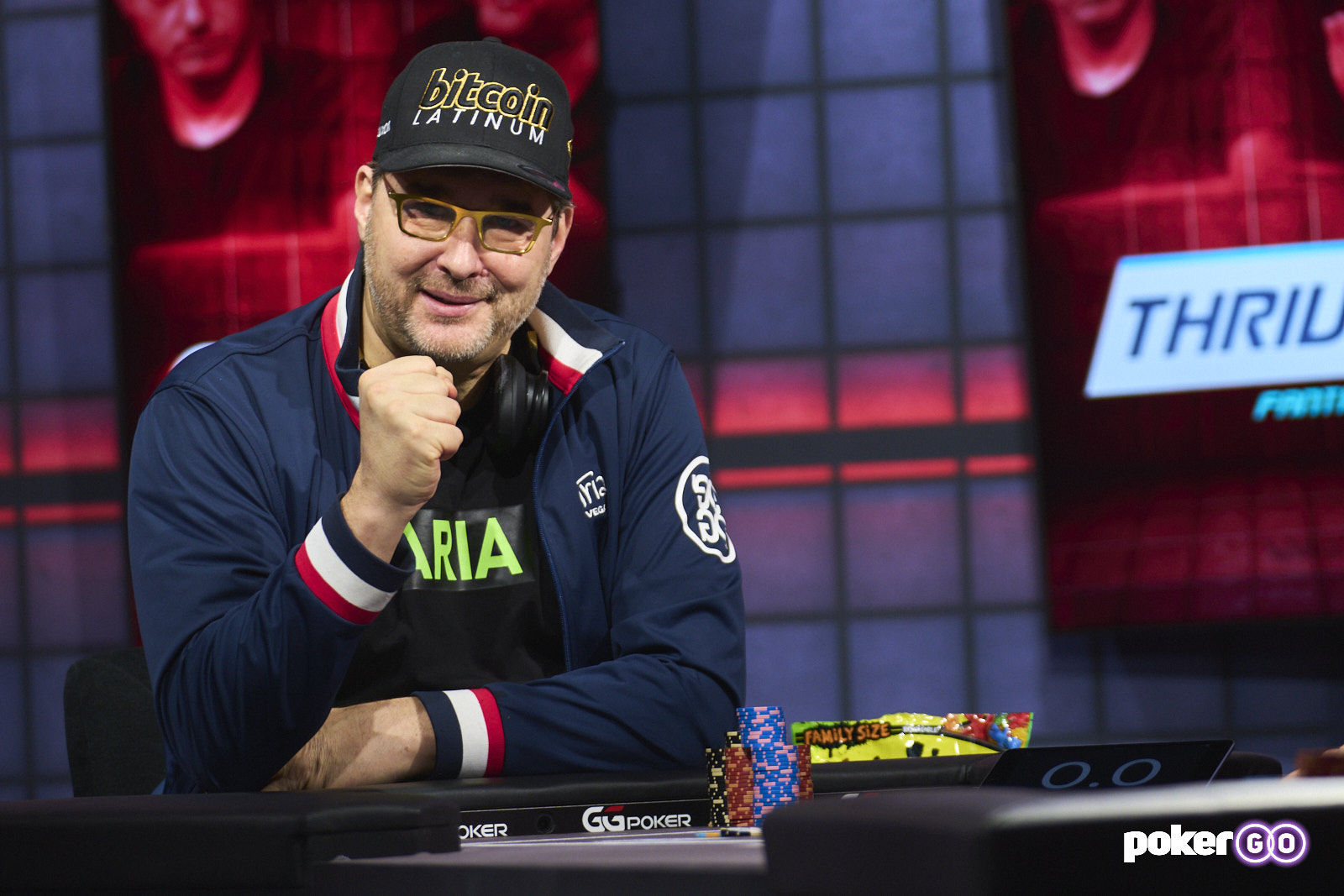 Phil Hellmuth is back in the High Stakes Duel winner's circle. On Wednesday, Hellmuth successfully earned his revenge against Tom Dwan in the duo's Round 3 rematch. The victory earned Hellmuth a $400,000 prize in this round. Dwan now has the first option to a rematch against Hellmuth and it will be played with $800,000 on the line as both players will be required to buy in for $400,000 each.
"The next match is for $800,000," Hellmuth said after the victory. "If I lose, I'm pretty sure that I'm not going to pony up $800,000 to play again, but I bet he will. If he doesn't, then someone else will. I have to win twice more, and it could be Dwan then [Phil] Ivey, or Dwan then Dwan, if I can win the next match."
Hellmuth and Dwan first met in High Stakes Duel III Round 2 back in August of 2021. At the time, Hellmuth was on a seven-match High Stakes Duel win streak. That streak ended when Dwan beat Hellmuth to come out on top and capture the $200,000 prize pool. That led Dwan to enter Round 3 of High Stakes Duel III as the man to beat with Hellmuth looking to get back to his winning ways.
High Stakes Duel is a PokerGO.com original series that begins with each player posting the $50,000 buy-in. The winner progresses through to Round 2 where the loser has the first option to challenge. If the loser declines, the challenger seat is open for 30 days. The stakes will double each round where a potential $12.8 million prize pool would be reached by Round 8.
After Hellmuth swept Antonio Esfandiari and Daniel Negreanu in High Stakes Duel I and High Stakes Duel II, respectively, he went on to beat Nick Wright in Round 1 of High Stakes Duel III. Wright declined to rematch, leaving the door open for a new competitor to step into the ring. That's when Dwan entered the arena, and the two would renew a rivalry that began at the 2008 National Heads-Up Championship when Dwan cracked Hellmuth's pocket aces with pocket tens. Fittingly, Dwan would crack Hellmuth's aces in Round 2 to hand him his first-ever High Stakes Duel loss.
"Dwan is just… he's amazing," Hellmuth said of Dwan. "He's a natural-born hold'em player."
Phil Galfond Joins Ali Nejad for HSD III Round 3 Hype Show
Ali Nejad was joined by Phil Galfond for the High Stakes Duel III Round 3 Hype Show that aired on all PokerGO platforms on Tuesday night. Galfond is an incredibly experienced poker player with three WSOP bracelets to his name and lots of heads-up experience having played numerous heads-up challenges against fellow poker pros. The Hype Show began with Nejad and Galfond taking a look at a few of the key hands during Round 2 with Galfond breaking down the play of both Dwan and Hellmuth. As has been a staple on High Stakes Duel, a quick tour down the Hellmuth food train followed as Nejad returned from the food highlight reel with Nejad snacking on Sour Patch Kids as the Hellmuth Cafe menu odds appeared with the Mongolian beef chased with an energy drink at +2500 odds.
To close out the Hype Show, Galfond sided with Dwan grabbing his second consecutive victory, while Nejad felt that Hellmuth was going to notch his eighth High Stakes Duel victory.
Prior to the Round 3 match, Nejad return to host The Weigh-In as Dwan and Hellmuth sat across from each other for the first time in five months. Hellmuth discussed how his loss against Dwan affected him after being on such a hot run in poker and business before Dwan was asked if he expected Hellmuth to challenge. "I didn't really think it through," Dwan said. "I was just happy I won the first one."
Attention was turned to Hellmuth's rants and tirades before the conversation moved on to how they both prepared for the upcoming Round 3. The Weigh-In then concluded with both players talking about why they are going to win as Nejad closed the show, "now it's time to get it on."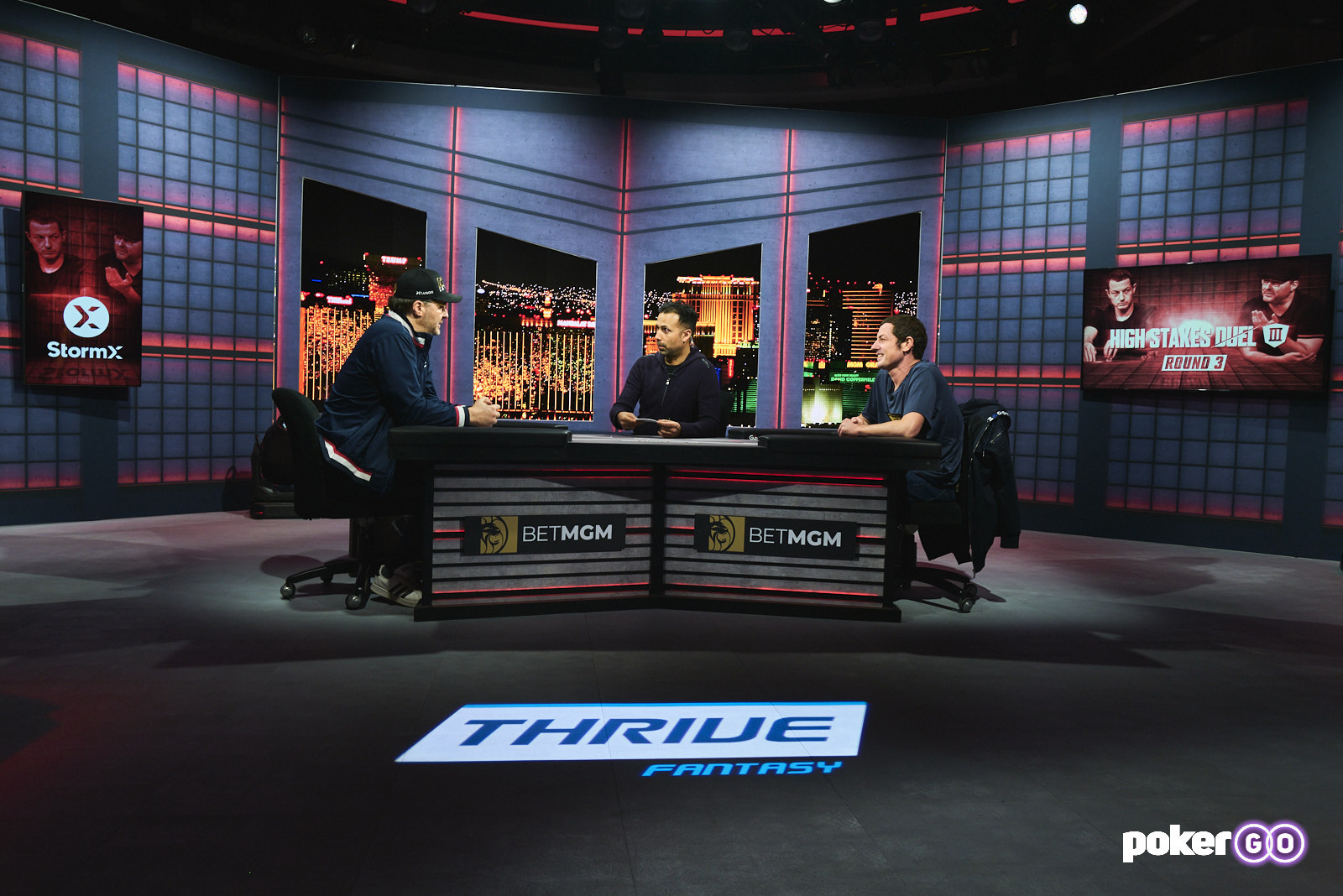 Round 3 Underway
The match began with each player sitting with over 330 big blinds deep in their second High Stakes Duel encounter and Hellmuth getting a little frisky compared to his previous matches. Hellmuth would hold a slender lead for the start of the match before his pocket tens would be outdrawn by Dwan's rivered flush. Hellmuth managed to fold the river, but sunk to his first major disadvantage during Round 3 before he responded with a successful three-bet from the big blind holding seven-deuce.
Hellmuth regained the lead with another three-bet holding ace-king as the two went back-and-forth before they would tangle in a pot with both players holding different flush draws on the turn. The river blanked out but Hellmuth held a pair to go along with his flush draw, and when Dwan checked behind, Hellmuth held his biggest lead of the match as he now sat on 230,000 in chips to Dwan's 170,000. As Dwan slowly closed the gap, he would play a pot holding bottom pair and a flush draw against Hellmuth's ten-high. Hellmuth gave up on the river, and Dwan now retook the lead.
Hellmuth grinded back into the lead, and when he pulled another bluff with ten-high that was successful, he moved back up to having a 225,000 advantage. Hellmuth would limp-raise seven-four offsuit as Dwan raise-called from the big blind holding pocket tens. Hellmuth flopped second pair as both players checked through to see Hellmuth improve to trips on the turn. Dwan check-called a bet of just under half pot before being faced with a half pot-sized bet on a blank river. Dwan took his time, used a time extension, and then called. Dwan was shown the bad news and sunk down to half his starting stack.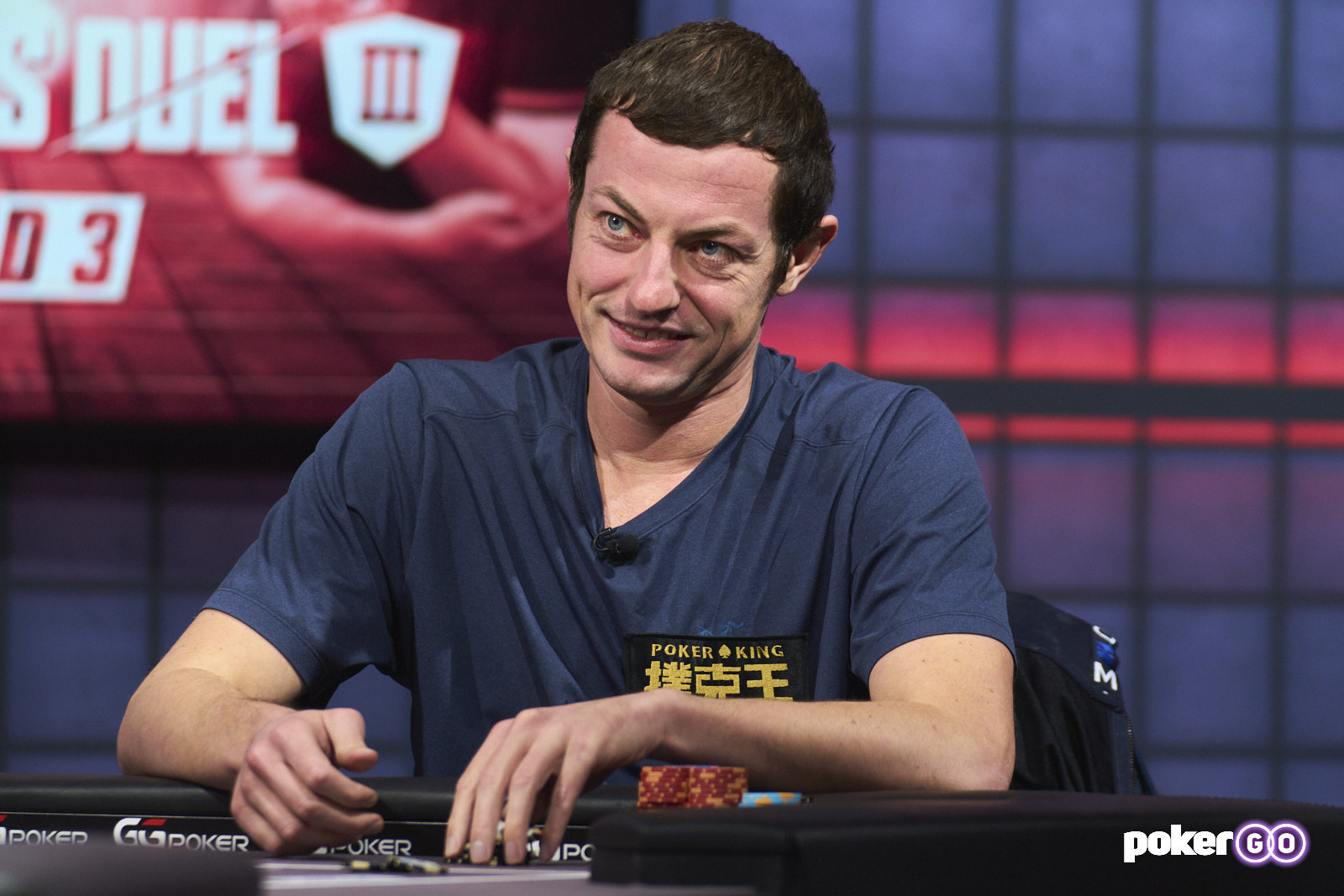 With Hellmuth now holding a three-to-one chip lead, he furthered his lead by turning his pocket nines into a straight against Dwan's ace-high. Hellmuth then raised from the big blind holding three-deuce suited and Dwan came along with king-ten. Hellmuth flopped a straight flush draw and bottom pair as both players checked through to see Hellmuth turn the steel wheel and lead out. Dwan called holding the king of clubs as the three completed the board on the river to put a straight on the board. Both players checked, and Hellmuth's straight flush pushed his stack upwards to 328,000 as Dwan sat with 72,000.
On the final hand of Round 3, Hellmuth limped holding ace-king before Dwan raised from the big blind with pocket eights. Hellmuth responded by shoving all-in and Dwan called all-in for roughly his last 64 big blinds. A king landed on the flop, and when two blanks followed on the turn and river, Hellmuth would emerge victorious in Round 3 and avenge his Round 2 loss against Dwan.
Hellmuth Wins, Dwan to Challenge?
"I know you're rematching," Hellmuth said to Dwan once the match was over. "This time for $800K."
Dwan didn't confirm or deny, but for the first time in High Stakes Duel history, there will be a Round 4 as Hellmuth cannot walk away with the $400,000 winner's purse unless no challenger emerges.
"It feels good," Hellmuth said. "Tom is just one of the greatest players in the world. I like to use the term 'natural-born hold'em player.' I think there are about 10 natural-born hold'em players in the world. I'm one of the 10, for sure. What do I have, 13 world championships in hold'em or something? Plus, 50 final tables in hold'em. So yeah, I'm one of them."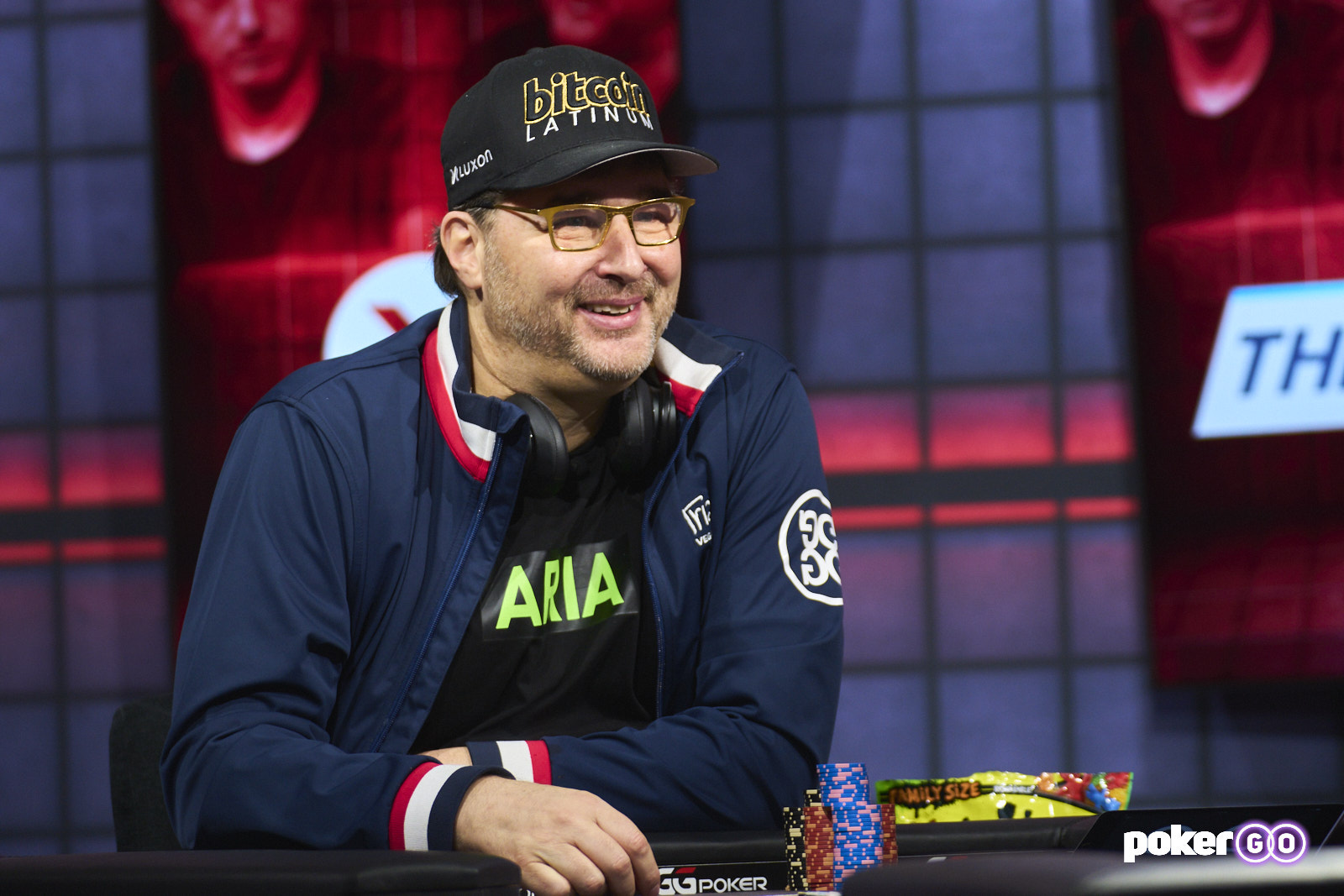 Connect with PokerGO.com on Facebook, Twitter, and Instagram. Use code "HSD3R3" for $20 off an annual PokerGO subscription now!