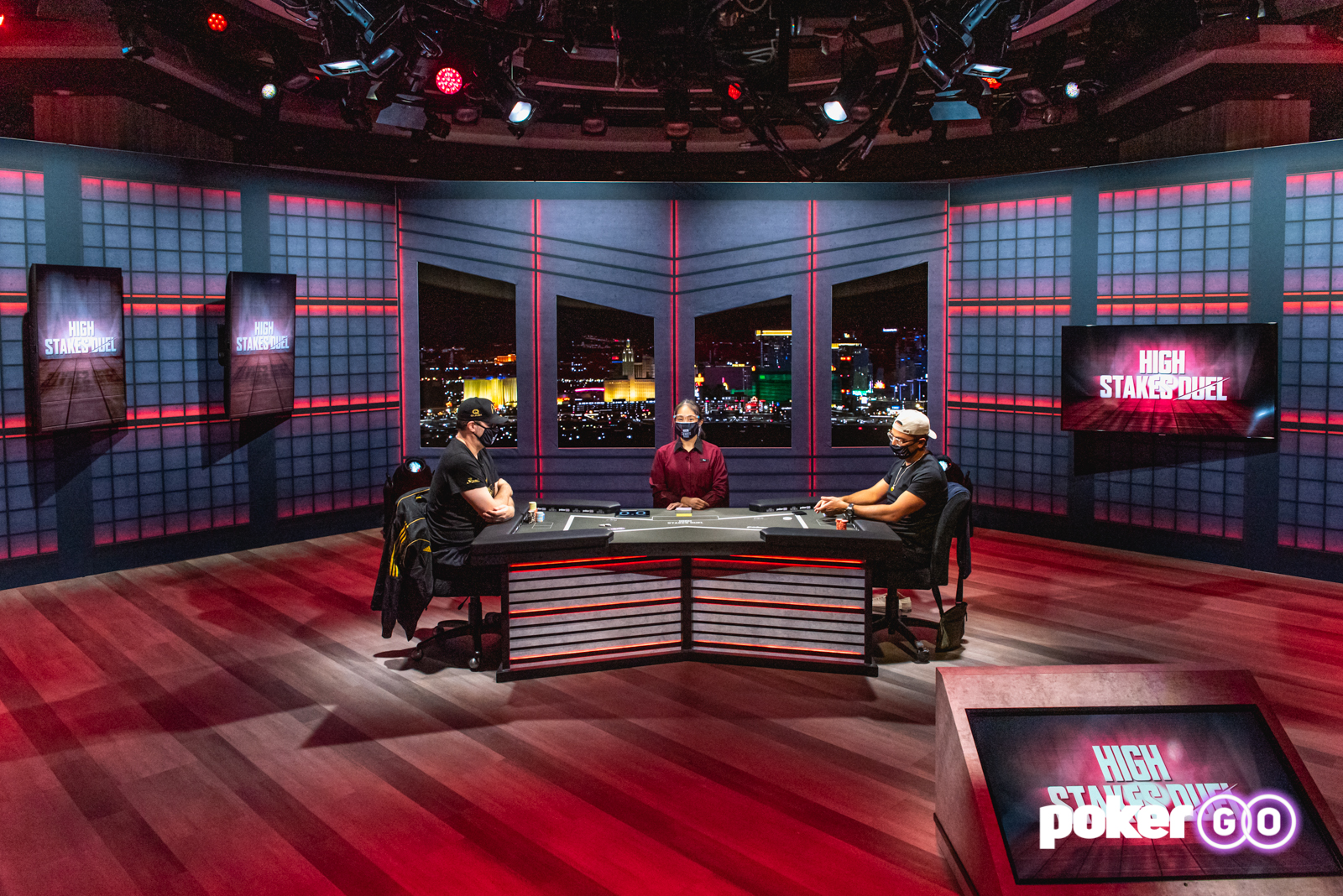 The premiere of High Stakes Duel saw Phil Hellmuth defeat Antonio Esfandiari in Round 1 as these two poker legends faced off in a $100,000 heads-up duel. Now the stakes are being doubled as Hellmuth looks to defend his victory over Esfandiari in Round 2 of High Stakes Duel where the two will play for $200,000.
High Stakes Duel is PokerGO's newest original series that begins with each player posting the $50,000 buy-in. The winner progresses through to Round 2 where the loser has the first option to challenge. If the loser declines, the challenger seat is open for 30 days. The stakes will double each round where a potential $12.8 million prize pool would be reached by Round 8.
"Great. Fabulous. Fantastic. Ready to tie it up and see if he challenges me for Round 3." Esfandiari said on how he was feeling entering Round 2.
In Round 1, Esfandiari lost to Hellmuth and immediately challenged for a rematch – and following a nearly two-month hiatus while WSOP Online became the focus for Hellmuth – both players have returned to the PokerGO Studio to continue their High Stakes Duel battle.
Nick Schulman Hosts The Weigh-In
"Hello everybody. Welcome to the desert. Welcome to Las Vegas, Nevada. Here we are again for Round 2 of the Duel. We're back. Antonio Esfandiari. Phil Hellmuth. We are back!" Nick Schulman said to open High Stakes Duel | Round 2 | The Weigh-In.
Schulman was back to host the preview show on Tuesday night for High Stakes Duel and the upcoming Round 2. Both Hellmuth and Esfandiari once again were seated across from each other and the jabs and pokes began early as Schulman asked if things will get heated again.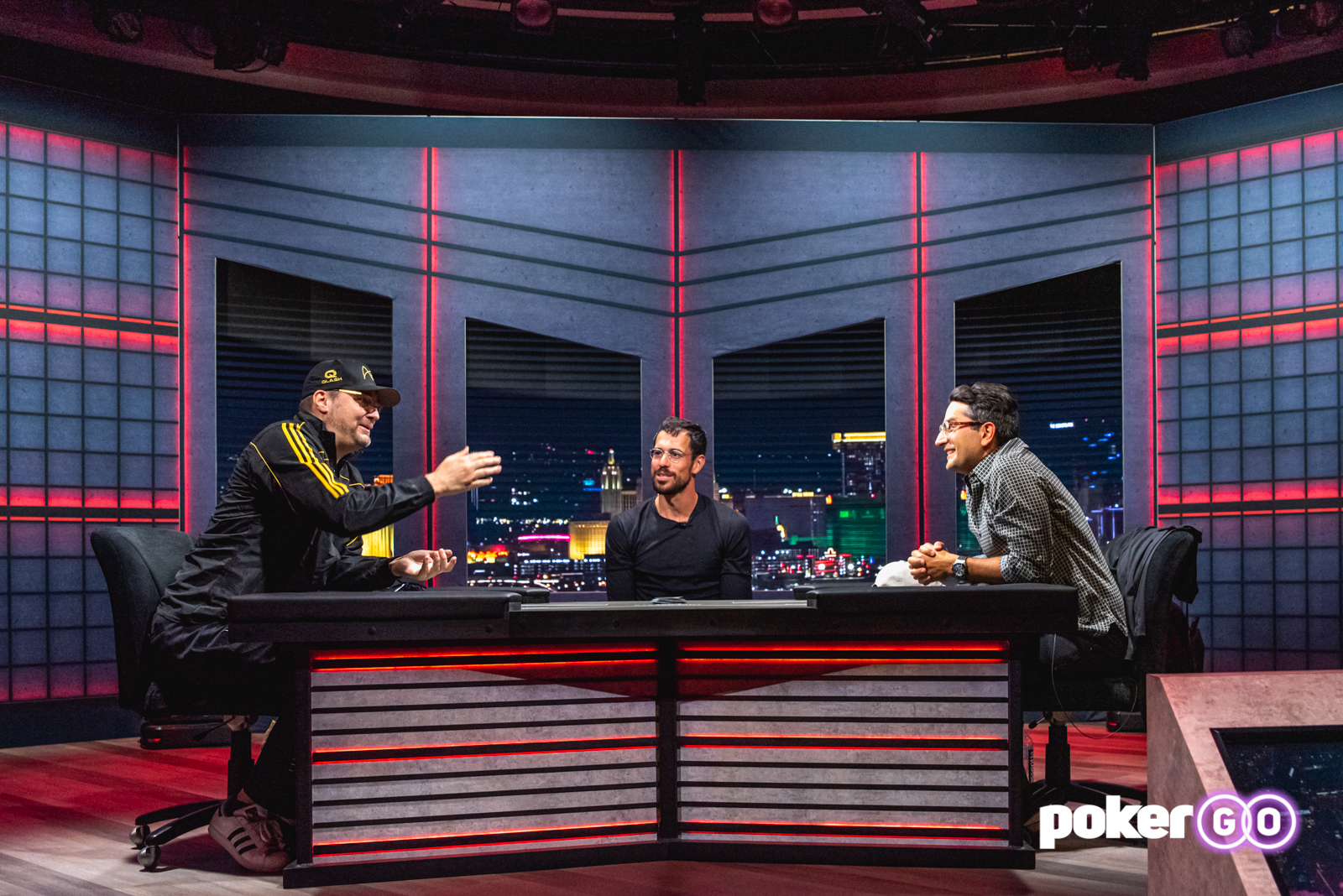 "It might. It certainly can. Phil and I are really good friends and everybody knows this," Esfandiari said. "But when it's poker, it's war, and there is nobody I want to beat more except for maybe Phil Laak – they're a very close first and second. So of course when the cards get going, and the bluffs get going, there's a chance for some 'heatedness.'"
The discussion then turned to the pressure of playing televised poker, and the number of people that will be watching.
"I don't even really give it that much thought," Esfandiari said. "I'm just sitting here playing poker, heads-up against my buddy with cards, and if you make a bad decision people are going to see it and you are going to get needled. That's just part of the game, and I accepted that many, many years ago when I started playing poker. I think we all have."
Action Underway in Round 2
"Great. Fabulous. Fantastic. Ready to tie it up and see if he challenges me for Round 3." Esfandiari said about how he was feeling heading into Round 2. When asked about what he was expecting from Hellmuth, Esfandiari said, "I think that he probably assumes I'm more likely to look him up this time because he knows I didn't like getting bluffed. So I suspect he'll probably have less bluffs than last time is my guess."
"Antonio is just an incredibly tough opponent," Hellmuth said before play began. "He's a bit unpredictable, he's aggressive, and he's a great player and has won a lot of money."
When prompted about a rematch if he was to lose a second time, Esfandiari said, "Auto. Standard auto. If I lose, just auto-challenge."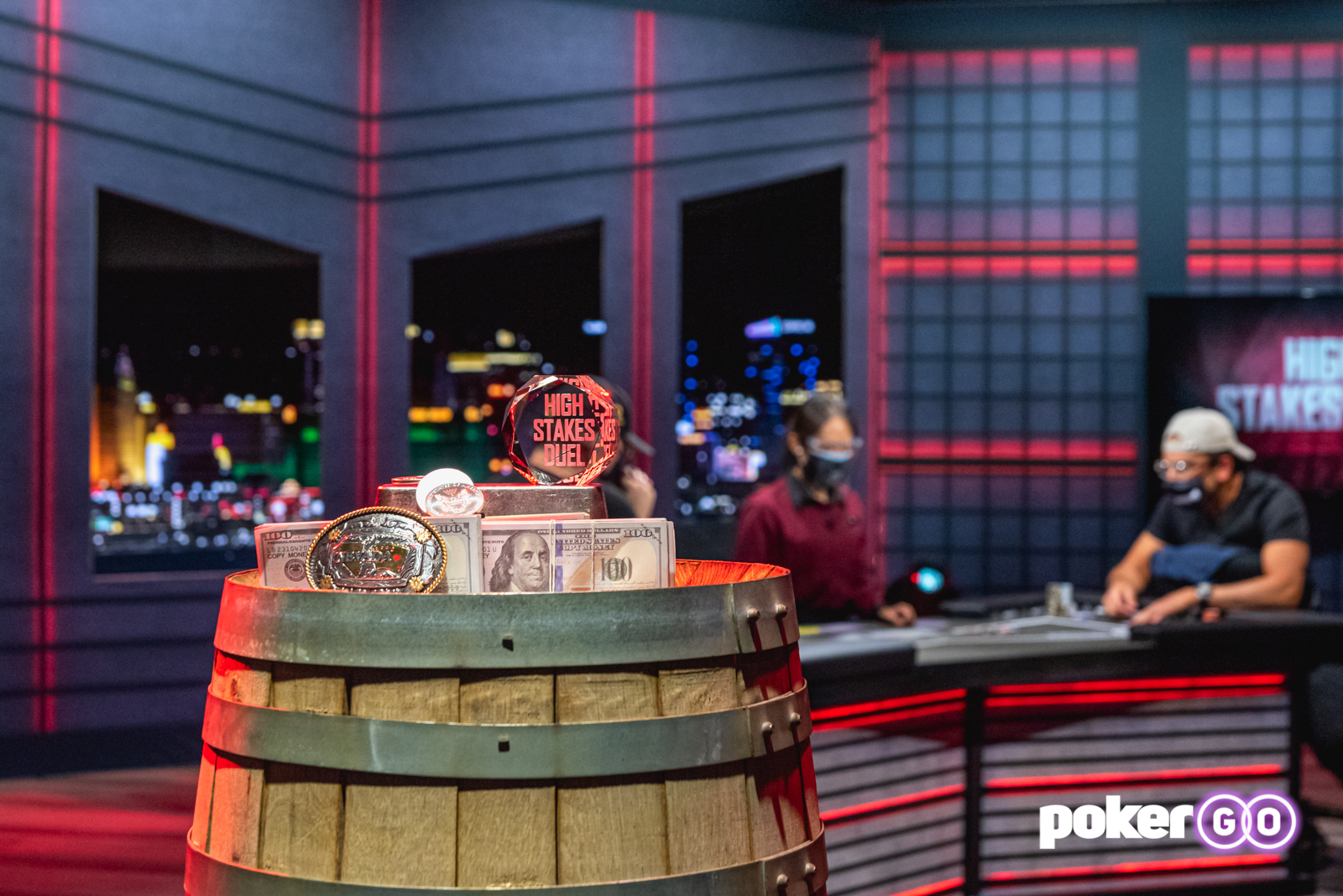 Hellmuth started hot out of the gate winning lots of small pots before making a great fold to Esfandiari. Hellmuth flopped top pair, but Esfandiari went runner-runner trips. Esfandiari bet over-pot on the river and Hellmuth agonized before making the fold.
"How does he know?" Esfandiari said while raking in the pot.
Both players took their turn in flopping straights against two pair, and it would take nearly an hour of play before Hellmuth took his first major misstep when he three-bet bluff the flop with ace-high against Esfandiari's middle pair. Esfandiari called, and then turned two pair to render Hellmuth drawing dead. Hellmuth barrelled the turn and Esfandiari called, and when both players checked the rive, Esfandiari tabled the winner and took his first major lead in Round 2.
Pots then started heading Esfandiari's way before one of the most interesting hands of early play conjured up a response on commentary from Schulman of, "A little bit of street poker out here in the desert right now buddy."
Esfandiari floated the flop with eight-high to a raise from Hellmuth and turned a gutshot. Hellmuth led out and Esfandiari raised. In response, Hellmuth used a time extension before making it three bets to go. Esfandiari called and Hellmuth checked dark to see an ace roll off on the river. Esfandiari shoved, Hellmuth used another time extension before he made the call and secured the double to move back into the lead with nearly a two-to-one advantage.
"He's so lucky. Two of the biggest spots in the tournament and I got rivered both times. First match, and this one. Ace don't come I guarantee he's done," Esfandiari said to Mori Eskandani as both of them and Hellmuth watched a replay of the hand on the TV inside the PokerGO Studio during a short break of play.
"You guarantee?" Hellmuth asked.
"I guarantee." Esfandiari quickly responded.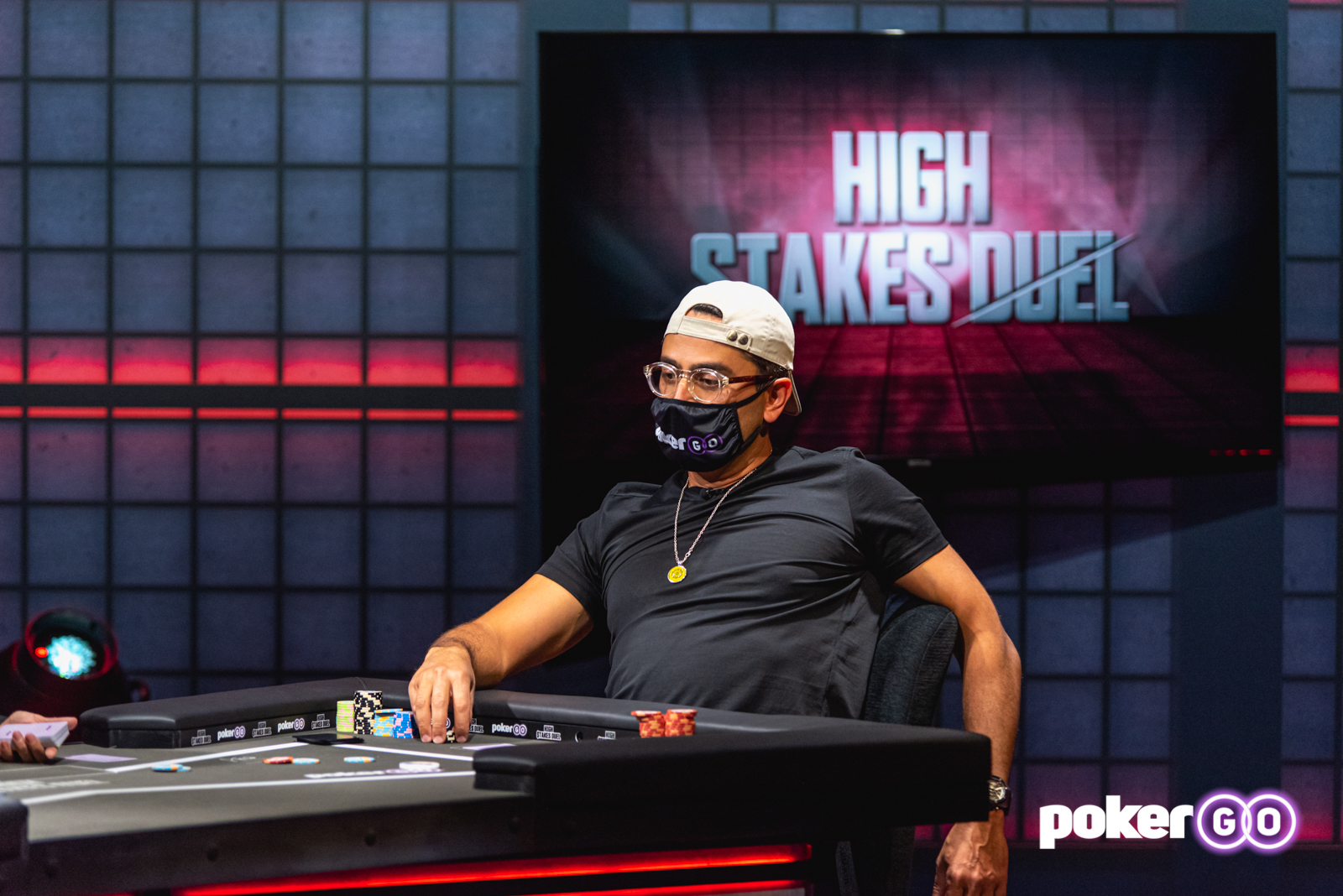 Back-and-Forth Before Phil Hellmuth Begins to Surge
The next portion of play would be absent of monster pots, but the banter between both players remained intense. Both Hellmuth and Esfandiari each put their foot down on the accelerator at different stages as each player held the lead for extended stages.
As play approached the third hour, Esfandiari pushed out into his biggest chip advantage of three-to-one. Esfandiari flopped top set to Hellmuth's second pair and managed to find two streets of value before shoving the river. Hellmuth made a good fold, and on the next hand, he would find a double to see the chips stack return to nearly even. Hellmuth limp-called on the button with jack-eight and flopped top pair as Esfandiari sat with pocket nines. Esfandiari bet, Hellmuth shoved all in, and after using several time extensions, Esfandiari called. The turn and river blanked out, and Hellmuth now held a slender chip lead.
Esfandiari began another fight back into the chip lead on the heels of flopping trip aces. However, Hellmuth would find his third double of the match when he limped the button and flopped two pair. Esfandiari check-called a bet with bottom pair and turned an inferior two pair and checked once more. Hellmuth bet again, and Esfandiari check-raised. Hellmuth made it three bets to go and Esfandiari hesitated before he moved all-in. Hellmuth snap-called, and when the river blanked, he doubled to leave Esfandiari down to just 15 big blinds.
"Blessed. You really are blessed," Esfandiari said to Hellmuth. "This is so tilting Dad. This guy is so lucky."
The action continued for a little longer before the final hand saw Esfandiari all in holding jack-ten against the dominating king-ten of Hellmuth. Esfandiari flopped a gutshot straight draw, but no further help came, and Esfandiari was handed his second High Stakes Duel defeat from Hellmuth.
"It was fun," Esfandiari said. "We battled today. You deserved the W."
Phil Hellmuth and Antonio Esfandiari Ready for Round 3
"It feels great. I don't think I bluffed as often this time. We had some great hands that everyone is going to love. That everybody is going to love. The gangster hand where I had ace-three and somehow he knew I didn't have it, and somehow I knew he didn't have it, and a lot of money gets in there."
"His style is to run me over, run me over. So in my heads-up matches I just try to get it in way in front for the big pots. And that's what happened today, and they happened to hold up. When the big money went in, I really had him in bad shape a couple of times."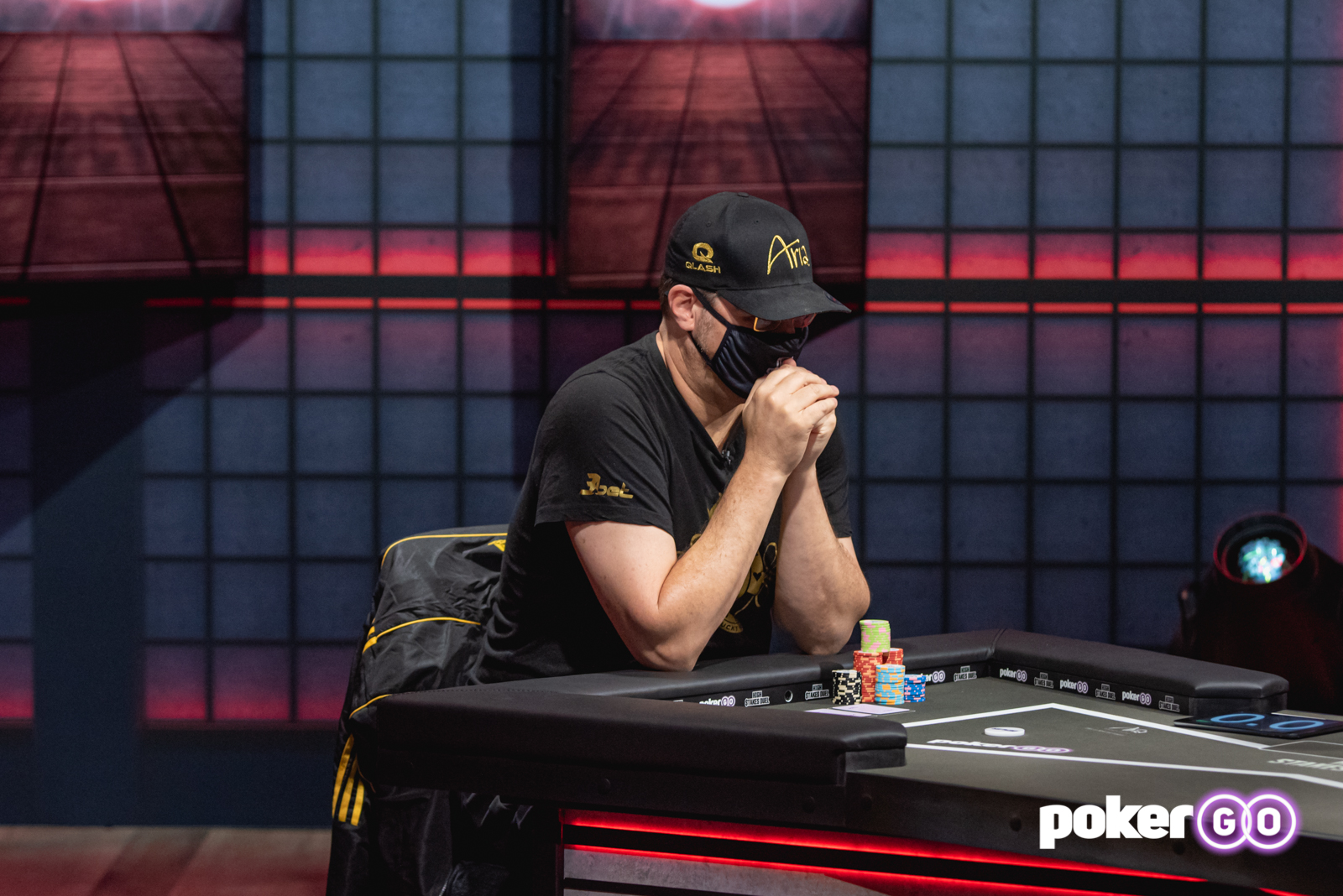 "We have a great rivalry, it's been a lot of fun. He's just a great player," Hellmuth said about him and Esfandiari's poker rivalry. "My usual tricks don't work against him. Everybody when they play heads-up, plays wrong, and that leads to a lot of easy victories for me. But he already improved."
In Round 1 of High Stakes Duel, Esfandiari executed an immediate challenge, and on The Weigh-In he confirmed that he would challenge Hellmuth once more if he lost. With Hellmuth recording his second High Stakes Duel victory, he knows that Esfandiari is already waiting for him in Round 3 when they square off in a $400,000 heads-up match. Will Hellmuth record his third victory? Or will Esfandiari finally exact his revenge in Round 3?
"It's going to be a lot of fun, and who knows, it may happen in three weeks."