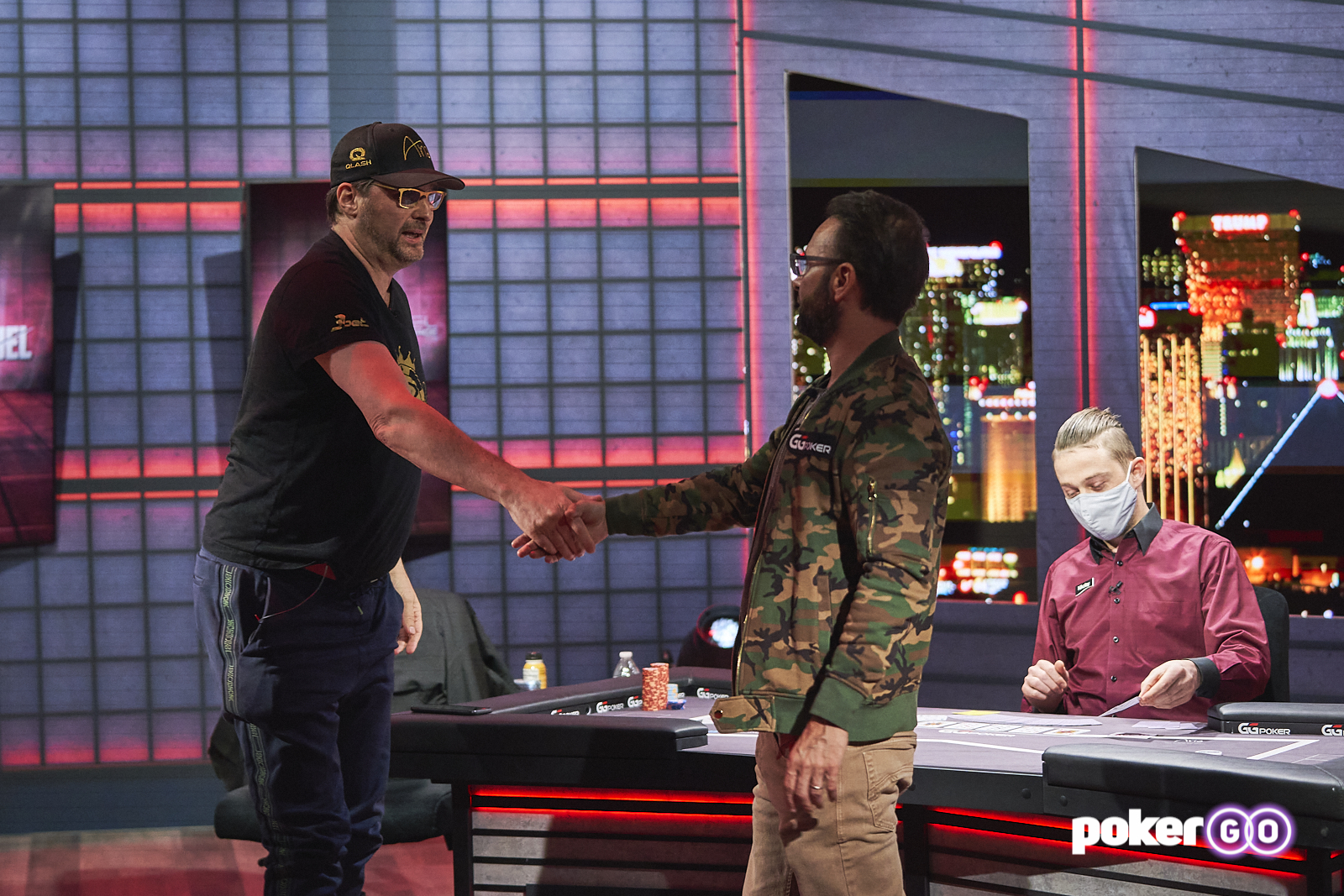 Following a clean sweep of Antonio Esfandiari in the debut of High Stakes Duel, Phil Hellmuth turned his attention to Daniel Negreanu where he staged an epic comeback in Round 1 of High Stakes Duel II before a date for Round 2 would be set with Negreanu for the $200,000 match.
High Stakes Duel is a PokerGO.com original series that begins with each player posting the $50,000 buy-in. The winner progresses through to Round 2 where the loser has the first option to challenge. If the loser declines, the challenger seat is open for 30 days. The stakes will double each round where a potential $12.8 million prize pool would be reached by Round 8.
"I never gave up, and I was proud of that," Hellmuth said regarding how Round 1 played out. "A lot of people give up. A lot of people get frustrated. A lot of people get too emotional in those spots. But yeah, I was a little lucky too when I was down there."
Hellmuth staged one of the biggest comebacks in poker history after sitting at worse than a 20-to-1 disadvantage. Hellmuth turned the tide and picked off a bluff, threw out his own, and then found a huge double with a superior flush and straight draw. Hellmuth then outdrew Negreanu twice on the river by making two pair on one hand, and a flush on another, to move into the lead before pushing forward and closing out Round 1 with a victory holding pocket nines.
"If you watch the match and have played poker ever in your life, you will see a complete domination across the board when it was deep stacked," Negreanu said on how Round 1 played out. "The one thing I didn't do was that I was toying with him a little bit when he got short instead of putting the nail in the coffin. I was like, 'he can't win anyway unless he hits 20 miracles in a row,' and then he proceeded to hit every river."
With both players declaring that they have watched Round 1 on PokerGO.com, some strategic and in-game adjustments should be expected when the cards hit the air for Round 2.
"He's limited in terms of what he's capable of in general as a player," Negreanu said on how Hellmuth will approach Round 2. "He's going to watch what I did, and he's going to try and make adjustments. The question is, does he know what to do and how to do it? I don't think so. So, I have a few things that I will do slightly different, but for the most part, I'm just going to outplay him when we're deep. I'll get a big chip lead as always, and this time, hope I stomp him out."
"I'm ready for whatever," Hellmuth said on what he expects from Negreanu in Round 2. "I'm guessing he won't adjust too much because he had me a little low playing his game plan, and I think he likes his game plan."
The Hype Show and The Weigh-In Return
The Hype Show and The Weigh-In returned for High Stakes Duel II, and aired for free across all PokerGO platforms. Ali Nejad and Nick Schulman co-hosted The Hype Show on Tuesday night, and the two reviewed Round 1 and some of the major hands before turning their attention to the upcoming Round 2. Schulman couldn't pick against Hellmuth, while Nejad was siding with Negreanu.
"Daniel wants it," Nejad said. "I know he doesn't need it, but he wants it. He wants to prove a point that he can still hang."
Schulman returned the following night for The Weigh-In and was faced with a more relaxed Hellmuth while Negreanu was dressed in camo and ready for war with Hellmuth, the Apex Predator. Schulman immediately led by questioning each player's legacy and how the results in High Stakes Duel affect it, before the discussion on their competitiveness followed.
Phil's ego was brought up next by Schulman on the back of Hellmuth's statement, "And to me, this is white magic. Apex predator shit. King Kong shit. What do you have to say?"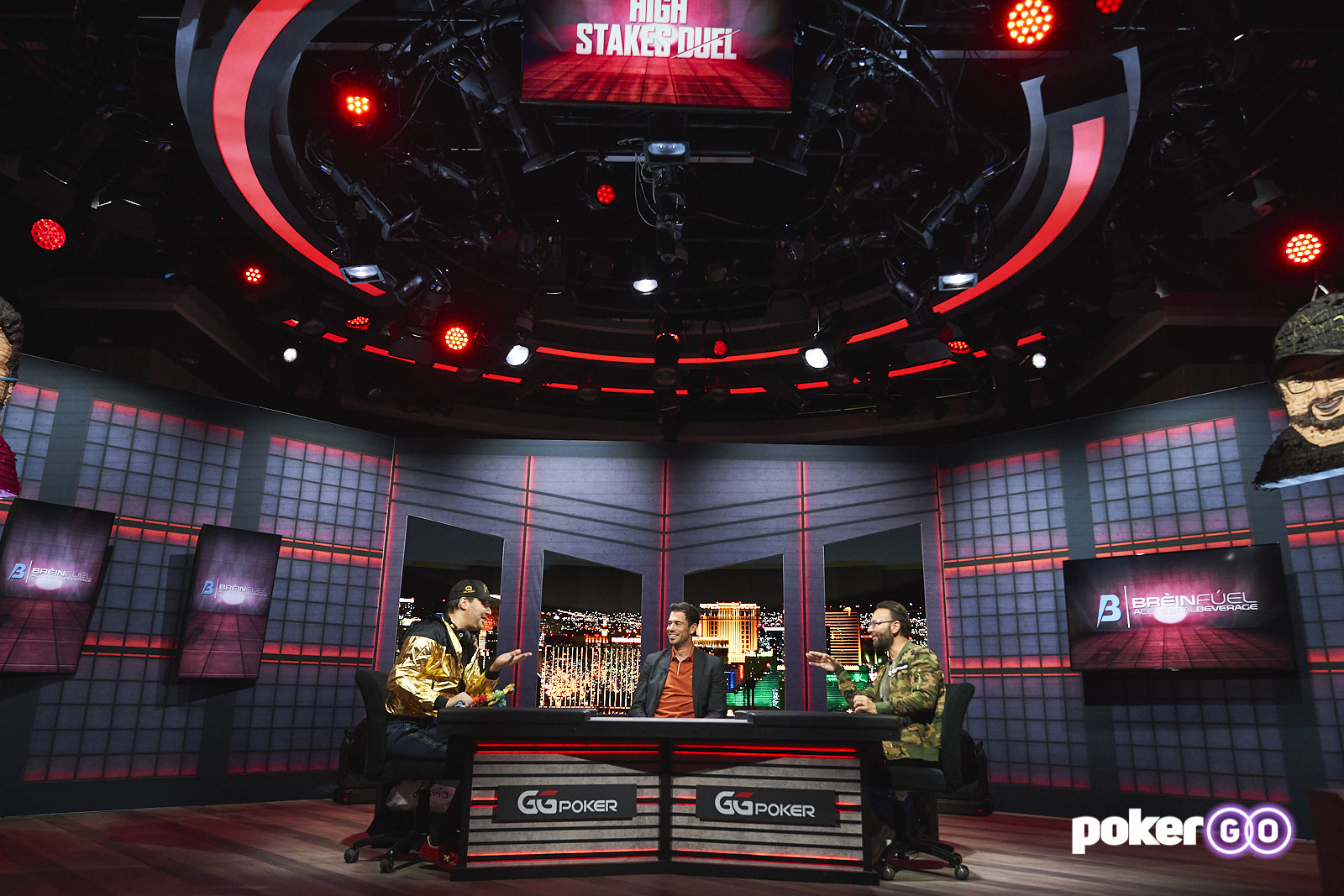 Schulman then introduced the custom piñatas that were made to resemble both Hellmuth and Negreanu to celebrate Cinco de Mayo. Both were hanging behind the players and Schulman handed them each a stick that they could take to the piñatas to hopefully release some goodies.
"I need you to take a whack because I hear there's some candy in there," Hellmuth said to Negreanu.
The Weigh-In ended with Schulman asking if either player had any final words.
"I'm ready," Negreanu said as Hellmuth nodded in agreeance.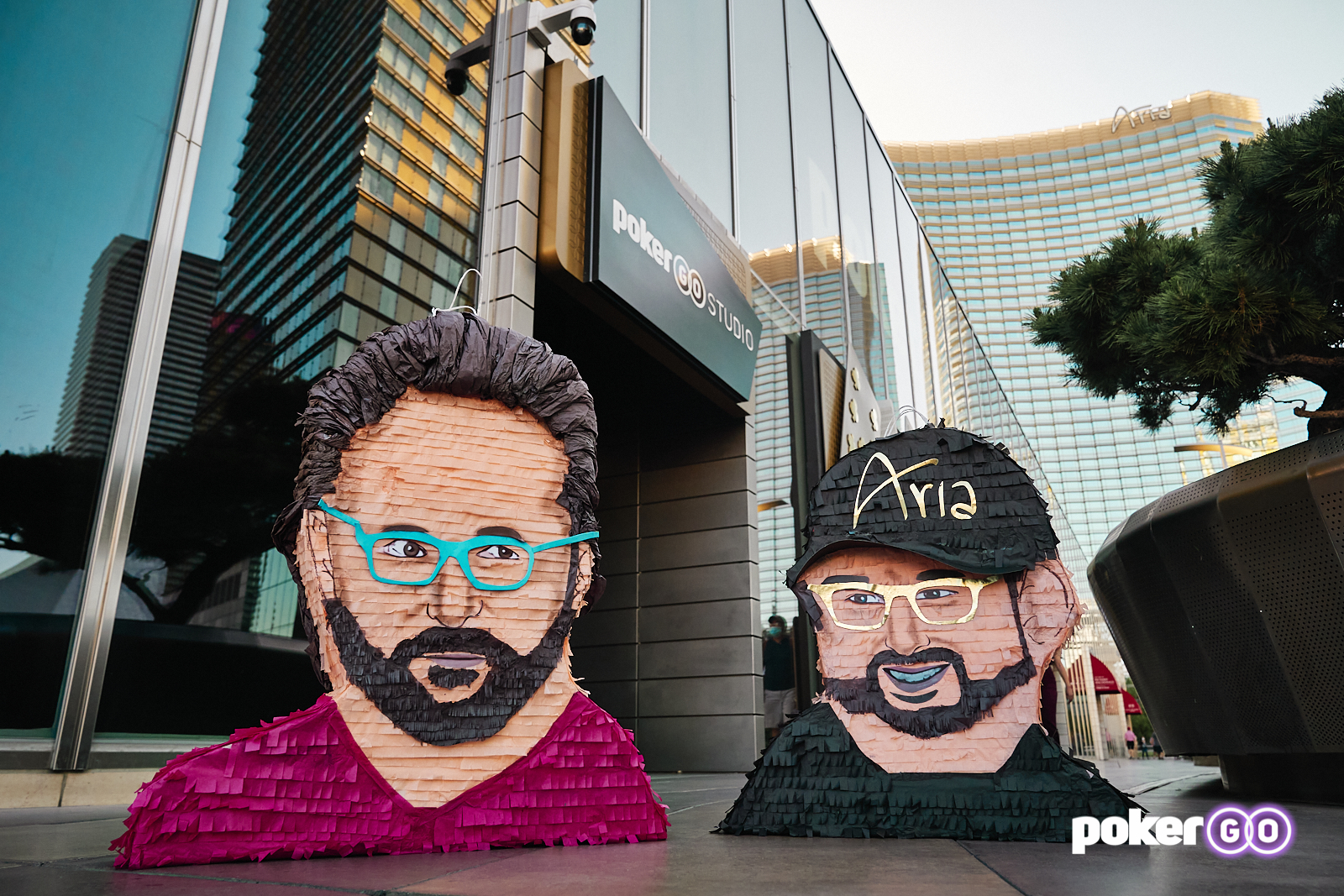 Round 2 Underway
Players began deeper for Round 2 with the starting stacks matching the buy-in of $100,000. Following some initial back-and-forth, Hellmuth surged out with the first major lead of the match after hitting two pair a few times. In a hand where Negreanu flopped top pair, and Hellmuth second pair, by the river, each player held a full house. Negreanu went for value with his queens-full and Hellmuth called with his eights-full as the chip counts returned to relatively even par.
The big blow followed shortly after when Hellmuth's suited connectors improved to two pair on the river against Negreanu's turned top set. Hellmuth called bets on the flop and turn, and when faced with a bet on the river, he made a small raise. In response, Negreanu made it three bets to go, and Hellmuth used a time extension and called before sinking to a three-to-one disadvantage.
Hellmuth hovered at that disadvantage for several levels before spiking a huge river against Negreanu when his flopped straight flush draw improved to a pair on the turn, and then the flush on the river as Negreanu paid off Hellmuth's river bet with top pair. Hellmuth now held the slight chip lead, but it continued to flip-flop between the two before a hand would see Negreanu flop quads with his five-four suited. Hellmuth and his pocket deuces had flopped a full house, but managed to find a fold on the river before sinking back down to a near three-to-one disadvantage.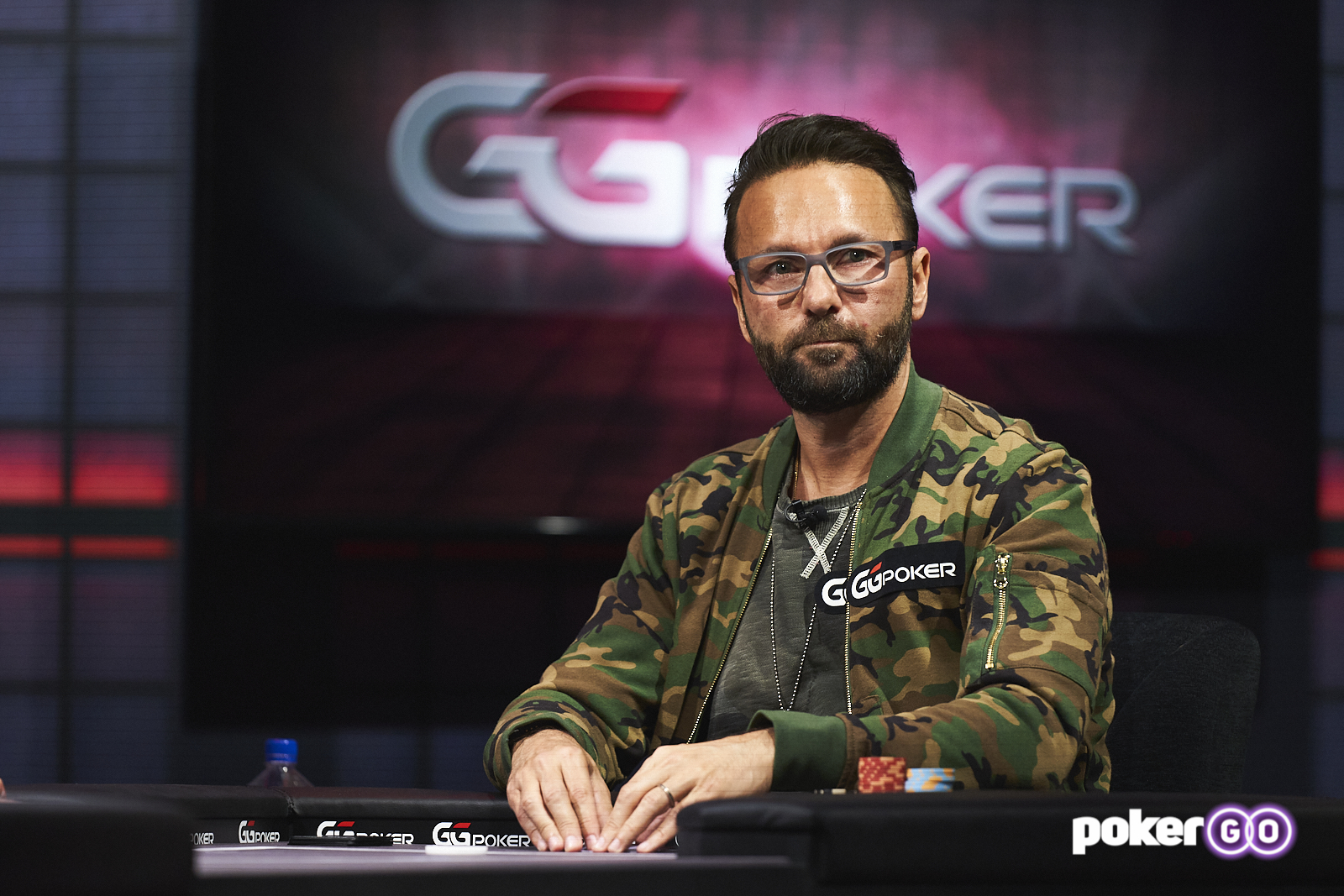 Time to Turn on the Heat
Hellmuth began creeping back up the leaderboard towards Negreanu as he continuously dragged pot-after-pot. He took and relinquished the chip lead several more times before being dealt pocket kings on the button and finding some value from negreanu and his straight draw.
However a big pot would brew with both players flopping top pair. Negreanu turned his kicker to render Hellmuth drawing dead to a chop as the pot was sitting at around 64,000 before Negreanu moved all-in on the river for 49,500. Hellmuth folded rather swiftly and was now down to 84,000 as one of the turning points in the match would occur.
Negreanu was dealt
on the button and min-raised before Hellmuth three-bet to 14,000 holding
. Negreanu called, and on the
flop, he called a bet of 13,000 from Hellmuth as the turn landed the
. Hellmuth fired out again – this time for 28,000 – and Negreanu called as the
completed the board on the river giving Negreanu the checkmark. Hellmuth instantly moved all-in for 31,500, and Negreanu folded to The Poker Brat's bluff. Hellmuth now held just shy of a three-to-one advantage over Negreanu following that bluff that would also be the 16th lead change of the match.
On the 234th hand of Round 2, the final one would be dealt as Negreanu min-raised the button holding pocket eights. With roughly a three-to-one chip advantage, Hellmuth shoved all-in holding ace-four, and Negreanu called to put his Round 2 life at-risk. The flop would see Hellmuth have outs to counterfit Negreanu, before a third heart on the turn gave Hellmuth the nut-flush draw..
"It's never easy is it?" Negreanu said before laughing. "I can't look. It's too painful."
The river would be a fourth heart, and Negreanu immediately stood up and approached Hellmuth with a friendly handshake while saying, "I can't beat the man. Buddy, you played well. I thought you played well."
Phil Hellmuth and Daniel Negreanu Set for Round 3
Hellmuth has now secured his fifth consecutive High Stakes Duel victory and is just one more away from being able to cash out the $400,000 prize pool. Although a date for Round 3 isn't set, his opponent is since Negreanu immediately confirmed he would be challenging following the completion of the final hand and a friendly handshake.
"So we'll have to see you in Round 3," Negreanu said as both players were out of their seats.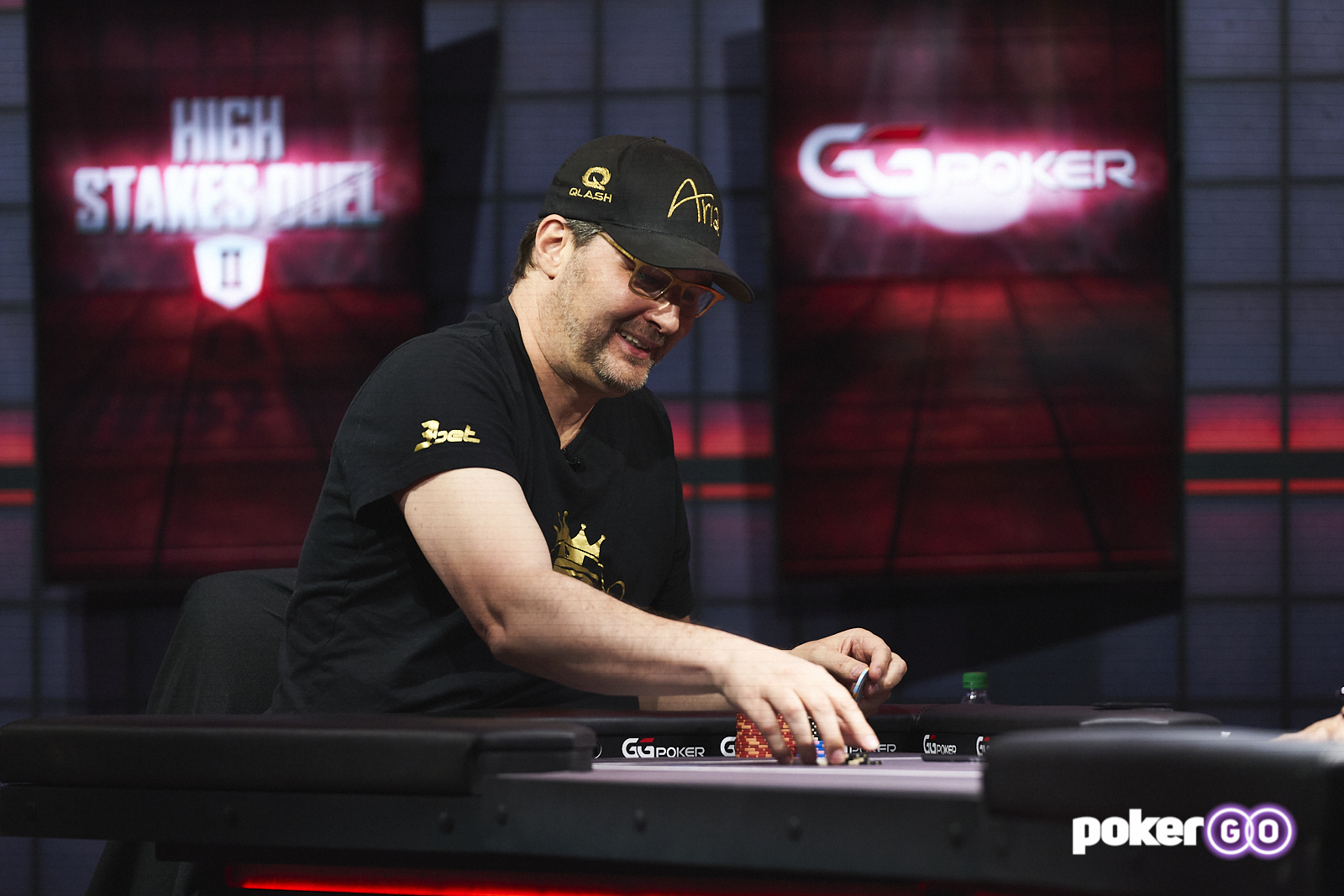 "Daniel is a great player and he makes it hard," Hellmuth said on having Negreanu as an opponent. "I make it 14,000 with ten-deuce of diamonds and he calls with seven-nine of diamonds. The flop comes 6-6-K with two spades and I bluff 14,000 and he calls. Then the eight of diamonds comes and we both pick up a flush draw, and I think alright, fuck it I'm just going to go for it. So, I bluff, and he makes a nine on the river and I just moved in and he folded. If he called me there, I lose. I put myself at risk, and Daniel made me put myself at risk. I'm going to have a better strategy for him next time."
That hand was a tipping point late in the match that led to Hellmuth's eventual victory.
"I've given Daniel credit the whole way from start to finish and I haven't said one negative word about him," Hellmuth said about Negreanu. "He was pretty condescending in the first match. I felt it was super condescending, and this match he handled himself much better."
"They have me rated as a fucking underdog every match," Hellmuth said about how the odds throughout High Stakes Duel. "It just blows my mind, but I just never quite get that respect, and that's ok with me. I just want to keep winning."
Hellmuth does indeed keep winning and now has a fifth consecutive High Stakes Duel victory in the bag. He'll continue to fight to prove the doubters wrong and to gain the respect he deserves as Round 3 of High Stakes Duel II awaits. Hellmuth will be seated opposite Negreanu for the third time as the two face-off for the $400,000 prize pool on PokerGO.com, with a date for the match to be announced shortly.
Connect with PokerGO on Facebook, Twitter, and Instagram. Use code "HSD2" for $20 off an annual PokerGO.com subscription now!