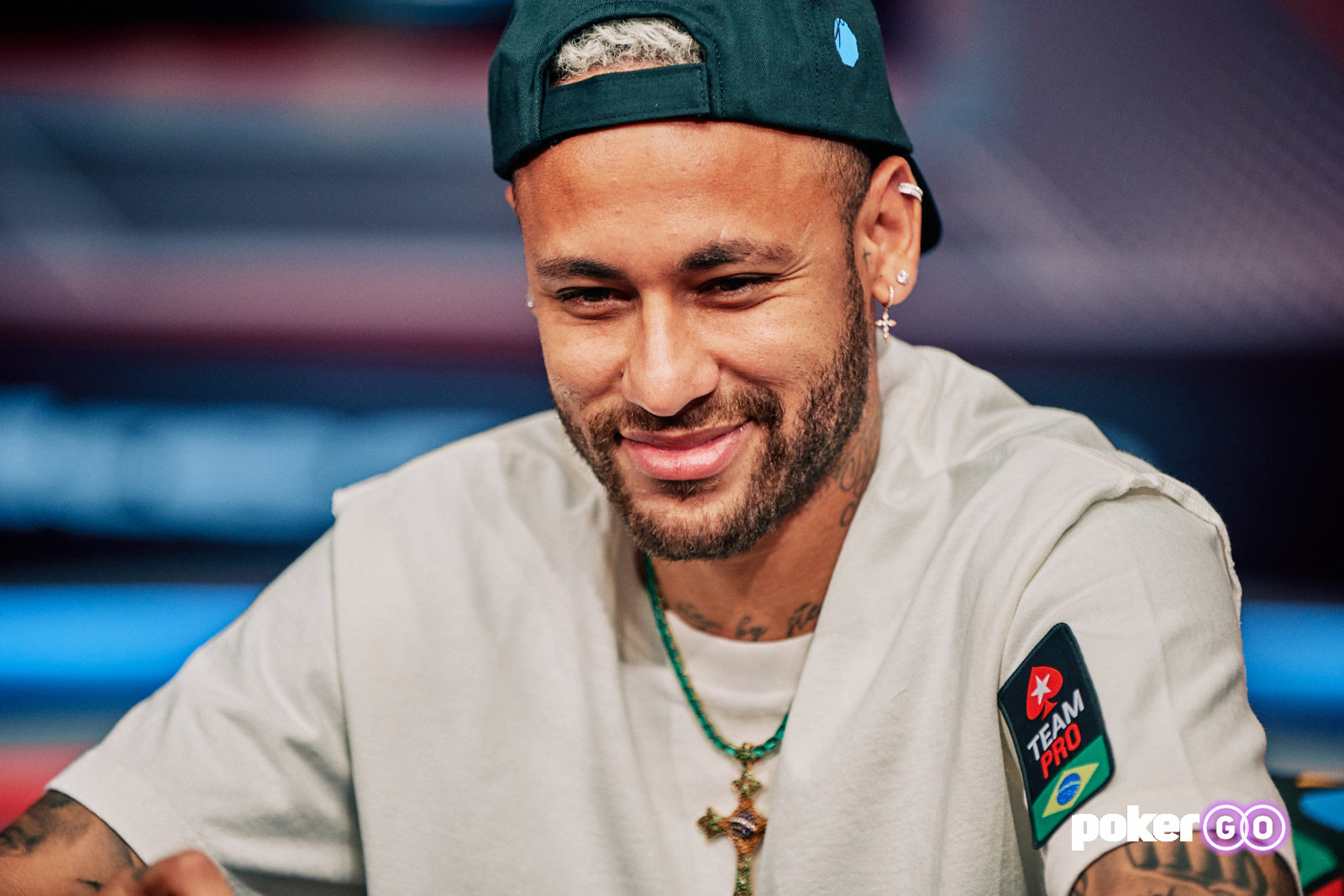 Superstar footballer Neymar Jr. earned his first-ever World Series of Poker cash result on Sunday. Neymar placed 49th out of a field of 2,227 entries in the 2022 WSOP Event #41: $1,000 No-Limit Hold'em Super Turbo Bounty Freezeout.
Although Neymar, who currently plays for French club Paris Saint-Germain and the Brazil national team, fell short of winning his first WSOP gold bracelet, he did place in the top 2.5% of an official WSOP tournament and nearly quadrupled his buy-in.
How Much Did Neymar Cash For?
Neymar cashed for a total of $3,959. He bought in for $1,000, which means that Neymar profited $2,959. The event was a freezeout format, meaning players could only enter once.
The tournament did have $300 bounties on each player. Every time a player knocked someone out, the player would win the eliminated player's $300 bounty. That means that Neymar's total prize was likely larger than $3,959 as it would be hard to make it all the way to 49th place from a 2,227-entry field and not knock out at least one player along the way.
Neymar Doubles Up Early
Early on in Event #41: $1,000 No-Limit Hold'em Super Turbo Bounty Freezeout, Neymar found himself all in with ace-king against an opponent's queen-jack. After the opponent opened the action with a preflop raise, Neymar moved all in. While thinking, his opponent said that he would likely call because it was Neymar and because he wanted Neymar's bounty. The player did make the call, but it was Neymar's ace-king holding up to give him the early double up and set the tone of Neymar's day.
How Was Neymar Eliminated?
According to tournament updates from WSOP.com, Neymar lost the last of his chips when he was forced all in from the big blind and had ace-two. He was up against Wing Yam's ace-jack who held a dominating position over the global soccer star. Both players flopped an ace, but it was Yam's jack kicker that held through the turn and river to send Neymar off.
Does Neymar Have Other Poker Cashes?
Yes, Neymar had previously finished in the money in a few poker tournaments prior to getting his first-ever WSOP cash. Before he finished in 49th place in 2022 WSOP Event #41: $1,000 No-Limit Hold'em Super Turbo Bounty Freezeout, Neymar had a sixth-place finish in a Brazilian Series of Poker high roller tournament in Sao Paulo in 2018 for R$79,440 ($21,072), a 67th-place result in a European Poker Tour event in Monte Carlo in 2022 for €1,110 ($1,171), and a 55th-place cash also at the EPT in Monte Carlo in 2022 for €5,620 ($5,929).
On the PokerGO Podcast, Donnie Peters and Tim Duckworth discussed Neymar's first WSOP in-the-money finish and how Donnie played with Neymar early on in the event.
Connect with PokerGO.com on Facebook, Twitter, Instagram, and TikTok. Watch daily poker clips on the PokerGO YouTube channel. Join the conversation on the PokerGO Discord server.