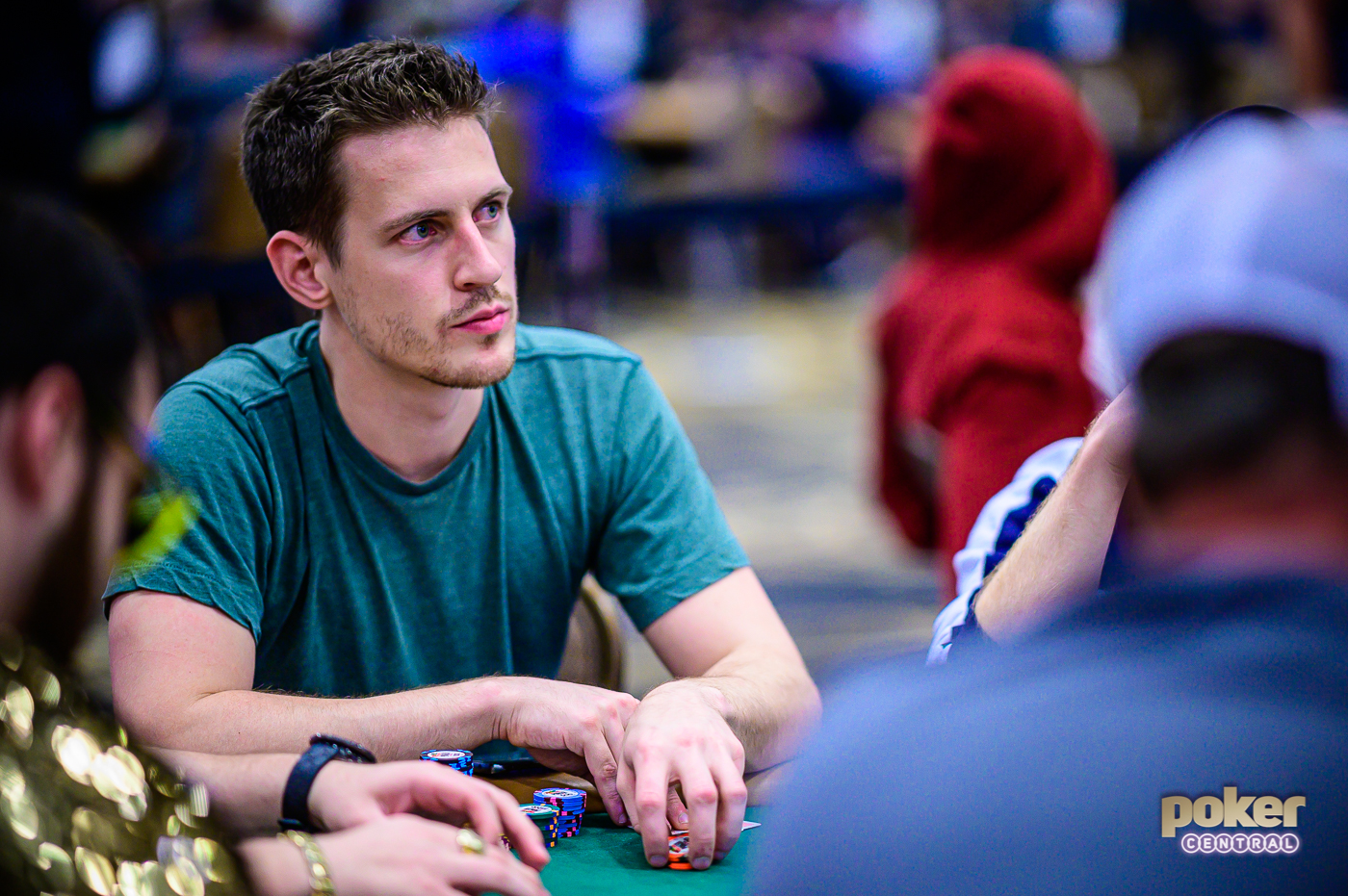 Poker players probably asked themselves all sorts of questions on their way into McCarran International Airport on their way to the Main Event. How will they present their table image? What will do to cope with tilt, tiredness, or a tirade from another player? But what they may not have wondered is how they would cope with a 7.1 magnitude earthquake during the Main Event. We took a break from swinging from the WSOP chandeliers in the Rio to round up some of the best of poker on social media during a week like no other.
FINAL ROUND BEER PHOTO
When all nine players are sharing a round of beers in the final level of a poker table, you've done it right.
9 out of 9 players drinking Coronas last level of day 1. LOVE THE MAIN EVENT pic.twitter.com/E0xVBBKIBx

— Alex Livingston (@rumnchess) July 5, 2019
OCTAGON RULES
Brandon Adams took time out from making Spider-Man's life hell by winning an online WSOP bracelet. Props to the Doc.
It was a very good day for DrOctagon. Winner 3k nl! pic.twitter.com/NZapWb3Pi0

— Brandon Adams (@badams78) July 4, 2019
POCKET KINGS LIKE A B….USTO.
Will Kassouf took to Twitter to inform all both of his fans that he lost with pocket kings again in the WSOP Main Event. Stick to playing nine-high.
OMFG! Just busted in the sickest cooler AGAIN end of Day 1 in the WSOP Main Event!
KK v AA obviously! No other hand I'm busting with on Day 1 ffs! FML lol.
Thanks for all the love and support. On to the next one. Oh and pic or didn't happen obv lol..@WSOP @PokerNews #wsop2019 pic.twitter.com/G1CRJ2CqJW

— William Kassouf (@WilliamKassouf) July 6, 2019
BEING PREPARED
There's a way to be prepared for poker and there's a way to be prepared for other things.
June 6th: Constantly scanning Bravo poker app.
July 6th: Constantly scanning Earthquake app.

— Chris Kruk (@KrukPoker) July 6, 2019
TEAM GALFOND DOWN TO ONE
Phil Galfond may be out, but he's cheering on the other half of the team.
I always hope for a good cooler story for my Main Event bustout.

UTG raises to 3k. I call UTG1 with KK. Folded to SB who shoves 70k. UTG folds, I call and lose to AA.

Today was short-lived but fun!@Farah_Galfond will represent the Galfonds from here on out. GL, honey 🍀

— Phil Galfond (@PhilGalfond) July 6, 2019
LEVY TELLS IT STRAIGHT
Adam Levy has a rule about not busting when a big stack…
Got cocky and tell @Brentity how I don't bust day 1s at 100k chips. Then lose a 60k pot and run Kings into Aces to b…ink a two outer and have 150k with one hour left in the day.😱😱😱

— Adam Levy (@Roothlus) July 4, 2019
…as well as keeping his fitness up at the felt.
Who says poker isn't a sport?? Just jogged back to my seat and had to lunge to touch my chair a split second before the last card hit the button. Dealer called me safe 🙅🏻‍♂️

— Adam Levy (@Roothlus) July 6, 2019
MAIN EVENT BRAG
What summarises the feelings of the Main Event player knowing he's at a great table? It's quite simple, really.
Dude on my left with super hairy arms and a sleeveless shirt, dude on my right eating tacos and sucking sour cream off his fingers. The fucking main event baby let's GO 🔥

— Blake Whittington (@SipnShamPain) July 5, 2019
NOTES FROM A TABLE
There's taking a mental note on your opponents, that guy only plays premium hands, this man on my left folds to four-bets, then there's…well… an improvised spreadsheet?
The guy on my right is taking table notes. pic.twitter.com/kGNSQ4I2XX

— Simon Higgins (@mypoker) July 5, 2019
QUAKE-FOLD!
Some of the very best reactions to Earthquakes are found below. Tom Hall's opponent picked the best time in the world to get out of his seat for a breather.
Guy opens co I 3b sb, the earth tremors, guy walks off with cards still in front of him and I'm just waiting for his action what in he fuck

— Tom Hall (@Jabracada) July 6, 2019
Keep slaying? Don't get slain.
If I die in this fucking city in fuckin July in an earthquake I'm gonna lose my shit

— Clarence Worley (@slayAbides) July 6, 2019
ALL ON SHOW
Kevin Martin had a novel take on the gentleman who was disqualified for showing more than his hand.
Showing your penis to the table is just speechplay. Sad to see the WSOP taking the fun out of poker. #wsop

— Kevin Martin (@KevinRobMartin) July 6, 2019
Footage of the appearance has already garnered the hashtag #wsopeepee , while Tim Reily coined the best movie-related reaction.
— Tim Reilly (@TimReillyPoker) July 5, 2019
KOON CONTRAST
Jason Koon had a perfectly pleasant time at his table while all this was going on.
Played with an absolutely lovely group of people today. Not everyone has their cock out launching shoes at people.

— Jason Koon (@JasonKoon) July 6, 2019
TABB'S HERO TALE
Don't be the guy who gets full-frontal and throws his shoe at people. Be this guy instead.
In addition to the 3 guys getting DQed today and a 7.1 earthquake; an older guy at my table trips in hallway during break, shatters his shoulder bone into 20+ pieces. Plays 1 handed until the ambulence arrives. Goes to hospital and blinds out 5 hours. Comes back and bags 100k

— Steven Tabb (@Tabb_City) July 6, 2019
FRANKENBERGER ORDERS A DOUBLE
Some hands were paused at awkward times. Just ask Andy Frankenberger, easily a contender for the best name in poker, which is a very tough field.
EARTHQUAKE BAD BEAT: I call a raise in the SB with 66. *EARTHQUAKE*. I run out with 100-200 others. Eventually they open the doors & I go back in to see hand still in progress. My hand dead. A65dd. Guy had 555. I would have doubled (player looked at my hand (!?!) & confirmed)

— Andy Frankenberger (@AMFrankenberger) July 6, 2019
SALTY ABOUT MISSING THE FUN?
Matt Salsberg picked the wrong year to miss the Main Event…
Skip the main one year and guys pull their cocks out, Kessler bags chip lead, universe has seismic shift, Ivey out in level one. #FixingTheSim

— Salty (@msalsberg) July 6, 2019
…but the right time to credit one of poker's best.
every year @cada99 shows up for the summer and either goes home with a bracelet or piles of cash all from huge field NL events, he never plays wpts or epts, he is the greatest of the modern era for understanding geographical run good theory and not tampering with it.

— Salty (@msalsberg) July 5, 2019
MAIN EVENT DAY 1
Mike McDonald didn't make a big deal about his Day 1 stack in the Main Event…
306k to end the day. Couldn't really get anything going after level 1

— Mike McDonald (@MikeMcDonald89) July 6, 2019
…while Ari Engel gave his tablemates a little too much information…
Told my table how I won my way into main event… $80 Allin blind 128 person on https://t.co/sqzmTFTIjM (yes I'm lucky), response: now it makes more sense how you're playing

— Ari Engel (@AriEngelPoker) July 4, 2019
…and the most memorable player of the summer took his seat. We'll always feel like Kevin 'Racks' Roster was the winner of the 50th World Series of Poker. He won't take home a bracelet, but he wasn't in Las Vegas for the taking. He gave the whole summer and his legacy will be one that lives longer than him or any memories about a hand of poker. Hat's off to Kevin.
Today is the day. Main event. Going to be in the zone. Ready for what is likely my last event of the series and maybe ever. It's been a long journey to here and if nothing else it's already been a win for Sarcoma awareness. Thank you for coming along #wsop2019 #wsop #mainevent

— Kevin Racks (@KevinRacksPoker) July 4, 2019
You can watch the WSOP Main Event action unfold on ESPN and check out additional coverage on PokerGO throughout the biggest poker tournament in the world and bracelet event coverage on CBS All Access.