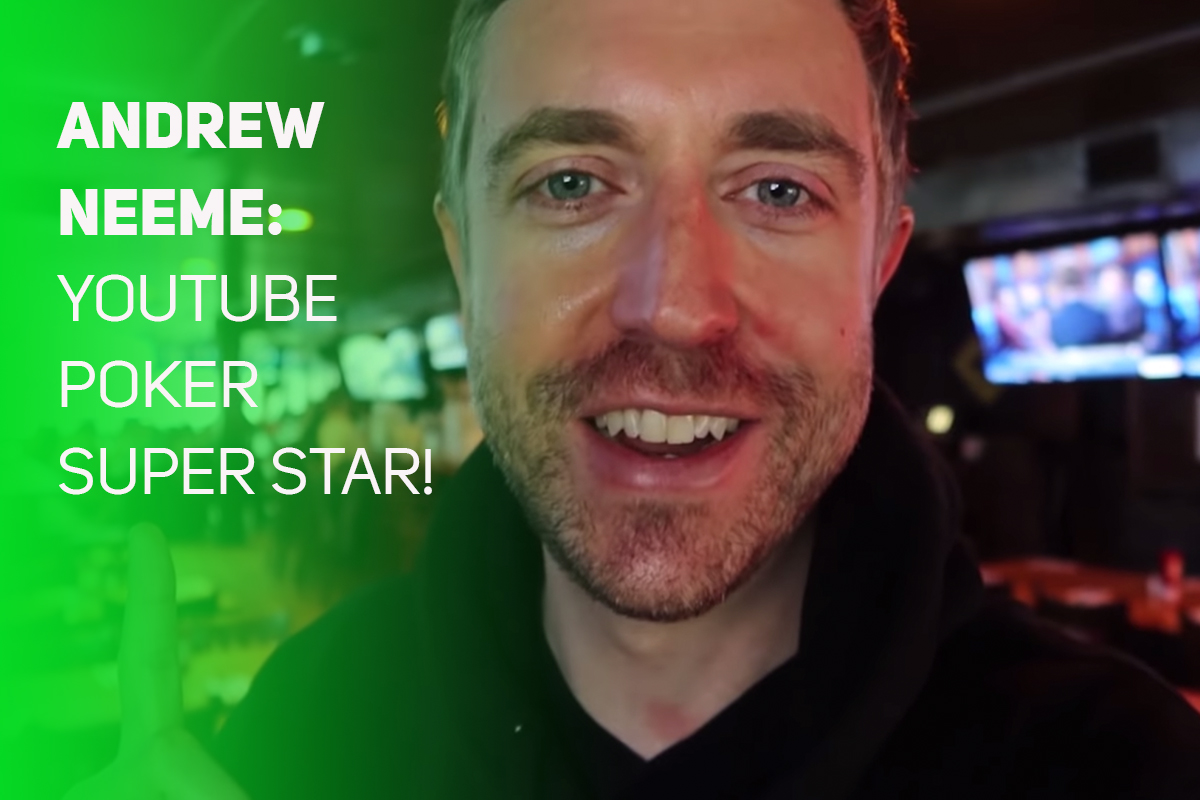 Poker has always been built on the popularity of its characters. One of poker's biggest characters, popular on Twitter and YouTube is the poker vlogger Andrew Neeme. Neeme's poker vlogs have an everyman appeal and Neeme's vlogs have captured a wide-ranging audience.
While some poker players naturally appeal to the social media age on YouTube – the shareability of the game being one of its biggest assets – with loud voices and bright graphics, Neeme has mastered the art of signing up subscribers with quiet ease.
MASTER OF THE MEET-UP
Whether it's in Reno, Canada or Michigan, Neeme is the master of the 'meetup' whereby he announces where he'll be playing – often with his friend and fellow vlogger, Brad Owen.
Predominantly a cash-game player, Neeme actually only has $90,000 in live tournament earnings, but his cash game prowess – at reasonable stakes – reaches out to recreationals as much as it does mid-stakes. When Neeme announces that a game is on, people flock to join him in it, and his videos are personal as well as mainstream, emotional as well as escapism. He really is the master of the meet-up and seems to have a great way of finding common ground with his audience and subject matter. Whatever the hand, Neeme's vlogs have a way of finding the right message.
MICHIGAN MAN, THE PERFECT TRAVELLER
Capture most people's travels on planes, trains, and automobiles and it wouldn't be fun. Most of us – let's be honest – would complain about much of our trip, and appear tired, lack energy and struggle to hold an audience. Neeme not only engages his audience, but he keeps them coming back. With over 100,000 subscribers, Neeme is hugely popular but has never changed his videos to reflect it.
What you see in video #1 is what you can expect in terms of pace and direction. That ability to speak in terms you'll both listen to and be entertained by is a rare quality, and Neeme has it spades, hearts, clubs, and diamonds. He clearly loves the game, and after beginning his life in the cell phone industry, has proved that he knows how to dial into the desires of the average Joe Poker Public.
KING OF THE MID-STAKES CASH GAME
Cash game poker is a demanding lifestyle, one that often requires long hours, intense study and personal discipline. That Neeme has been able to thrive in the area for so long while developing a loyal audience speaks volumes for how likable he really is.
Next time Neeme puts out a 'meetup', why not go along? You'll be sitting with a poker legend and in what other game can you say you did that?
Subscribe to PokerGO today and you can watch the best cash game action on the planet as often as you like, with 24/7 access to the world's best poker content, including Friday Night Poker and our new original game show The Big Blind. It's unmissable fun.