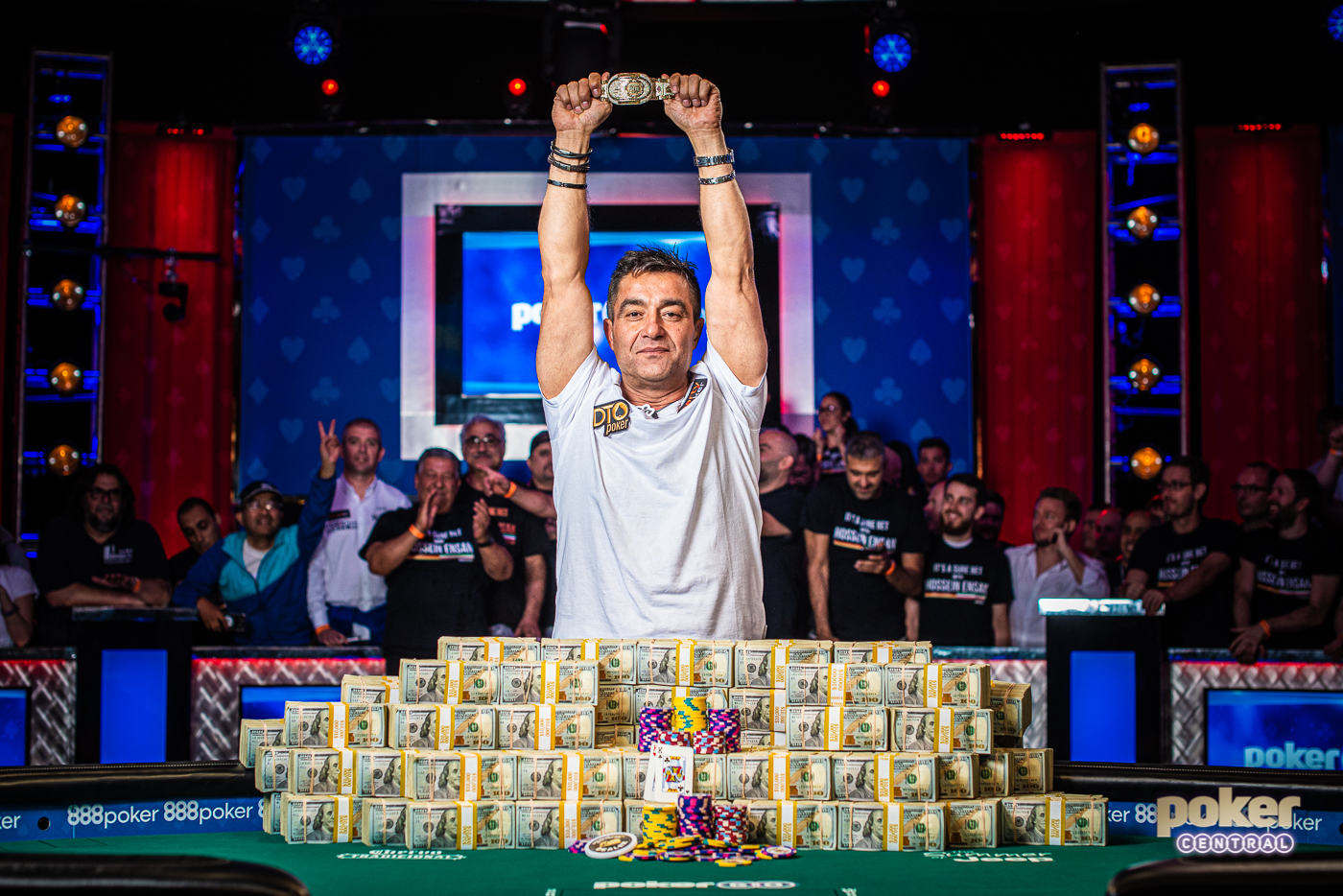 After the most incredible final table of recent years, the 2019 World Series of Poker Main Event is over. German player Hossein Ensan, who only started playing the game when he turned 40, has become the World Champion after beating Dario Sammartino heads-up to capture the biggest title in poker along with the $10,000,000 first prize and a diamond-encrusted bracelet.
LIVINGSTON LEAVES IN THIRD
Alex Livingston was busted when he was all-in with ace-jack and called by Hossein Ensn's ace-queen.
"It was just one big hand," Livingston said after the run-out saw him eliminated, "I probably should've thought about it for more than half a second since it's the Main Event final table, but ultimately I wouldn't have done anything differently."
Livingston, who had come to the final table second in chips, was obviously overwhelmed with disappointment at the close of his tournament, but as he told us afterward, his disbelief was mixed with an enormous amount of pride.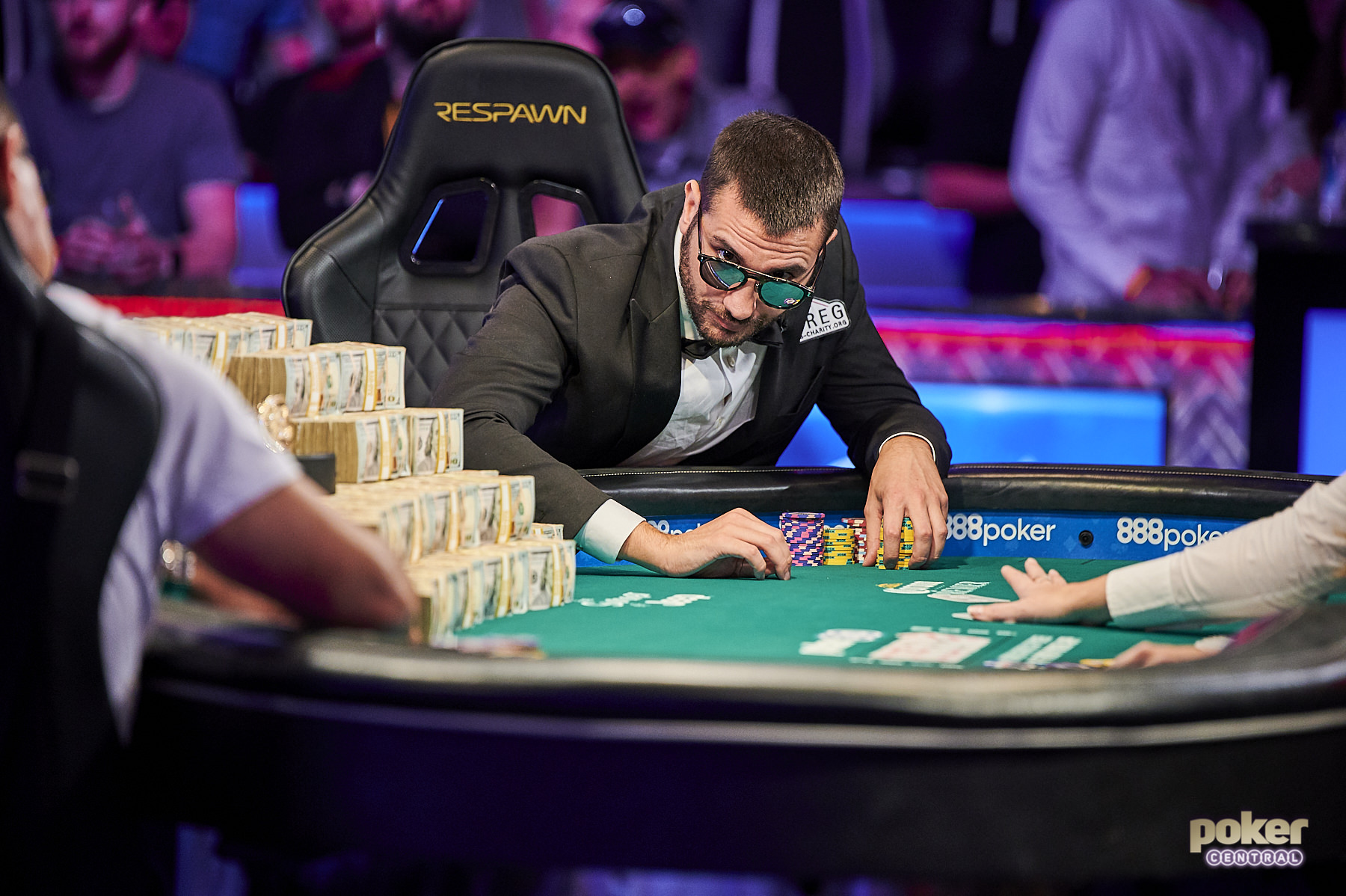 THE FINAL DUEL
Once Livingston was out, it was a straight fight between the German chip leader and Italian tuxedo-wearing 'Super Dario'. Ensan ground down his man, but each time, Sammartino came fighting back. Eventually, the cards were in the middle on a turn which saw Ensan's overpair to the board of pocket kings up against Sammartino's combo-flush draw.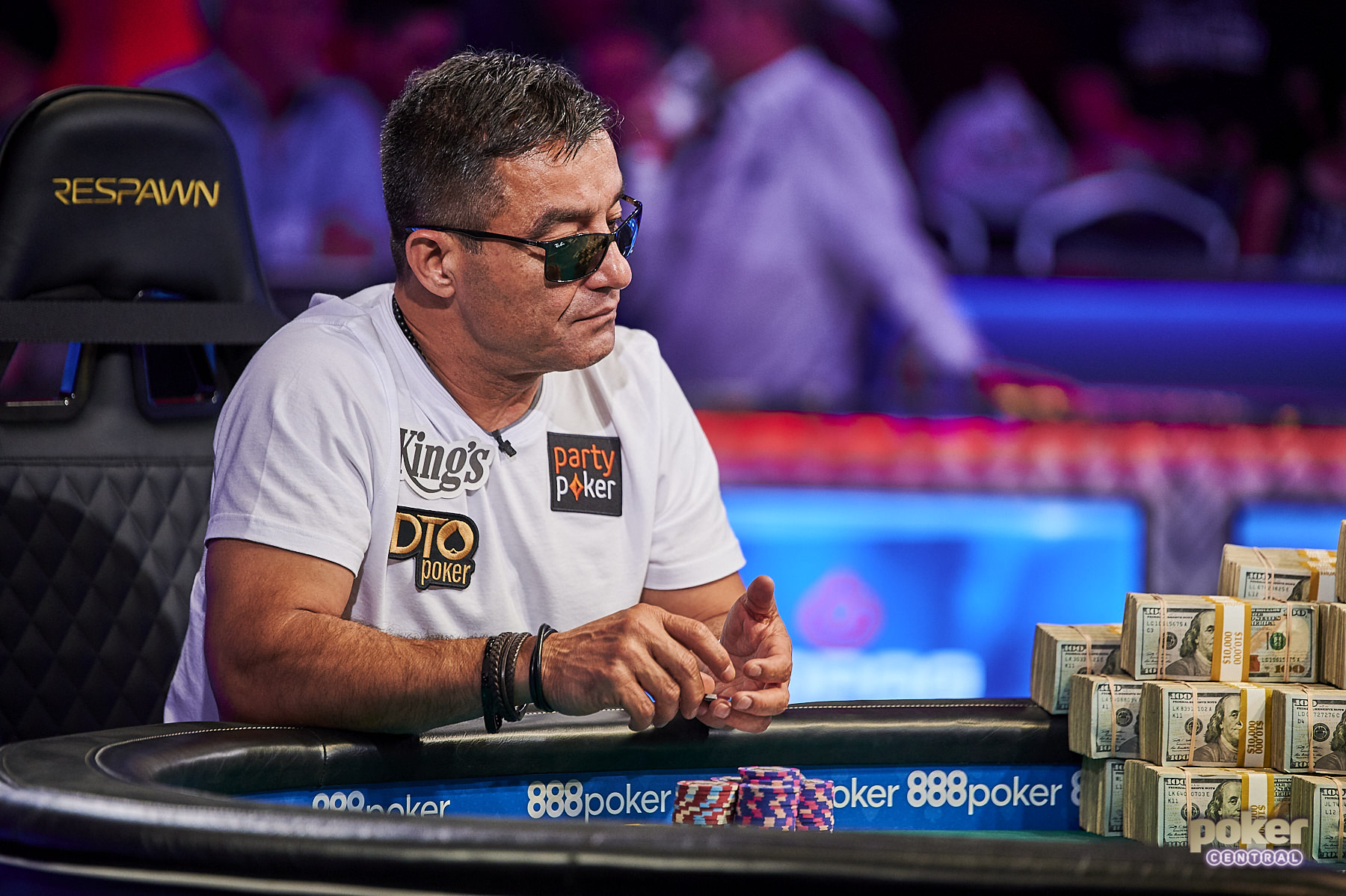 The Italian needed help, but Ensan finally get the better of a stubborn and skillful Sammartino, when his pocket kings held:
Hossein Ensan spoke immediately after his astonishing victory as he described the moment he became World Champion.
"I'm so happy. I have no words for this moment. I must sleep, wake up and then I'll know it wasn't a dream."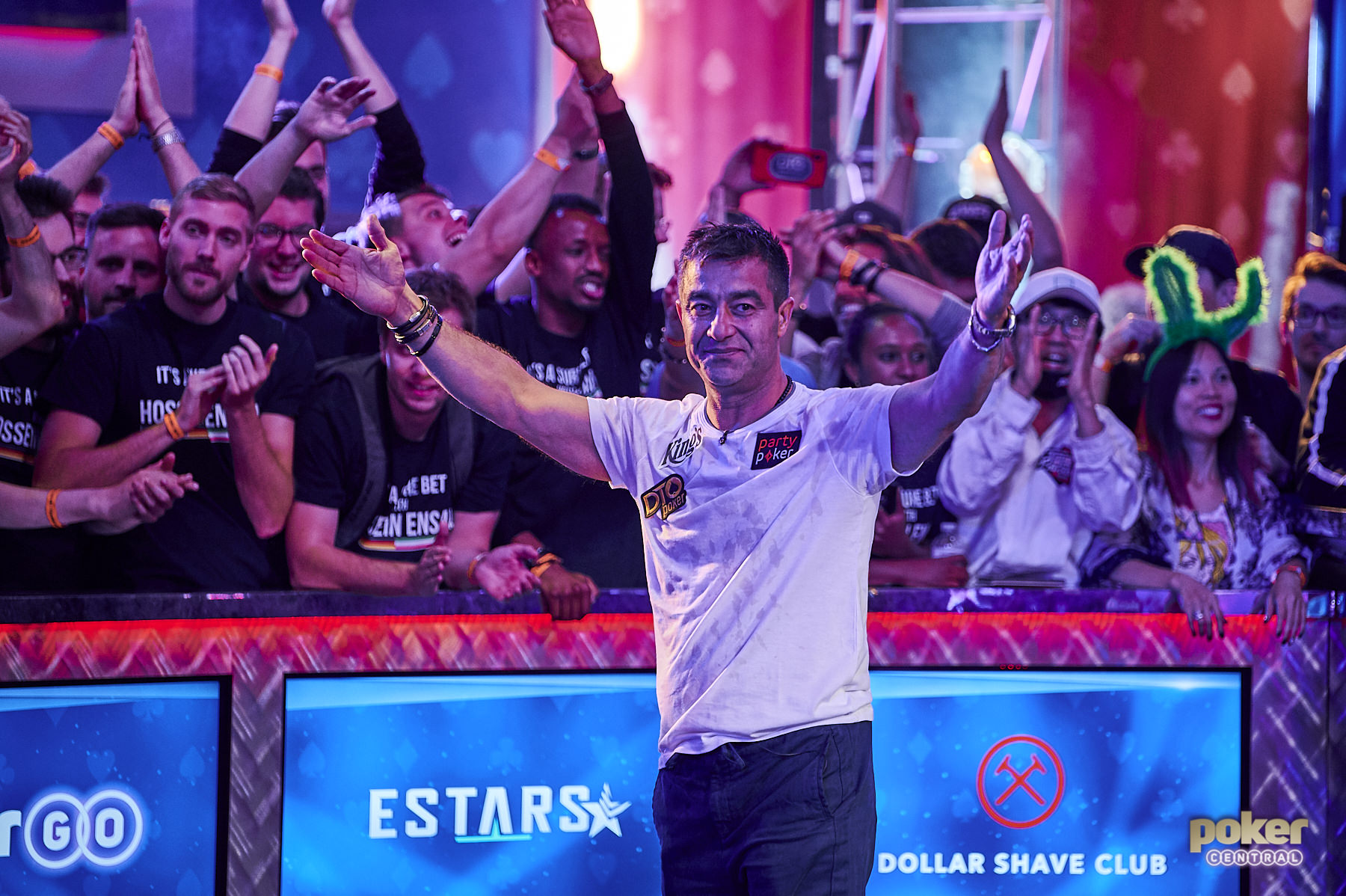 THE SUPPORT OF A CHAMPION
Ensan's family and friends have, like all rails at the final table, propped up their man throughout the final. He was quick to credit them for the love they've shown him.
"My family have been online and watching TV. They and my good friends arrived here to support me."
Ensan wasn't always a poker player. In fact, after high school and his further studies, he tried a number of jobs. But eventually, he found poker and an instant affinity with the game.
"From 2003 it was my plan to [play] poker and win this title. I did everything according to my plan. I played the Master Classics of Poker and European Poker Tour, but this is the best prize after a long time and it's been very hard work. This is my second cash in the U.S. and I have the bracelet from the 50th World Championship!"
STICKING TO THE PLAN
Ensan's more specific plan was simple – keep bagging up chips each day. It worked until the very end. When the final table reached the penultimate day, he'd put himself in the perfect position.
"Last five [players], I had a lot of chips. I could put pressure on, then it was another game with three left. From the beginning today, I had hands but was not running good. It wasn't perfect. I tried to pressure, and it worked."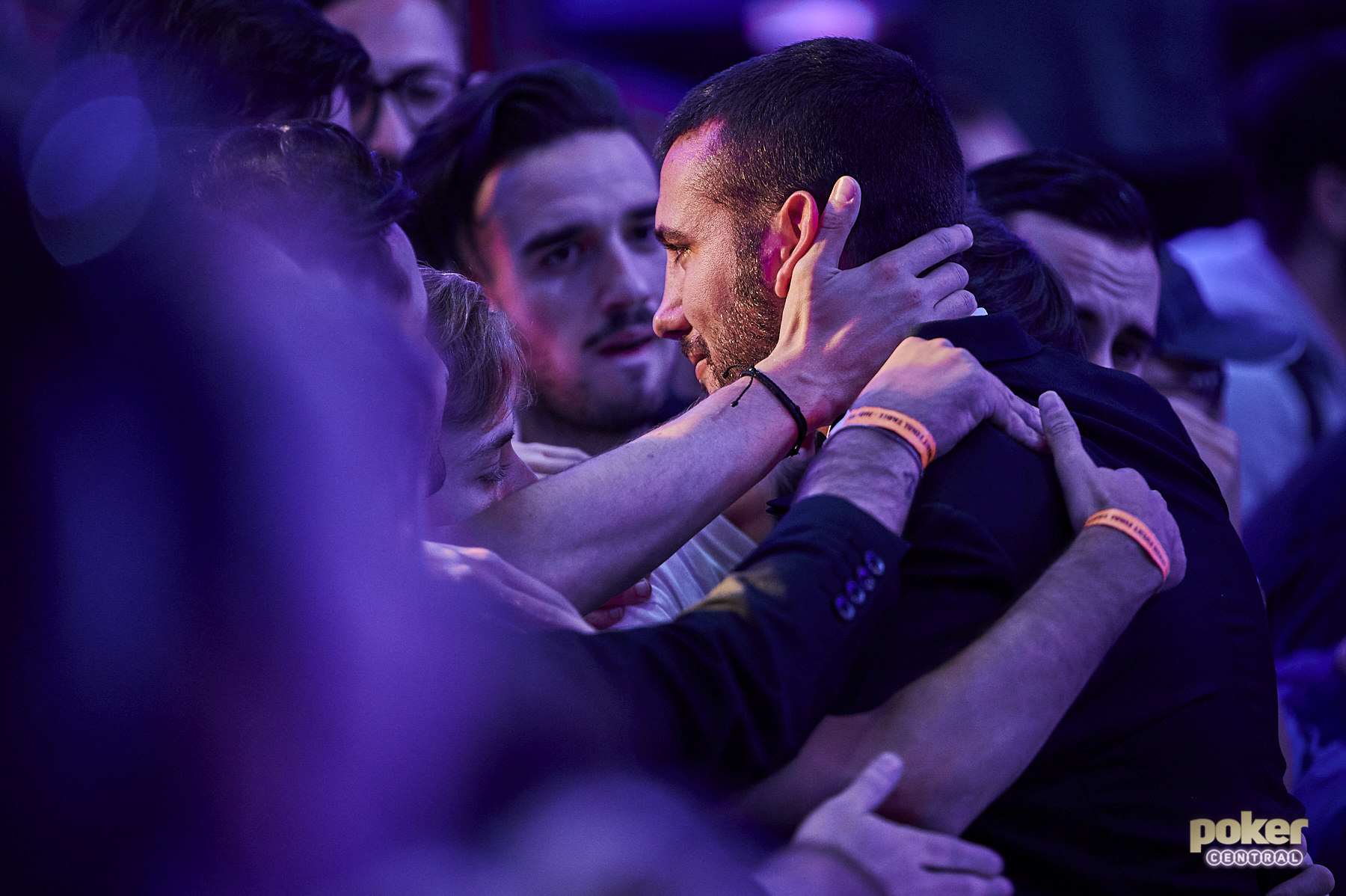 SAMMARTINO DEJECTED BUT PROUD
In the aftermath, Sammartino was obviously disappointed, but he knows how great a result his performance has earned.
"I don't feel amazing because I wanted to win but for sure tomorrow I will feel super, super happy. I have to say thank you to all the people supporting me on this adventure. This experience has been amazing. This is not something I can explain with words, not even in Italian words."
Getting the better of Dario Sammartino heads-up was tough, but Ensan achieved it. He credits his opponent as a quality player he would usually have struggled to overcome.
"Dario [Sammartino] is a friend of mine and a big name. He's a very good player, but short-handed you need hands, and for sure, luck. Luck and hands were on my side. Otherwise, I was second, I was runner-up."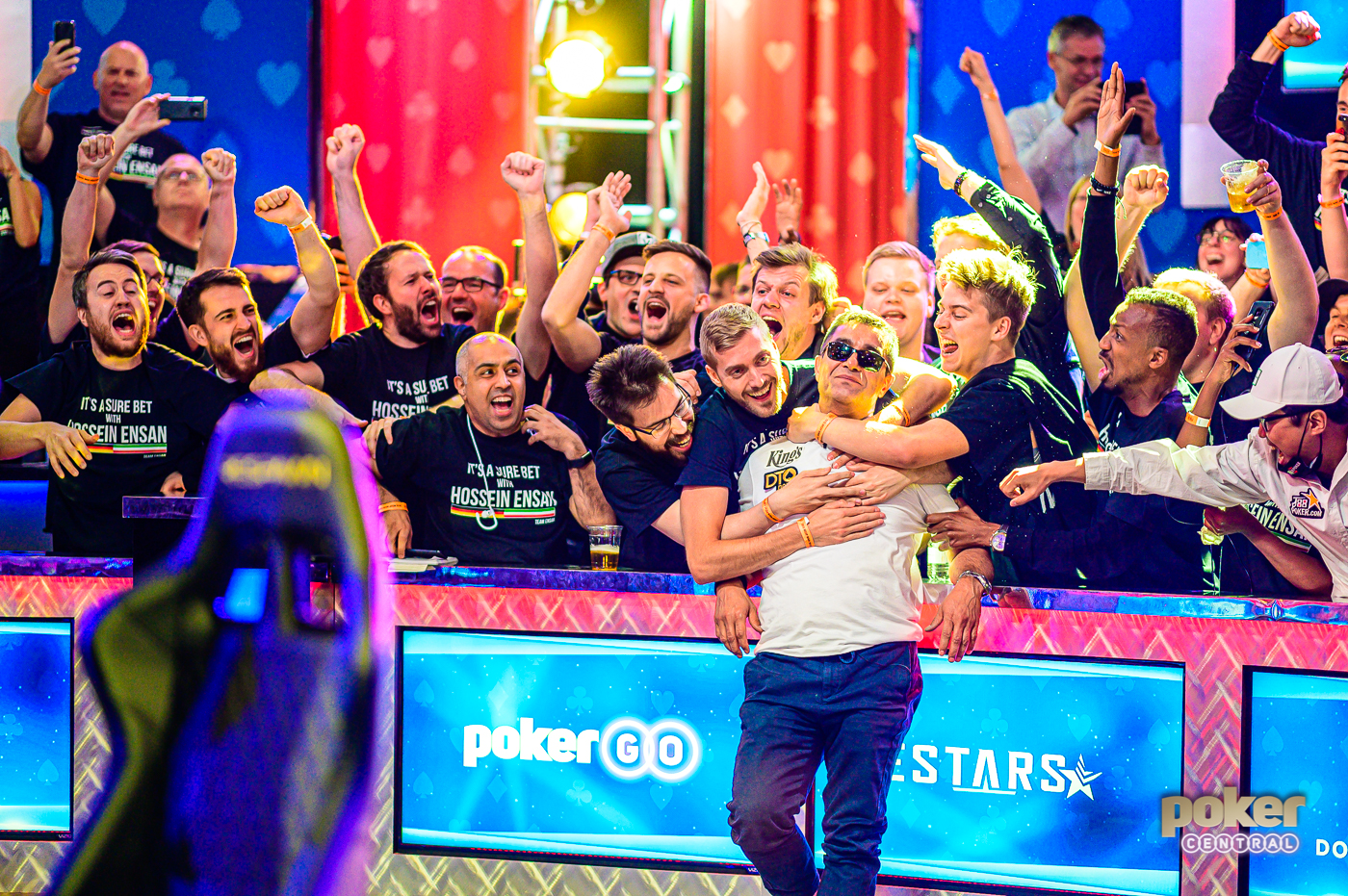 TWO FRIENDS UNITE IN PRAISE
Sammartino is equally quick to pat his heads-up opponent on the back for a job so well done.
"He [Hossein] is a really good guy, I met him a long time ago. We are friends and I really love him, of course, I wanted to win, but he's the winner. Bravo."
Ensan smiled, overwhelmed with the moment but caught in it, forever preserved in the glory of this victory which will define his poker career forever.
"I had chips," Ensan says, "I came with a lot and I tried everything. Now I'm here. I'm the champion."
Hossein Ensan isn't just here in the moment. He's the newest instant representative of the poker world. Mainstream media will envelop him for weeks, his home country will popularize his victory and news of his win will stretch around the world. But you get the feeling Hossein Ensan has not just been waiting for this moment, he's been working for it, and for a very long time.
Congratulations to Hossein Ensan, winner of the 2019 World Series of Poker Main Event!