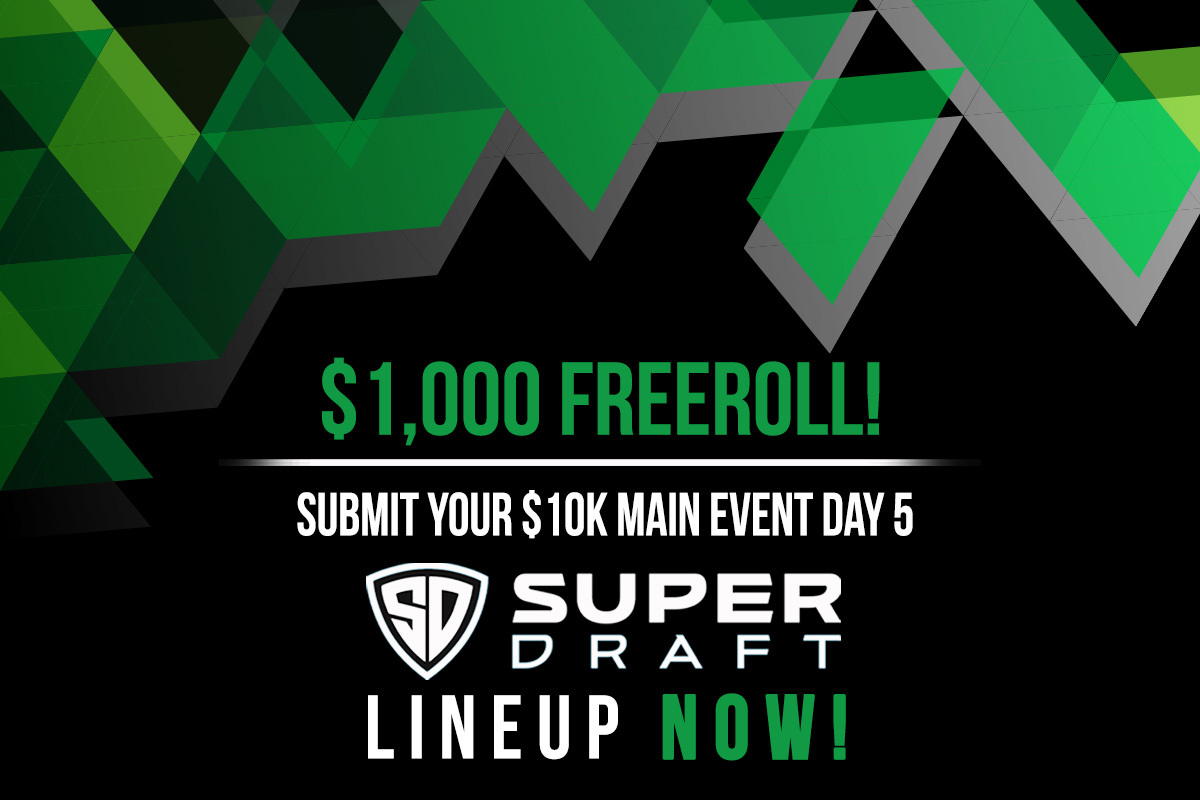 Fantasy poker continues at the 2021 World Series of Poker with the WSOP Main Event in full swing with the remaining field now having locked up a piece of the $62 million prize pool.
Just 1,000 players return for Day 4 action, and after five levels of play, the field is expected to be reduced to the final 300 players. Those players entering Day 5 will be part of the SuperDraft Day 5 contest where there is a $1,000 freeroll where you can win $100 for drafting the best WSOP Main Event line-up.
The majority of the player pool will be draftable on SuperDraft with the contest locking on Saturday, November 13, at 1:15 p.m. and running through until the WSOP Main Event winner is crowned on Wednesday, November 17.
Top Fantasy Poker Picks for Day 5 of the WSOP Main Event
The marquee event of the 2021 World Series of Poker is here with the Main Event attracting a total of 6,650 players. Late on Day 3, the money bubble burst to leave just 1,000 players returning for Day 4 action, and with action about to conclude for the day, roughly 300 players remain.
Sitting on the top of the leaderboard is Ramon Colillas with over 6 million in chips and will be an easy draft pick along with high roller regular Stephen Chidwick who currently sits second in chips with over 4.2 million. Another strong player at the top of the leaderboard is Stephen Song, while Chance Kornuth sits just outside the top ten.
Looking further down the leaderboard you will find Koray Aldemir, Toby lewis, Nick Petrangelo, David Coleman, and Jason Koon. For those looking for some value with the shorter stacks, Matt Berkey, Joey Weissman, and 2003 World Champion Chris Moneymaker might be worth drafting.
Line-up Formation
Lineups are made up of five players that include a "Champion" player that scores an additional 50% of their multiplier and four others. With SuperDraft, every player is assigned a multiplier, and as new players enter the WSOP gold bracelet event in real-time, they will be added to the draftable player pool. Points in the contest are awarded to players that finish in the top 20, along with bonuses for finishing in-the-money, reaching the final table, reaching the top five, reaching the top three, and winning it all.
What is Coming Up Next?
There are two more WSOP Main Event freerolls on SuperDraft with a Day 6 contest featuring a $2,000 freeroll, while the Day 7 contest will have a $3,000 freeroll. Once the WSOP Main Event crowns a winner, the Event #78: $10,000 Razz Championship will have a $500 freeroll contest before four high roller tourneys close out the WSOP and SuperDraft contests.
Connect with PokerGO.com on Facebook, Twitter, and Instagram. Use code "WSOP2021" for $20 off an annual PokerGO.com subscription now!