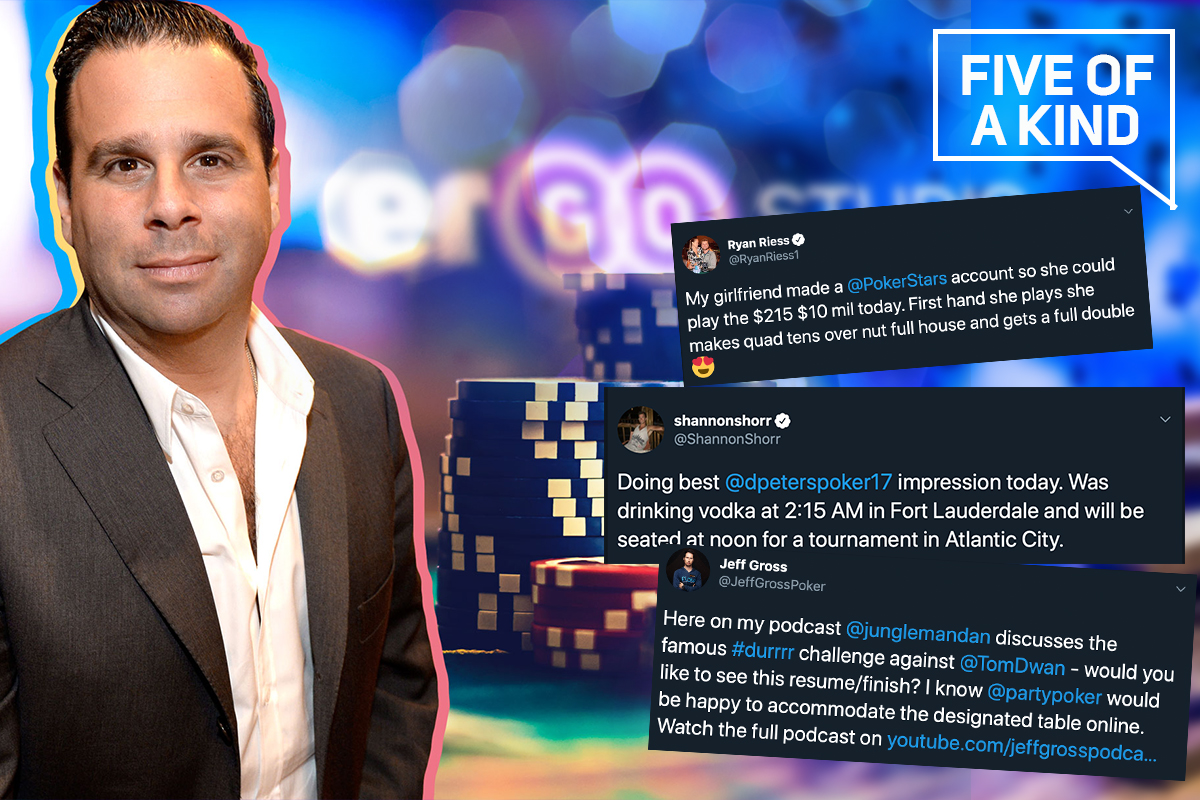 This week in Five of a Kind, your review of the best of social media in the world of poker, we dive into Dan 'Jungleman' Cates talking about the never-ending Durrrr Challenge, Ryan Riess' girlfriend playing online poker, a very drunk Shannon Shorr, R.E.G. Charity raising $5 million, and Randall Emmett is very honored to make the Poker Central Power Rankings Top 10.
Durrrr Challenge
The Durrrr Challenge will never get finished, you heard it here first. As it stands right now Tom Dwan is down 35 buy-ins in this once epic challenge that never got completed due to a variety of circumstances. On a recent interview with Jeff Gross, Jungleman drops some more tidbits of information on this challenge remains to be an interesting talking point.
Here on my podcast @junglemandan discusses the famous #durrrr challenge against @TomDwan – would you like to see this resume/finish? I know @partypoker would be happy to accommodate the designated table online. Watch the full podcast on https://t.co/hzYQwVaBO2 pic.twitter.com/QU5LuT8eRg

— Jeff Gross (@JeffGrossPoker) April 12, 2019
Beginner's Luck?
Former World Series of Poker Main Event winner Ryan Riess has also had his share of online success but there's potentially a Riess protege that we have to take into account going forward! During the anniversary edition of the Sunday Million, Riess and his girlfriend traveled abroad to get into the action and she clearly got the hang of it pretty quickly!
My girlfriend made a @PokerStars account so she could play the $215 $10 mil today. First hand she plays she makes quad tens over nut full house and gets a full double 😍

— Ryan Riess (@RyanRiess1) April 14, 2019
Shannon Shorr Does a "David Peters"
Great friends Shannon Shorr and David Peters are always up for some banter, and this time it's the former who poked fun at the latter. Shorr apparently was on his way to an all-nighter drinking till late at night right before entering another tournament a few states over transferring from Fort Lauderdale to Atlantic City.
Doing best @dpeterspoker17 impression today. Was drinking vodka at 2:15 AM in Fort Lauderdale and will be seated at noon for a tournament in Atlantic City.

— shannonshorr (@ShannonShorr) April 17, 2019
Emmett's Honored
Randall Emmett grabbed the attention of the entire poker world with his highly entertaining appearance on "Run it Once" week on Poker After Dark, leading to him being ranked inside the Top 10 of the Poker Central Power Rankings. Emmette was honored and proud to share this moment with his fans on Instagram, leading to it getting picked up by the Daily Dot. Since Emmett has maintained his position inside the Top 10 this week, we're expecting the Hollywood enthusiasm for his poker play to continue!
https://www.instagram.com/randallemmettfilms/p/BwSLh6AHlq8
$5,000,000 for Charity
Raising for Effective Giving is the go-to charitable organization for poker players and they have just announced having raised $5,000,000 over the course of 2018 for a variety of altruiistic causes. We tip our hat to the great people over at REG, and we hope that 2019 takes it to an even higher level!
🥳🥳🥳 Thanks to your contributions 2018 was another record-breaking year at REG!!! You donated over $5,000,000 to high-impact charities – incredible!!! Thank you so much for giving so generously! Your donations will make a real difference. https://t.co/jewboUJZF1

— REGcharity (@REGcharity) April 17, 2019
Suggestions for Five of a Kind? Send them into Poker Central on Twitter. New to PokerGO and ready for some poker action? Subscribe right now and never miss another big moment.