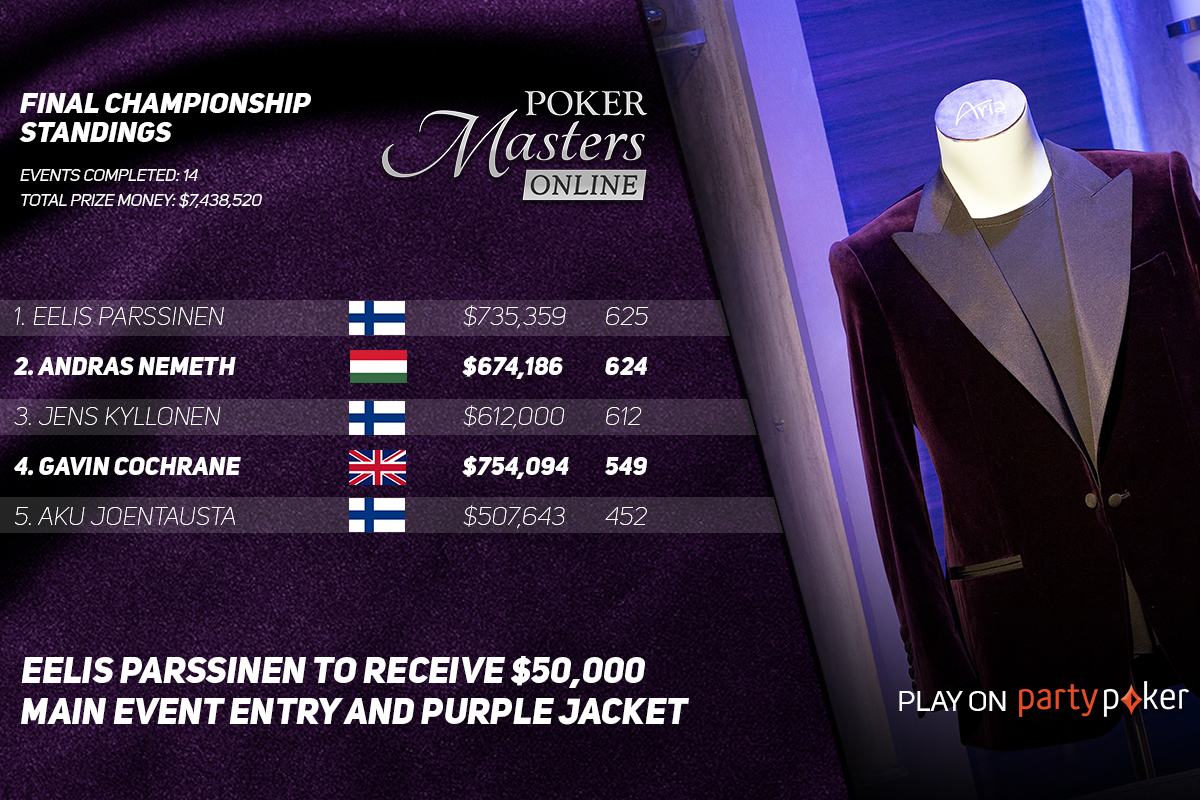 The Poker Masters Online PLO Series on partypoker has been won by Finland's Eelis Parssinen who edged out Andras Nemeth from Hungary by just one point after fourteen hard-fought events! Parssinen won one event and along with two second and two third-place finishes he cashed for a total of $735,359 which was nearly 10% of the total event prize pool that totaled $7.43 million.
The Finnish pro was over the moon about taking down this title and with that winning the $50,000 Main Event entry along with the unique Poker Masters Purple Jacket. Parssinen was especially excited about the prize as it is something he will cherish forever.
Poker Masters Online PLO Series 2020 Final Standings
Place
Name
Earnings
Points
Cashes
1
Eelis Parssinen
$735,359
625
6
2
Andras Nemeth
$674,186
624
4
3
Jens Kyllonen
$612,000
612
3
4
Gavin Cochrane
$754,094
549
5
5
Aku Joentausta
$507,643
452
6
6
Bengt Sonnert
$259,761
366
3
7
Sami Kelopuro
$320,700
321
3
8
Andrew Pantling
$277,861
288
4
9
Marcello Marigliano
$269,529
280
2
10
Viktor Blom
$281,225
273
4
"It was really fun and exciting to compete against the world's best PLO players mixed with few recreational players in each tournament. You need to be focused in every pot since players at such a high level are fighting for every single spot they got into. People in these high roller tournaments also understand putting huge pressure with big stack when getting close to money so not too many easy chips were out there."
"The Purple Jacket was one of the main reasons I decided to play this series. I've always had a 2-3 months break after SCOOP ends and wanted to take time off from poker since summer here in Finland is super nice. Obviously, tournaments themselves were nice with big guarantees and big buy-ins but on top of that, the leaderboard was too much to even consider skipping this series. It's nice to play for an extra reward and it's a huge accomplishment for me and for sure will remember this one my whole life!"
Eelis Parssinen couldn't believe it when he first heard about this online poker series, as a Pot Limit Omaha festival such as this one had never been organized before.
"If you want to play a high roller Omaha tournament, you need to wait for big series such as WCOOP, SCOOP, or Powerfest, and even then you get to play just a few of them. Getting 14 tournaments in 7 days was the best thing we could've hoped for! Awesome job from them! I hope this will happen next year too and also a big thanks to Joey and Jeff for the live stream. It was really enjoyable to watch the stream!"
The Finnish pro started playing poker professionally 13 years ago and moved from No Limit Holde'm to Pot Limit Omaha in 2013. Grinding 10 hours a day consistently slowly saw him rise through the ranks to where he sits today. Parssinen made his way to the highest stakes not long after he switched to PLO full time, crediting this mental game and competitive nature for his success.
The race for the Purple Jacket and the $50,000 entry into the Poker Masters Online PLO Series Main Event was a tight one as Jens Kyllonen, winner of two events, and Andras Nemeth, the winner of three events, remained within striking distance until the very last event. Nemeth finished second with $674,186 in earnings while Kyllonen cashed for $621,000. The full Top 10 of the standings can be seen in the overview below.
A total of 43 unique players recorded at least one result in this first of its kind high stakes Pot Limit Omaha online series on partypoker over the last week. With its rich history of Pot Limit Omaha success, Finland dominated the standings with four players finishing in the Top 7, winning six of the 14 events that were being put on.
This article will be updated with a reaction from Eelis Parssinen. The full event results can be found here.
Dante Fernandes Dominated Mini Poker Masters PLO Series
The Poker Masters Online PLO Series also held a series of Mini Events catering to players in the tier just below the high rollers. Across 14 events in this series, Brazil's Dante Fernandes dominated and won $99,194 across seven cashes with Jesper Hougaard being the next best performer with $47,333 in earnings. Fernandes won three events to go along with a third and second-place finish.
Other players that impressed during this series included Bengt Sonnert, finishing second with four cashes, the aforementioned Hougaard, and the UK's Gavin Cochrane. Capping off this Mini Series was a $5,000 Main Event for which Fernandes had won a seat with his impressive series performance.
The $5,000 Mini Main Event drew a total of 118 entrants with 18 places receiving at least a min-cash. Among those finishing in the money, we saw high rollers Sam Trickett, Jens Kyllonen, Pedro Zagalo, Andreas Tobergsen, Andras Nemeth, and Joni Jouhkimainen. Germany's Jens Lakemeier finished in third place before, you could've guessed it, Brazil's Dante Fernandes battled it out with Denmark's Alexander Petersen for the $148,624 top prize.
When it was all said and done, Petersen came out on top while Fernandes banked another $100,300 to complete a stellar week of PLO action for him.
Isaac Haxton Wins $50,000 Pot Limit Omaha Main Event
The first of its kind $50,000 Pot Limit Omaha Main Event that capped off the Poker Masters Online PLO Series drew a total of 29 entrants including some of the biggest names in the game. Isaac Haxton defeated Lithuanian Grazvydas Kontautas heads up to claim the $675,000 top prize after two days of play at the live-streamed final table. Watch the final table action in the player above as Joey Ingram and Jeff Platt provided commentary.
$50,000 Main Event Results
Place
Name
Payout
1
Isaac Haxton
$675,000
2
Grazvydas Kontaustas
$442,104
3
Aku Joentausta
$225,000
4
Chris Kruk
$157,896
The final day of this event started with five remaining players who were duking it out on a massive money bubble. Andre Filipe Santos was the unlucky one, busting in fifth place after more than an hour of bubble play. Santos ultimately ended up all in with ace-nine-four-three and he was up against Haxton's king-jack-ten-nine. The flop gave Haxton an 80% chance of winning the hand and the bubble burst as Haxton's flopped pair of kings held up.
Canada's Chris Kruk was the first player to receive a payout as he busted in fourth place when his kings did not hold up against Haxton's ace-king-jack-nine with a suit. Haxton flopped a pair of nines and added another on the turn to seal Kruk's fate as the river missed both players.
Finland's Aku Joentausta, who had a stellar series finishing fifth overall, busted in third place after another hour of battle when he was all in with ace-ten-nine-three double suited against, who else, Haxton's ace-king-ten-six double suited. Haxton made the nut flush and sent Joentausta to the rail to start with a nearly 2:1 chip lead.
On the final hand of the event, and this epic high stakes PLO series, Kontaustas ended up all in with a ten-high flush draw along with a pair of tens versus Haxton's nut flush draw but without a pair. The odds even for either player to win this hand, but when Haxton hit an ace on the turn he took a commanding lead. Both players made their flushes on the river but it was to no avail for the Lithuanian.
Follow Poker Central for more coverage of partypoker's high stakes online series and upcoming events.