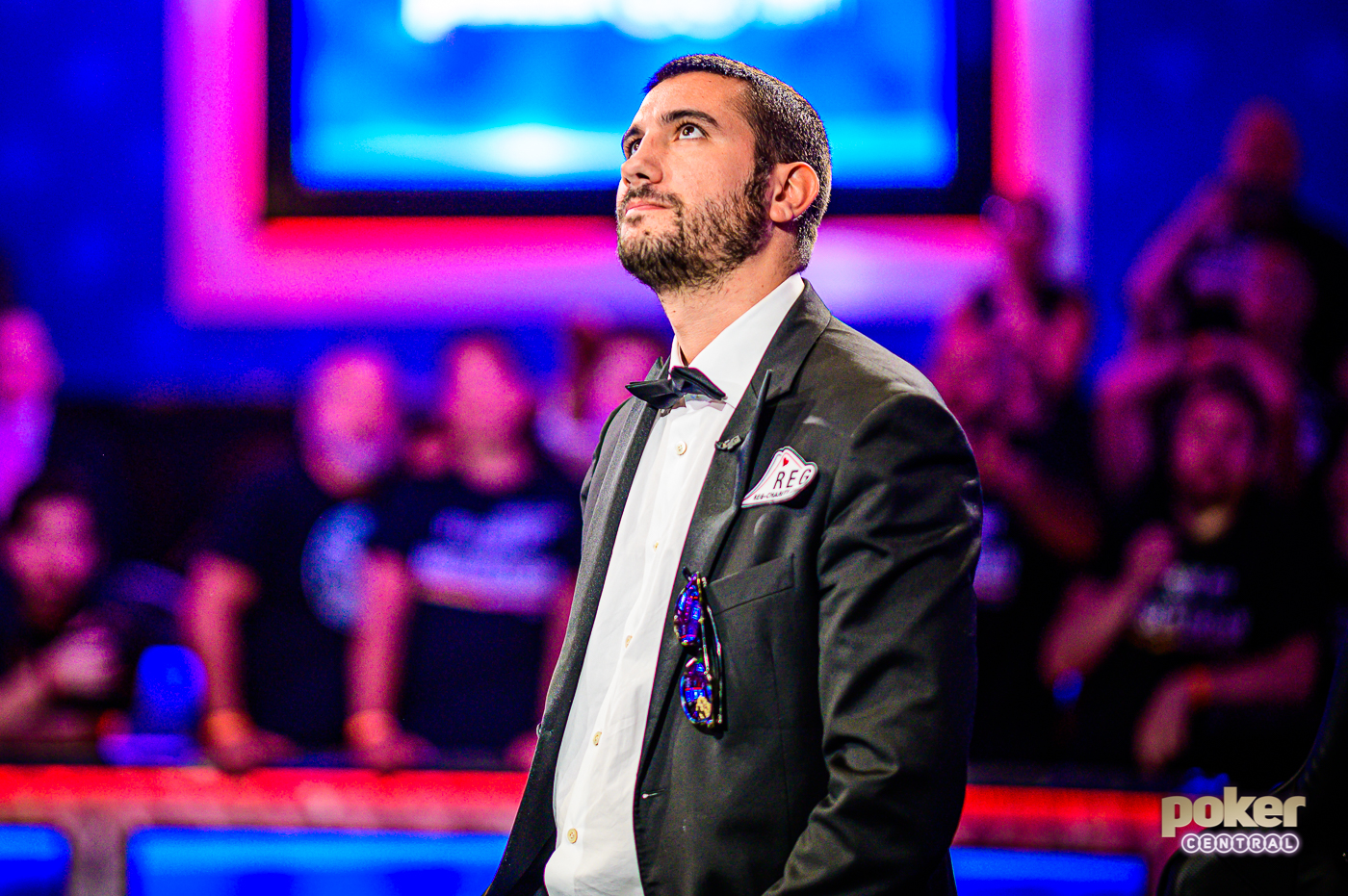 Dario Sammartino finished second in the 2019 World Series of Poker Main Event for $6,000,000. On the final hand, Hossein Ensan raised to 11 million and Sammartino called with eight-four of spades from the big blind. On a ten-six-two flop with two spades Sammartino check-called 15 million. On the turn an offsuit nine hit and Sammartino check-raised the 33 million bet all in for 140 million and Ensan snap-called with two kings. The river brought the queen of clubs and Sammartino was eliminated.
There they stood, captured in a single shot by the ESPN cameras, moments before the final river card hit the green felt inside the Amazon room. In the background, Hossein Ensan leaned back into his rail as they chanted for a harmless card on the river. In the foreground, Dario Sammartino stood over the table one last time, soaking up every last second of a fleeting moment he never wanted to end.
And then the dealer put out the queen of clubs, ending the tournament at 2:00 a.m. local time.
Chaos ensued. Lights flashed and a seemingly stoic Ensan was mobbed by his friends. Just a few feet away, Dario looked up at the sky before ever so slightly shaking his head as he slowly walked to his rail. The young Italian star dropped his shoulders as the championship spirit that he carried with him for the last three days left his body.
Dario's dream was dead and the pain was strong. Tears flowed as Dario was embraced just as strongly, perhaps even stronger, by his rail trying to console one of the toughest competitors in the game. In the minutes that followed, every single person that had participated in the soccer-like chants for the full three days of final table play received a hug from the man that fell just short of the $10 million first prize.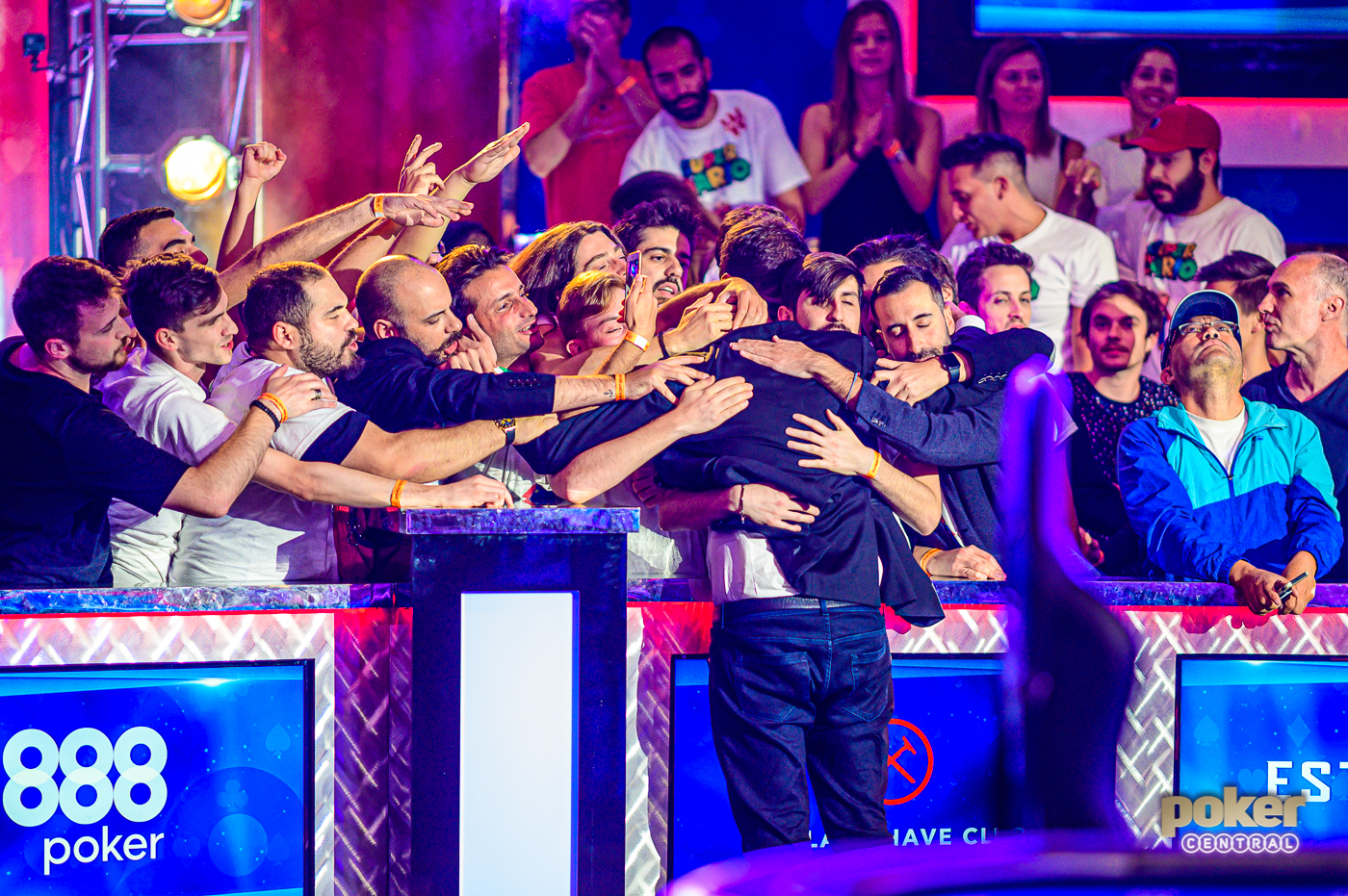 After congratulating Ensan and sharing a long hug, Sammartino was forced to watch his opponent hoist the most coveted prize in all of poker. And Sammartino broke down again, this time consoled by one of the people on the champion's rail.
The sharpest dressed player in the entire building took a few more minutes to catch his breath before conveying his feelings to the media that had gathered around him.
"I don't feel amazing because I wanted to win but for sure tomorrow I will feel super, super happy."
"I have to say thank you to all the people supporting me on this adventure. This experience has been amazing. This is not something I can explain with words, not even in Italian words."
Sammartino kept reiterating the love and support he received from his friends on the rail, alluding to how much it helped him throughout this enormous undertaking.
"This is a dream. I fight for this, I work for this a lot and now finally I can finally live my dream."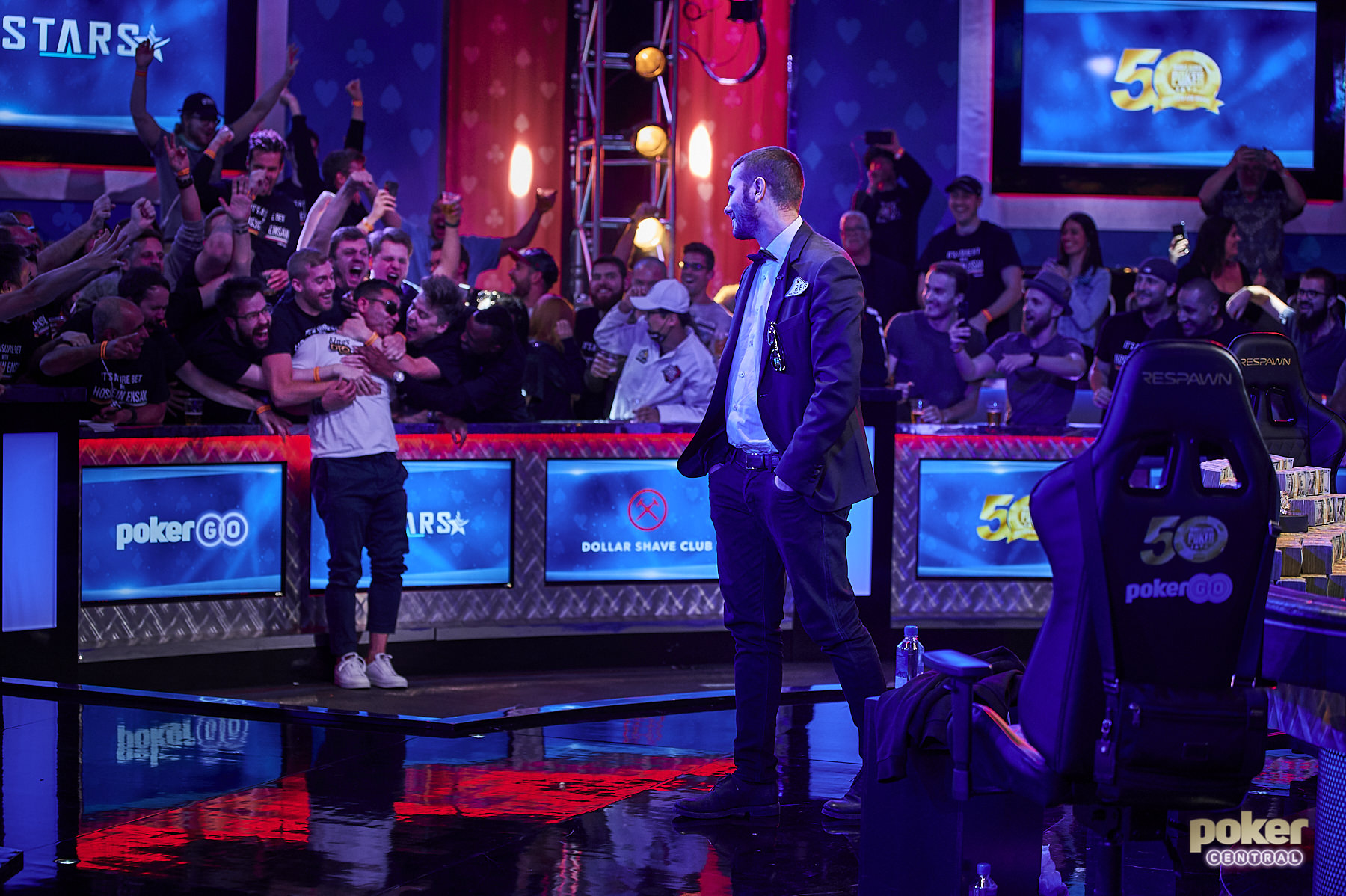 The man from Florence thinks his life will change for good, but not only because of the money, but also because of the experience itself. Sporting a R.E.G. Charity patch with the intention to donate a portion of his winning to help those in need, Sammartino didn't lose to just anyone, he lost to a friend and someone he praised for his great play and personality.
"Hossein is a really good guy, I met him a long time ago. We are friends and I really love him, of course, I wanted to win, but he's the winner. Bravo."
The entire Main Event final table experience is something Sammartino will never forget as he forged a lifetime connection with those that joined him on this journey, the other eight finalists.
"We lived this experience together. This is not a normal tournament. At this final table, you get to know people and feel that amazing emotion together. Only people that play this final table can understand those emotions. These last three days we've been like a family."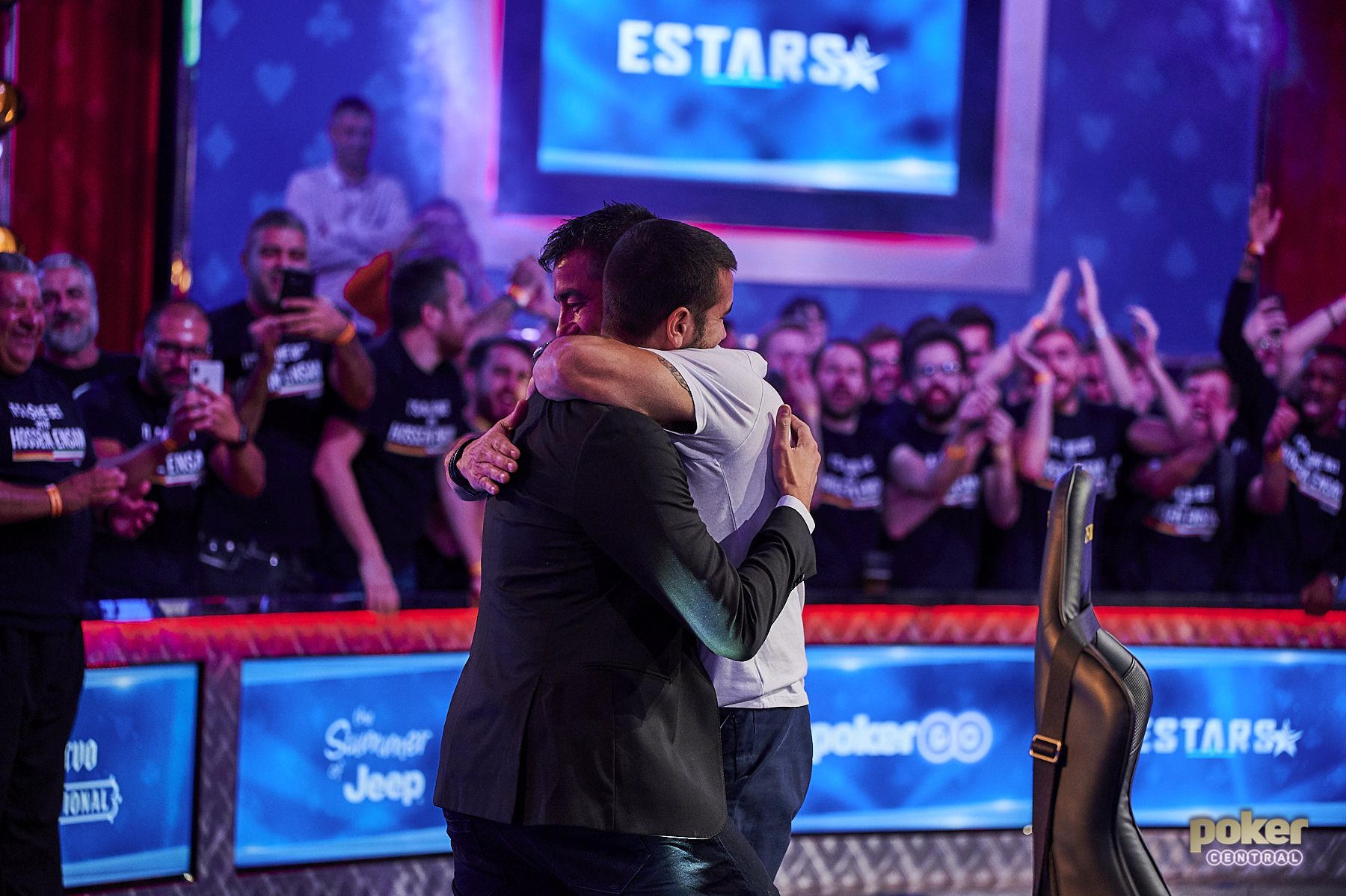 In closing, Sammartino was kind enough to share the translation of the song that his rail kept chanting, words that turned out to be indicative of their support and belief in the man that will forever be celebrated for his winning attitude, warm personality, and excellent poker skills.
"We will always stay with you, you can never give up, we have a dream in our hearts and we want you to become our champion!"
Bravo Super Dario!
Watch the final table of the WSOP Main Event on ESPN and PokerGO in non-ESPN affiliated regions. Read about ninth-place finisher Milos Skrbic's story right here. Read the story of Timothy Su, who finished in eight-place, right here. Read about Kevin Maah's elimination in fifth place right here. The story of Garry Gates' fourth-place finish and Alex Livingston's third place can be found in the links. Read about Hossein Ensan's win right here.