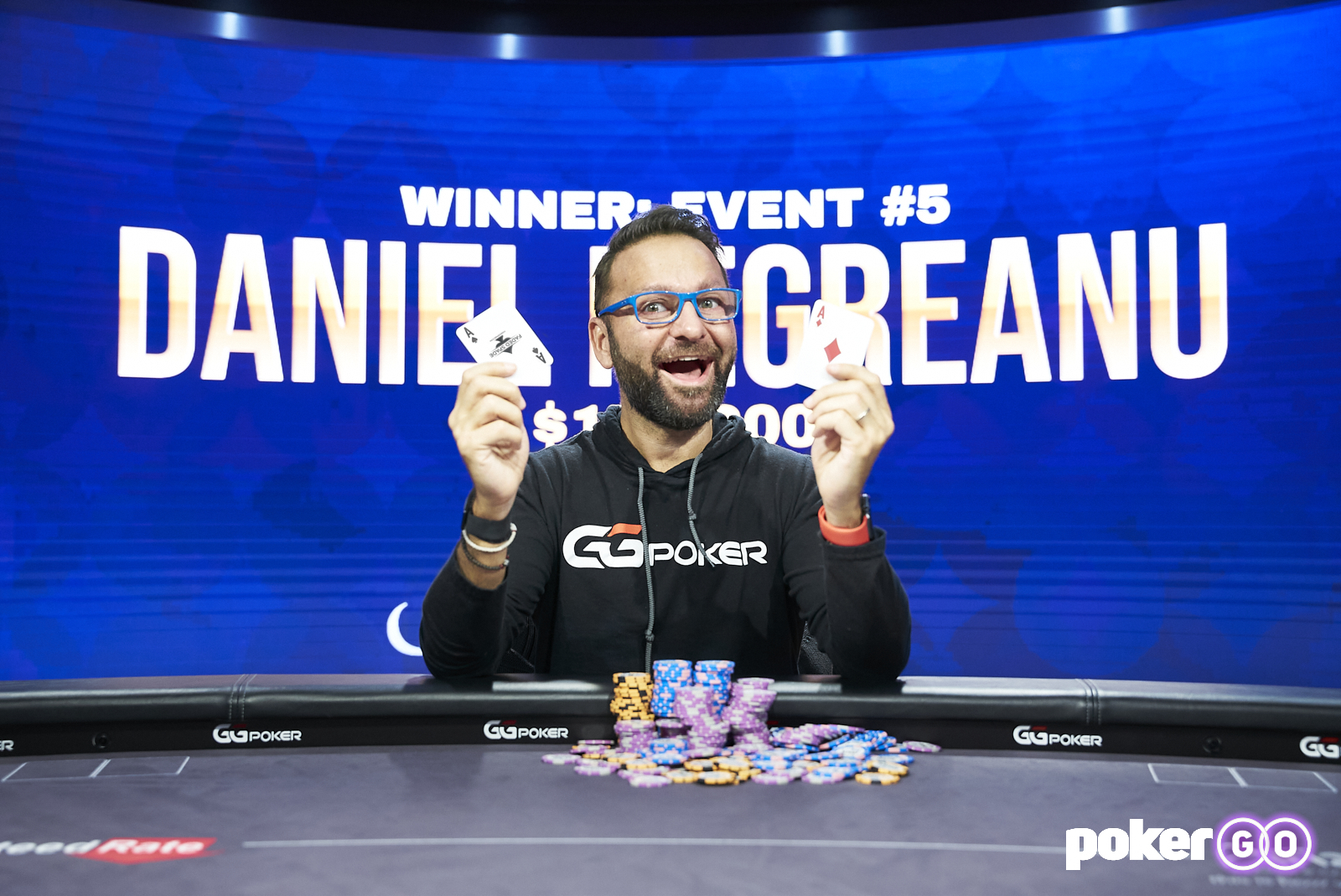 Daniel Negreanu has won Event #5: $10,000 No-Limit Hold'em at the 2021 Poker Masters, scooping up $178,200 in prize money and moving to the top of the series leaderboard. Negreanu defeated Nick Petrangelo in heads-up play.
Earlier this year in July, Negreanu was crowned the inaugural PokerGO Cup champion. He cashed four times in that series, including winning Event #7: $50,000 No-Limit Hold'em for $700,000. With 281 points through five events, Negreanu is now the frontrunner to win the 2021 Poker Masters Purple Jacket, which is a title he very much wants to win.
"It's huge," Negreanu said of moving to the top of the Poker Masters leaderboard. "Poker Masters means a lot to me because I remember the first one that they had. I remember it was the first moment that I realized, 'Oh my god, these guys are just better than me.' It made me realize that I have to go back to the lab and work. Then to see the work pay off in the PokerGO Cup is awesome. To go back to back, with a chance now to come full circle and win the jacket, I really feel strongly not only that I can but I feel like I'm going to win it. I feel like I'm running well and everything's going good."
Heading into the PokerGO Cup, Negreanu had not scored a major tournament victory since 2013. There was much chatter about his close calls and failure to close, but Negreanu found his stride during the PokerGO Cup and has now continued the momentum into the Poker Masters.
"Well, this is the hard part about poker, right?" Negreanu said when asked about how things have been going on the felt for him recently. "I've been telling people for the last year that I'm playing really, really good, I swear. But if you don't win, people go, 'Yeah, yeah, I'm sure you're just unlucky, right?' So people don't buy in unless you actually start posting the Ws. For me, it's vindication of something that I already knew. During this stretch of the worst stretch of my entire life when it comes to luck, and I know this – from the Doug [Polk] match to [Phil] Hellmuth, to all the tournaments and stuff, I know the reality of it. But for the public, I think, there's proof in the pudding. They want to see results. That's all they care about."
If you'd like to relive all of the action from the final table, you can find the replay on PokerGO.com.
2021 Poker Masters Event #5 Results
Place
Name
Country
Points
Prize
1st
Daniel Negreanu
United States
179
$178,200
2nd
Nick Petrangelo
United States
132
$132,000
3rd
Vikenty Shegal
United States
86
$85,800
4th
Jake Daniels
United States
66
$66,000
5th
Jeffrey Trudeau
United States
53
$52,800
6th
Barry Hutter
United States
40
$39,600
7th
Justin Saliba
United States
33
$33,000
8th
Dylan DeStefano
United States
26
$26,400
9th
Cary Katz
United States
26
$26,400
10th
Jake Schindler
United States
20
$19,800
Five players from the 66-entry field returned for Day 2 of Event #5: $10,000 No-Limit Hold'em at the 2021 Poker Masters. Jeffrey Trudeau was the shortest stack left and he busted first in fifth place for $52,800. After Trudeau busted, Jake Daniels was sent out the door in fourth place for $66,000. Trudeau was busted by Negreanu and Daniels was busted by Petrangelo.
Vikenty Shegal was the player to bust in third place, and he was knocked out by Negreanu in third place. Shegal won $85,800 for the result.
Even though Negreanu took out Shegal in third place, he began heads-up play at a deficit to Petrangelo, who had 5.08 million in chips to Negreanu's 3.17 million. Negreanu worked himself into the lead before winning a big pot that left Petrangelo very short.
With the blinds at 40,000/80,000 with an 80,000 big blind ante, Petrangelo opened with a raise on the button to 180,000 with the
. Negreanu was in the big blind with the
and three-bet to 610,000. Petrangelo made the call and the dealer fanned the
flop. With two pair, Negreanu bet 725,000. Petrangelo made the call. The turn was the
and Negreanu checked. Petrangelo also checked. The river was the
to pair the board and Negreanu fired 1.8 million. Petrangelo quickly called and saw the bad news. That hand left Petrangelo with 760,000 in chips.
On the next hand, it was all over. Negreanu picked up pocket aces and limped in from the button. Petrangelo shoved from the big blind with the
and Negreanu quickly called. Negreanu's aces held to crown him the Event #5 champion. Petrangelo won $132,000 for his second-place finish.
"I feel like I'm definitely getting momentum," Negreanu said regarding how he feels headed into the 2021 World Series of Poker. "Like I've overcome that stretch of just craziness. It's like, 'Oh yeah, I have some good luck and some bad luck,' but I feel at peace with it now. Now, when I'm all in, I don't feel anxiety. Like that aces against queen-ten just now, I wasn't scared. I normally would be, thinking what's going to happen and all the bad things. I think getting my mindset away from that and allowing me to just be present is going to help me for the World Series of Poker for sure."
You can see the top 10 of the 2021 Poker Masters leaderboard below.
2021 Poker Masters Leaderboard
Rank
Name
Points
Wins
Cashes
Earnings
1st
Daniel Negreanu
281
1
2
$281,400
2nd
Brock Wilson
272
1
2
$271,800
3rd
Sean Perry
239
1
2
$239,200
4th
Shannon Shorr
205
1
1
$205,000
5th
Adam Hendrix
186
1
1
$186,300
6th
Nick Petrangelo
176
0
2
$175,800
7th
Jake Schindler
161
0
3
$161,000
8th
Jake Daniels
156
0
2
$155,700
9th
David Peters
148
0
1
$147,600
10th
Jeremy Ausmus
146
0
1
$146,200
On the PokerGO Tour presented by Guaranteed Rate leaderboard, just about everything inside the top 10 stayed the same. Cary Katz stayed in fourth position but improved to 1,656 points, and Jake Schindler stayed in eighth position but improved to 1,284 points. Negreanu won't be found in the top 10, but he is lurking just outside of it with 1,024 points in 13th place.
PokerGO Tour presented by Guaranteed Rate Leaderboard
Rank
Name
Points
Wins
Cashes
Earnings
1st
Ali Imsirovic
3,032
10
24
$3,976,460
2nd
Sean Perry
2,260
6
20
$3,129,898
3rd
Sam Soverel
1,773
3
19
$2,573,451
4th
Cary Katz
1,656
2
20
$2,751,730
5th
Sean Winter
1,614
2
16
$2,633,320
6th
David Peters
1,540
3
10
$3,074,470
7th
Chris Brewer
1,428
2
19
$2,127,320
8th
Jake Schindler
1,284
2
14
$1,857,108
9th
Andrew Moreno
1,200
1
1
$1,460,105
10th
Clayton Maguire
1,200
0
1
$1,443,757