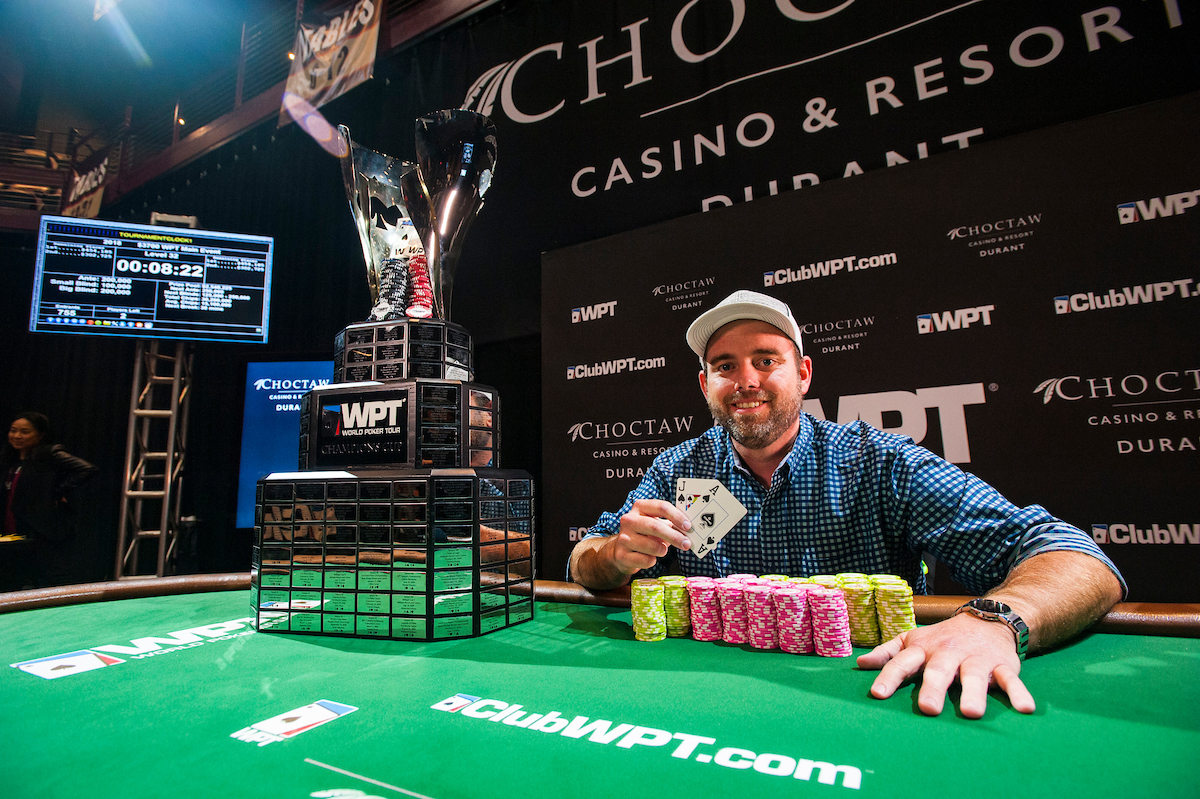 When Brady Holiman took down the WPT Choctaw Main Event six months ago, he won just shy of half a million dollars. It was by far the biggest result of his poker life and a victory that, even now, he finds it almost impossible to describe.
THE PEOPLE'S CHAMPION
In this era of lifetime poker professionals who have never needed to get a real job, Holiman has always had one foot in his everyday role as a car salesman. He's the family man who made it big when he topped a field of 755 players in Choctaw last December, and he'll be at the HyperX Esports Arena on the 1st June to take on the Tournament of Champions.
"It's been a pretty amazing feeling for sure. It felt completely indescribable. I don't play a lot of tournaments; I quit for a long time after Black Friday and only started coming back to play a couple of years ago."
Watch the Baccarat Crystal WPT Tournament of Champions final table live on PokerGO: Monday, June 3rd.
SPIKING THE FINAL
It is a return to poker that Holiman he can now credit with changing his life. The WPT Choctaw final last December had it all, and from just the 17th hand of the final, Holiman had made waves. In calling the four-bet shove of Timothy Domboski, Holiman was well behind with his ace-king up against Domboski's pocket kings
"You gotta have a little luck, but you don't get that way by complete luck. Things have to go your way [in a final], but you have to hold your own."
Hitting an ace on the flop and three-outing Domboski, Holiman had a huge chip lead. But, as he explains, it was a calculated move.
"He'd played me pretty hard the day before in a couple of hands that didn't really get documented. He'd re-raised his mid pairs, 4s through 8s very aggressively. I thought 'I've got a 2:1 chip lead over him' and I believed at worst it was a coin-flip. He four-bet shoved and there was no hesitation among the other four players, they mucked pretty quick. To knock out a big player early on would change things."
Holiman may have wrongly believed he was racing, but having hit his ace, he now had a massive chip lead after eliminating his nearest rival. Next, he would take out his most dangerous opponent.
A LOT OF LOVE FOR ZINNO
"Anthony Zinno is obviously the last person at the table I'd want to give chips to. He's a phenomenal player and a class act, but he was pretty short. I had queen-ten suited and he had ace-four. If he was deeper, there's no way I'd mix it with that hand but we talked about it afterward and he told me he'd play it exactly how I played it."
It's clear that Holiman has the utmost respect for Zinno, who even before the final table began, was polite and helpful to all the players.
"He was the most-feared player, but he was really nice. Even though he was competing against me, before the final I talked to him about a few things and he passed on his knowledge and experience to someone who was five away from half a million dollars. I have so much respect for that man."
Holiman bounced through the remainder of the tournament, closing it out to seal his most memorable day at the poker table in his whole life. But despite a love of tournaments, it took Holiman a while to arrive at the World Poker Tour, a brand he has loved for years thanks to TV broadcasts of the events.
"It was my third WPT ever! I played in a preliminary $350 event and got 9th out of 4,000 players, so to accomplish this feat in my third WPT is such a feeling."
Three @WPT final tables await. The countdown is on. https://t.co/p1vTk3ajxm pic.twitter.com/nBCILGxTzQ

— PokerGO (@PokerGO) May 18, 2019
STAYING RECREATIONAL
Holiman has never been a pro, but has always loved the game. His friend, Jordan Smith, is an established online player and a WSOP bracelet winner, finishing 10th in the WSOP Main Event just a few years ago. The two men grew up together, playing home games and underground poker in Dallas. Holiman had wondered over the years just how different his life might have been if he'd taken the 'go pro' route that Smith did.
"We cut our teeth together. I went the traditional job route and played socially, but always had an edge on most people I played. Jordan took the game on and made a tremendous living at it. I always wondered if I went that route with him what would have happened."
Now Holiman knows to an extent. The WPT title has given him the belief to go with his talent, and he's happy knowing that it was never just a pipe dream.
LIVING THE DREAM
"I thought I had the game and talent to do it. I always felt in my gut that I could get a six-figure cash and that was my goal."
So now he's done it, does Holiman see himself swapping the forecourt for the felt?
"I won the tournament on Tuesday and I was back at work on Wednesday! By the time the IRS got their percentage, tax time in April was always going to be a big hit [to the winnings]. I paid off a lot of stuff, helped a few family members out and put some in savings. It's changed our financial lives, because I don't have any worry, but I went right back to work and ordinary life."
Holiman admits that it took a few weeks to let the dust settle after his phenomenal result. But if he's to win another big tournament, it might convince him to make more of a go of a poker career. A big tournament like the Tournament of Champions, maybe.
"If I'm ever fortunate enough to run deep in another one that may change a few avenues. I have no debt now so I could follow that dream. I always thought 'What if?' but I'd need one more under my belt."
THE TOURNAMENT OF CHAMPIONS
Holiman has never played for a living, despite success online and live. It's only been in the last couple of years that he discovered his ability at tournament poker. For years, he supplemented his income by playing cash games and Sit & Go's. but even in his first forays into live tournament poker back in 2008, he only played four $1,5000-entry tournaments at the World Series of Poker.  He acknowledges that the Tournament of Champions will be completely different.
"I'm excited about it. To be able to play in a tournament that some of the players I've loved watching for 10 or 12 years can't even qualify for it is…wow. But my nerves are behind me. I had to play with a few of the bigger names in Choctaw and at the Bellagio for a tournament in September. I always felt I was competitive. I'm not cocky, but I'm not intimidated or nervous anymore."
Holiman can't wait to fly out his friends and family as he goes for the title of Tournament of Champions winner. Holiman's distant love of the World Poker Tour from nightly TV shows ("You can find the WPT every night of the week on some channel!") has come a long way to the HyperX eSports Arena in Las Vegas. In just a couple of short weeks time, it'll be him under the lights, going for the win and putting everything not just on the line, but over it. Brady Holiman might just be the name you'll always remember after the Tournament of Champions.
Tournament of Champions Schedule:
Day 1: Saturday, June 1 at 11 a.m.
Day 2: Sunday, June 2 at 12 p.m.
Day 3: Monday, June 3 at 4 p.m.
The Tournament of Champions final table will be filmed for television at HyperX Esports Arena Las Vegas and live-streamed on PokerGO on a 30-minute delay. Subscribe now to PokerGO and never miss a hand of this incredible poker event.