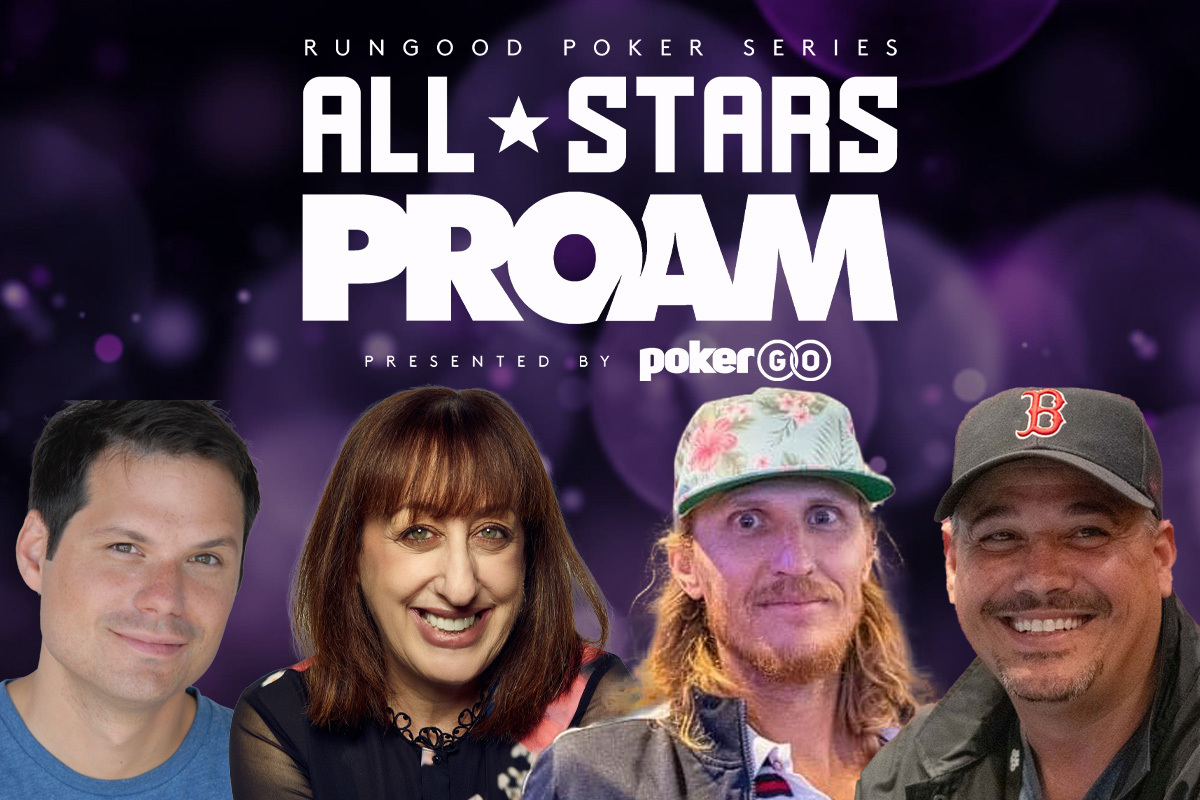 LAS VEGAS, NV (December 9, 2021) — The RunGood Poker Series All-Stars ProAM poker tournament is coming to the PokerGO® Studio in Las Vegas this December. Several celebrities, streamers, and poker professionals will be in attendance for the highly popular event that runs December 11-12 with live streaming on PokerGO.com. Confirmed celebrities and poker professionals to attend are actors Beth Hall and Michael Ian Black, reality TV stars Robert "Boston Rob" Mariano and Tyson Apostol, Twitch Streamers Jake "GernaderJake" Straus and Kenji "NumotTheNummy" Egashira, and poker professionals Maria Ho and David Williams. 
The event features 32 RunGood Poker Series tournament qualifiers from across the country. The qualifiers won their way to the All-Stars ProAM through winning the tour's main events or earning enough points for casino champion. Those qualifiers will join with 32 invited players, including the aforementioned celebrities, to compete in a unique event that will be broadcast on PokerGO.com to viewers around the world.
Filming begins on Day 1 of the event on Saturday, December 11, and concludes with the final table on Sunday, December 12. Both days will be captured live on stream with commentary by David Tuchman and Brent Hanks, as the 64 invited players will compete for a custom trophy presented by RunGood and PokerGO alongside a prize pool of more than $30,000. Friends, family, and fans will be able to watch the action for free on PokerGO.com, PokerGO's YouTube channel, and the PokerGO Twitch channel.
"Following a successful year of events, we very much look forward to concluding this season of the RunGood Poker Series in spectacular fashion at the PokerGO Studio in Las Vegas," said Tana Karn, Founder & President of the RunGood Poker Series. There is no better arena in the game than the PokerGO Studio which is known for being the home of some of Poker's biggest shows. We look forward to showcasing all of our qualifiers from across the country alongside a great group of celebrities as we close out 2021 with a bang. If you're a fan of poker, you're going to want to tune in to PokerGO.com on December 11th and 12th."
Beth Hall and Michael Ian Black are both well-known actors. Hall appeared in 20 episodes of Mad Men as "Caroline," and she most recently starred in CBS' Mom as "Wendy." Black is known for his role as "McKinley" in the 2001 film Wet Hot American Summer. Black also appeared in Reno 911! and on Celebrity Poker Showdown on several occasions.
Robert "Boston Rob" Mariano and Tyson Apostol are no strangers to the poker world, and both are very much a part of the RunGood community. Mariano and Apostol are both popular reality television personalities that won CBS' Survivor. Mariano won Survivor: Redemption Island and Apostol won Survivor: Blood vs. Water.
"GernaderJake" is one of Twitch's top gaming stars with nearly 400,000 followers on the platform. "NumotTheNummy" is a top steamer of Magic: The Gathering with 115,000 followers on Twitch.
Additional invited players confirmed to be in attendance are poker vloggers Brad Owen and Johnnie "Vibes" Moreno, 2010 WSOP Player of the Year Frank Kassela, poker personalities Joe Stapleton, Veronica Brill, and Jeff Platt, and reigning World Series of Poker Main Event champion Koray Aldemir.
PokerGO is available worldwide on all your favorite devices, including Android phone, Android tablet, iPhone, iPad, Apple TV, Roku, and Amazon Fire TV. You can also stream PokerGO on any web or mobile browser by going to PokerGO.com.
About PokerGO®
PokerGO® is the world's largest poker content company delivering poker's most premier live events around the world, along with poker-focused original series, to consumers. The platform delivers more than 100 days of live poker on an annual basis, streaming PokerGO owned and operated tournaments such as the Super High Roller Bowl, Poker Masters, and U.S. Poker Open, along with the World Series of Poker, among others. PokerGO's video-on-demand library includes original content that provides unmatched access to the world of poker, between "High Stakes Poker," "Poker After Dark," and more, PokerGO curates programming that spans from expert commentary on the game to tales of iconic moments in poker history, to behind-the-scenes interviews with notable poker stars and more. For more information, please visit http://www.pokergo.com/.
About The RunGood Poker Series
The RunGood Poker Series is poker's two-time Best Mid Major Tour. Founded in 2014 from an apparel company, the series has grown from one venue to multiple venues across the country over the years. The tour's core philosophy has been to provide affordable price points while delivering a big stage feel to players. Current and past sponsors have included PokerGO, KO Watches, Fireball Whiskey, Operation Gratitude, and others. For more information, please visit. http://www.rungoodevents.com.