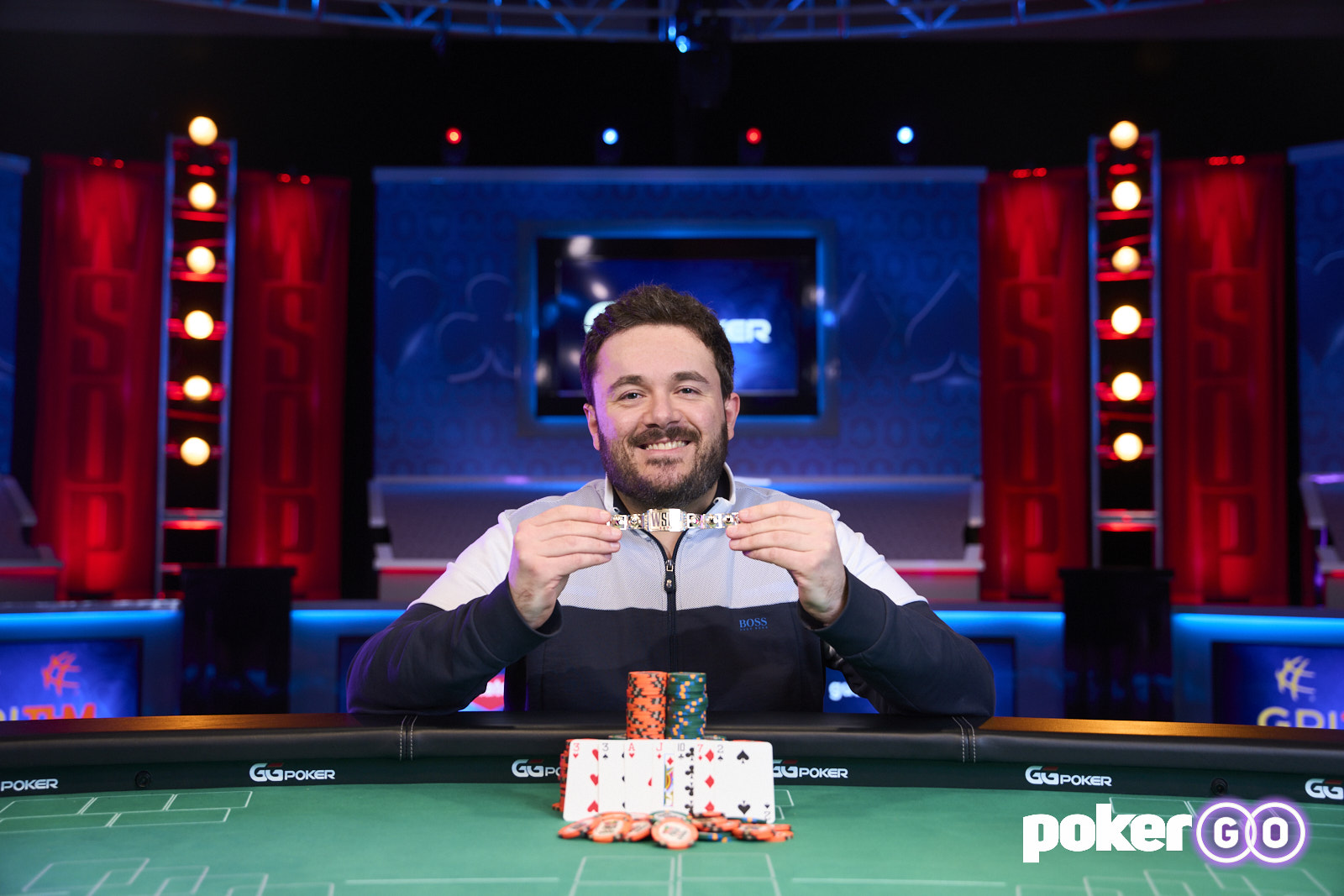 In the early hours of Tuesday morning in Las Vegas, Anthony Zinno topped James Chen in Event #19: $10,000 Seven-Card Stud Championship at the 2021 World Series of Poker to win his third career gold bracelet. With the victory, Zinno picked up $182,872 in prize money.
"Honestly, it's unreal because stud is one of the games that I've only been recently working on, so I wouldn't have expected it to be this game," Zinno said of grabbing his third WSOP gold bracelet in seven-card stud. "Some of the best stud players in the world were in the field. [Phil] Hellmuth was at the final table and I kind of bad beat him with a nut flush draw by hitting it on seventh. I'm familiar with this feeling now, but it still feels foreign. Playing for three days straight, everything feels kind of hazy. It doesn't fully sink in, but man, what an honor to have this."
In the end, Zinno defeated James Chen to win the title, with Chen taking home $113,024 for the result. Zinno entered heads-up play with a big chip lead, but Chen battled strong and made it a competitive heads-up match. In the end, Zinno came out on top to deny Chen his second WSOP gold bracelet.
Rewatch Anthony Zinno win his third WSOP gold bracleet with the archived live broadcast on PokerGO.com. Use code "WSOP2021" for $20 off an annual PokerGO.com subscription now!
Event #19: $10,000 Seven-Card Stud Championship Final Table Results
Place
Name
Country
Prize
1st
Anthony Zinno
United States
$182,872
2nd
James Chen
Taiwan
$113,024
3rd
Jose Paz-Gutierrez
Bolivia
$77,227
4th
Phil Hellmuth
United States
$54,730
5th
Jack McClelland
United States
$40,284
6th
Stephen Chidwick
United Kingdom
$30,842
7th
Jason Gola
United States
$24,601
"I might play poker my whole life and not win another stud bracelet," Zinno said. "These guys are so good at stud, and honestly, I'm not on the level of the top stud players by any stretch. There's a lot of luck there, so that's awesome. Overall, the COVID year was a bit weird for me. A momentum boost is much more welcomed than ever in my life. I'm not sure my confidence has been what it used to be, and now it's back."
Zinno's $10,000 Seven-Card Stud Championship bracelet will now sit in his trophy case alongside the ones he won in the $25,000 Pot-Limit Omaha High Roller in 2015 and $1,500 Pot-Limit Omaha 8-or-Better in 2019. That trophy case also includes three World Poker Tour titles, providing further evidence that Zinno has what it takes to compete at poker's highest levels.
"I think that's been my goal for many years now," Zinno said of trying to become one of the best all-around players in the world. "Since about 2016, I've been trying to be able to at least compete in the limit mixed games. Certainly, I had proven myself in PLO in 2015, I think, but from 2016 on I had to get better every year. I knew that. It's very important to me to prove to myself that the hard work I've been putting in in the mixed games pays off."
Zinno added that he believes he has a long way to go with all of the games and that he will continue to work to improve in order to be successful at poker's highest levels.
Zinno was one of 62 entries in Event #19: $10,000 Seven-Card Stud Championship at the 2021 WSOP. He finished Day 2 second in chips with seven players left, behind only Hellmuth, who was once again in an excellent position to grab his 16th WSOP gold bracelet. Hellmuth ended up finishing in fourth place, though, with Jose Paz-Gutierrez sending him out the door.
Paz-Gutierrez busted in third place after Hellmuth went out, leaving Zinno and Chen heads up for the title. After a tough back-and-forth battle between Zinno and Chen, Zinno came out on top for his third WSOP gold bracelet victory.
Also at the final table, Jack McClelland finished in fifth place and Stephen Chidwick finished in sixth place.
Connect with PokerGO.com on Facebook, Twitter, and Instagram. Use code "WSOP2021" for $20 off an annual PokerGO.com subscription now!