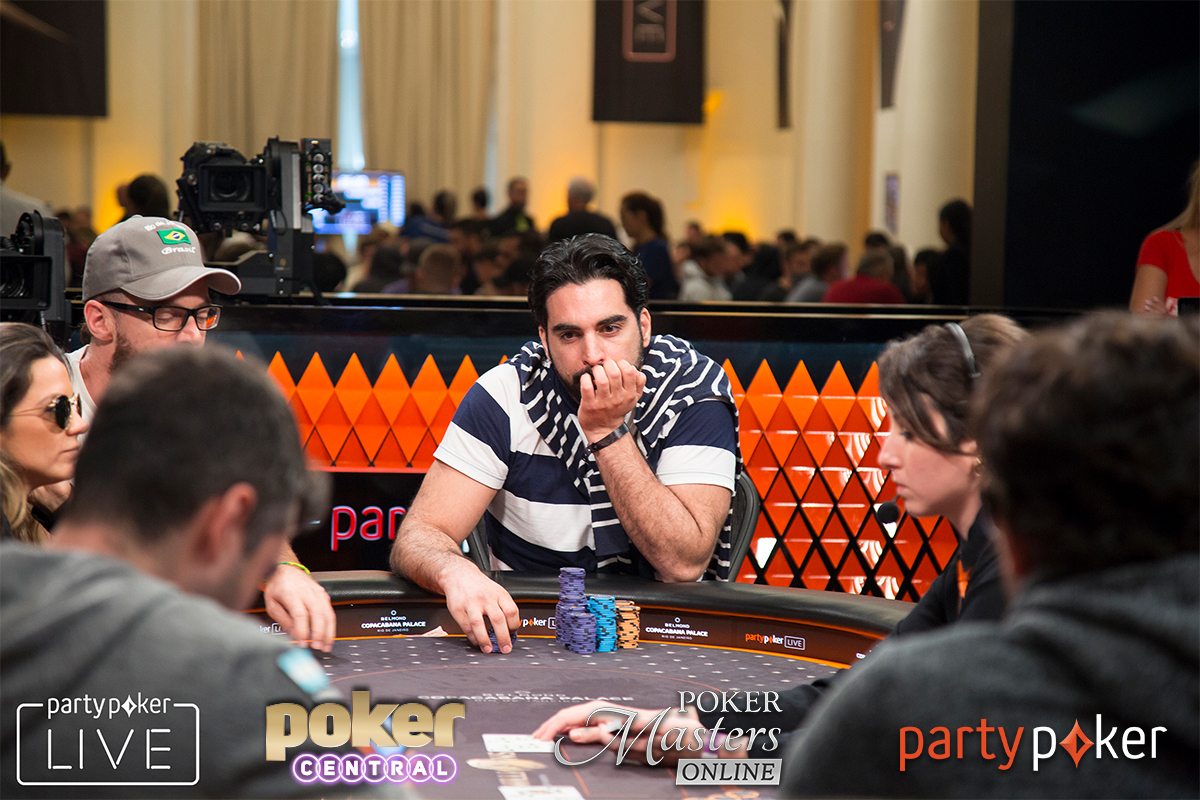 The inaugural Poker Masters Online on partypoker came down to the wire with Greek pro Alexandros Kolonias winning the final event of the 30-event High Roller series to claim the coveted Purple Jacket and $50,000 cash prize.
"It feels amazing, I really wanted to win this. It means a lot to me winning the Purple Jacket," Kolonias told us shortly after winning the final event and locking up the Championship.
"I was really enjoying playing the Poker Masters Online events. They were great events and partypoker once more proves why it's the No. 1 poker site. I am also exhausted, it was two long weeks with two events every day and it came down to the last day. I was doing really well in the Main Event as well but then lost it, unfortunately. In the 6-max I was left with 1.5bb with 50 players left and no more re-entries. I felt like it was almost over but then I doubled up three times and was back in the game, and went all the way to win it. I didn't want to look at the points exactly but I knew that if I won the 6-max I was most likely going to win the leaderboard so I played to win."
Kolonias recorded a total of 11 cashes for a total of $1,266,296 in total earnings and 1,191 points, narrowly edging out Russian Artur Martirosian who held the lead for many days ending his series with 1,048 points. Here are the final standings of the Poker Masters Online.
Poker Masters Online Championship Standings
Name
Earnings
Points
Cashes
1
Alexandros Kolonias
$1,266,296
1,191
11
2
Artur Martirosian
$1,278,974
1,048
9
3
Linus Loeliger
$1,511,818
1,037
3
4
Timothy Adams
$1,043,882
861
11
5
Ali Imsirovic
$1,035,696
857
9
6
Andras Nemeth
$974,987
807
8
7
Pascal Lefrancois
$1,049,887
782
6
8
Pauli Ayras
$968,048
748
6
9
Alex Foxen
$792,677
736
7
10
Steve O'Dwyer
$1,005,654
732
6
The Poker Masters Online had a total of 124 players record at least one result in the two-week series with $35.4 million in prize money paid out. The final tables of each event were streamed live on the PokerGO Facebook page and you can watch the conclusion of the series in the player below.
The Main Event of the series had a $50,000 buy-in and drew a whopping 77 entries to create a massive $3.85 million prize pool. The final 10 places got paid with Purple Jacket contenders Andras Nemeth and Jorryt van Hoof falling just short of the money. As can be seen in the player above, Austrian pro Linus Loeliger was putting on a clinic, dominating the final table that also included Ole Schemion, Steve O'Dwyer, and Chris Kruk. Loeliger beat Giuseppe Iadesernia heads-up to claim one of the biggest single results of the year in online poker.
Event #29 $50,000 No Limit Hold'em
Place
Name
Payout
Points
1
Linus Loeliger
$1,097,250
658
2
Giuseppe Iadesernia
$750,750
450
3
Chris Kruk
$519,750
312
4
Steve O'Dwyer
$346,500
208
5
Ole Schemion
$269,500
162
6
Elias Talvitie
$211,750
127
7
David Peters
$182,875
110
8
Kahle Burns
$163,625
98
9
Conor Beresford
$154,000
92
10
Vicent Bosca
$154,000
92
Total
$3,850,000
2,027
Total entries
77
Loeliger's enormous win shot him into the lead on the standings but Artur Martirosian wasn't done just yet! Other contenders with a real shot such as Steve O'Dwyer and Pascal Lefrancois came close but not close enough as the Russian pro made the final table in an attempt to secure the jacket.
The final event drew 146 entries creating a top prize of $367,782 and the Russian Championship leader took fifth in the final event for his 9th cash of the series. The only remaining player that could keep him from the overall win was Alexandros Kolonias who needed a second place to win the championship. Kolonias closed things out in style by winning the final event and the series.
Event #30 $10,000 NLHE 6-max
Place
Name
Payout
Points
1
Alexandros Kolonias
$367,782
368
2
Jason Mcconnon
$248,200
248
3
Mark Demirjian
$175,200
175
4
Mustapha Kanit
$124,100
124
5
Artur Martirosian
$91,250
91
6
Chris Kruk
$60,590
61
7
Pascal Lefrancois
$45,990
46
8
Samuel Vousden
$45,990
46
9
Mark Radoja
$45,990
46
10
Hossein Ensan
$31,390
31
11
Mark Davis
$31,390
31
12
Dan Shak
$31,390
31
13
Alexander Ivarsson
$26,789
27
14
Ben Heath
$26,789
27
15
Chris Hunichen
$26,789
27
16
Connor Drinan
$26,789
27
17
Steve O'Dwyer
$26,789
27
18
Orpen Kisacikoglu
$26,789
27
Total
$1,459,996
1,460
Total entries
146
Stay tuned to Poker Central for more exciting news on high stakes online poker events.